Kevin Probably Saves the World is here and, well, do you have any idea what you're in for?
Chances are you've seen trailers for the new ABC show that premieres tonight, but a one-minute peek leading up to a preview doesn't tell you much about the show or the people behind it. And the creators of this show aren't know for coloring inside the lines; they like to mix genres, as evidenced by their last two shows: The CW's Reaper and ABC's Agent Carter.
What is Kevin Probably Saves the World mixing? Drama, comedy and a hefty dose of god — but that doesn't mean it isn't for you if you don't (or don't know if you) believe in such a thing.
"It is the conceit of the show that there is a god, and god has emissaries who work on god's behalf," Michele Fazekas, one of the creators of the show, says. "But even if you don't believe in god, it doesn't matter because at the end of the day, it's not about religion; it's not about god; it's about being a good person." And isn't being a good person something we all can and should get behind, especially these days?
But what can you expect from Kevin Probably Saves the World?
So what does that combination of humor, drama and religion look like week-to-week? Fazekas and her co-creator Tara Butters opened up to Variety about what the first season — and more — is going to look like, and there's a lot there for anyone, even those who shun religion.
"On a weekly basis, what we're seeing is a guy who's trying to be a better person and gets caught up in other people's lives," Butters told Variety. Sounds like something to which most of us can relate. "He's still trying to deal with his family, who he just moved in with, and friends from high school who he's trying to reconnect with, and they get pulled into his life when his behavior becomes weird," she adds.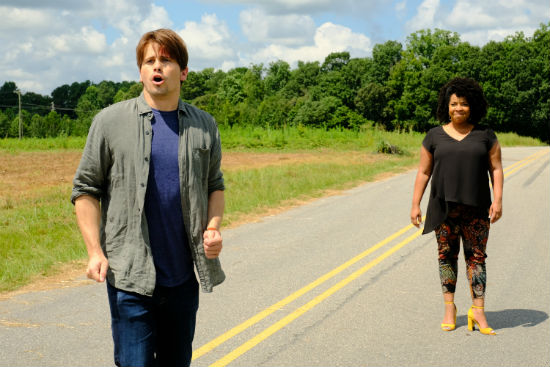 While your friends and family probably aren't worried about your daily behavior — we hope — since you're not on a mission from a heavenly emissary, that's where the humor comes in. But the struggle to balance a mission of self improvement with the needs of those around you day in and day out sure sounds familiar. And if all goes right, Kevin will be at it a while.
Fazekas reveals that "what [Kevin] has to ultimately do is find the other 35 righteous people in the world to anoint," but that they didn't want this to happen too quickly. After all, how easy can it be to find that many truly righteous people? She added that they "didn't want to anoint one every week, so in the first season we probably do two or three," meaning you'll have several more seasons to look forward to — provided the reviews support a return.
When does the premiere of Kevin Probably Saves the World start?
You can catch the very first episode of Kevin Probably Saves the World tonight, Tuesday, October 3 at 10 p.m. EST on ABC.