Put on your deerstalker hats, grab your flashlights and remind your loved ones to lock the doors — New York is finally getting its first-ever true crime festival, Death Becomes Us.
Following a successful first edition in Washington D.C. last fall, Death Becomes Us arrives for a massive five-day true crime festival from March 20-24 organized by online pop culture magazine and events company Brightest Young Things.
"It's becoming a lot easier to walk up to a stranger in a bar and drop that weird love of Jeffrey Dahmer, but this is definitely the place where you can be like, 'Yeah, I have a poster of Jeffrey Dahmer hanging in my house,'" says festival organizer Jenn Tisdale. (Yes, she's the one with the poster.)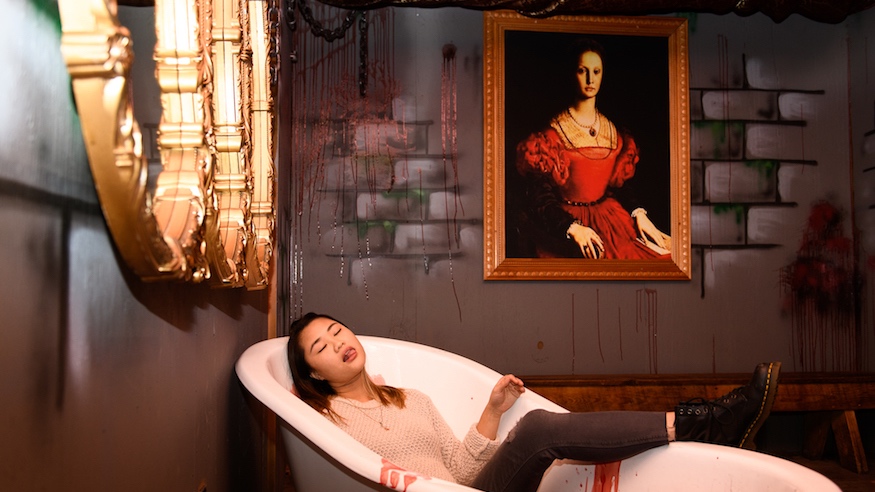 Death Becomes Us will be a mix of serious true crime events and those for the newer fans of the genre who enjoy morbid humor. Credit: Brightest Young Things
If that also describes you, the "true crime pop culture festival" Death Becomes Us is where you'll want to be. Among the announced guests — more are coming over the next week — are Damien Echols, who spent nearly two decades on death row as one of the wrongfully convicted West Memphis, and Golden State Killer investigator Paul Holes on the new cold case he's taken on.
And because New York has its own unique crime history, the festival will feature events on the Son of Sam who terrorized the city in the summer of 1976 and the most notorious mafia crimes.
But Death Becomes Us is about more than murder — it's about bringing fans of the genre together in what Tisdale calls, with a wink a "safe space." Expect "weird and fun things" like ladies of Wine & Crime podcast holding a Mystery Science Theater-style screening of their favorite Forensic Files episodes and pop-ups like a blood spatter-pattern manicure bar.
"There's honestly a little bit of something for everyone, depending on what kind of true crime you like," says Tisdale. "Are you heavy heavy heavy into information and you don't want a lot of jokes? Great. Do you want to be cheeky about it because this is some hard stuff to listen to? Here comes Last Podcast [on the Left]."
Pro tip: For events with two shows in one night, "we try to do a slightly more serious early show, and a slightly less serious later show."
Events will take place at various venues around the city including Gramercy Theatre, Irving Plaza, Nitehawk Cinema and the Strand. All-access passes are $125 and available now, with individual show tickets going on sale starting this week.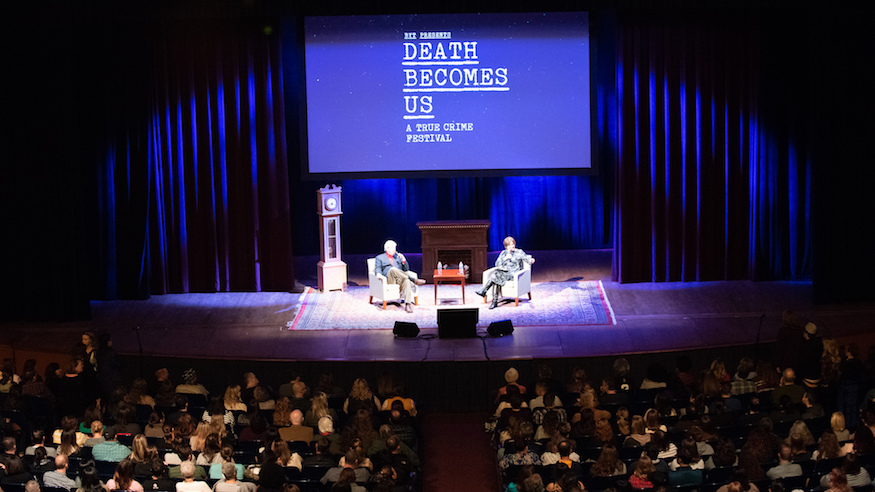 Death Becomes Us NYC will feature talks with investigators and falsely accused suspects who lives the true crime stories we're obsessed with. Credit: Brightest Young Things
Over the past couple of years, the true crime genre has shifted from dense books by investigators and sensationalist theories to critical podcasts, journalism and documentaries like Serial, Making a Murderer and In the Dark. But there's also a humorous subset, like My Favorite Murder, that have created a community for those with more morbid interest.
As for what attracts people to true crime? Tisdale describes herself as "a very morbid person" who grew up loving horror movies and books, but also admits being drawn in by the fame that makes serial killers irresistible — even after they've been sent to prison.
"Did you know that the Menendez brothers have both been married while in prison, at least twice?" she says. "And I don't want to tell you the last time I went on a date!"
Tickets to Death Becomes Us are now available at deathbecomesus.com.