Grey Sloan just can't catch a break, even after 14 years, but we wouldn't it any other way. That's because, yet again, a midseason finale of the Shondaland drama has us wondering: when does Grey's Anatomy return from winter break?
Shonda Rhimes and her hospital staff cast sure know how to leave us hanging. We're not sure we've recovered from emotional drama involving characters long gone from the show, let alone Rhimes' genre-blending events that blindside the ever-unlucky cast. The Grey's Anatomy season 14 midseason finale was no different. Some old Grey's fans may have jumped ship, but Shonda's dishing out the heart-pounding tension and drama like always — and this episode proved it.
Where did the Grey's Anatomy season 14 midseason finale leave things?
If you watched all of the episodes of Grey's leading up to this painful midseason break, you know that Rhimes took us all on quite the emotional roller coaster, hopping from a nostalgic 300th episode celebrating everything you love about the show to a shocker of a midseason finale.
And it was an episode the likes of which Grey's fans — and staffers — have never seen before. Even Krista Vernoff, head writer and executive producer, was taken aback when she was presented the idea. "When Bill Harper pitched it in the writers' room, my initial reaction was, 'Isn't the midseason finale usually a giant storm?'," Vernoff shared with EW. "He was like, 'It's a giant storm, the consequences of what happens when a hospital gets hacked in this way.' He pitched me these plot twists that were mind-blowing."
To boil down an episode you should probably go back and watch before Grey's Anatomy return, a massive computer hack is at the center of this episode that feels much more like newer political thrillers than the Grey's you fell in love with back in the day. The hospital's first tip off that something's wrong? All of their patients in the E.R. seem to be flatlining for no reason.
The computer glitches that cause Sam to zap a napping patient with the paddles (yes, really) to try to "revive" him turn out to be a much, much larger issue. After all, how do you treat patients when you can't even take an X-ray? How do you keep a whole hospital running?
While the I.T. guy is working, the computer — and soon all the staffers — get an alert that "we" are in charge of the hospital now. They have control over the records, the systems, everything. Ruh-roh. To get through, the staff will need an encryption key, which will cost them 5,000 Bitcoins. (For the record, that's currently sitting right around the lofty sum of $60M, though the episode estimates this figure at $20M.)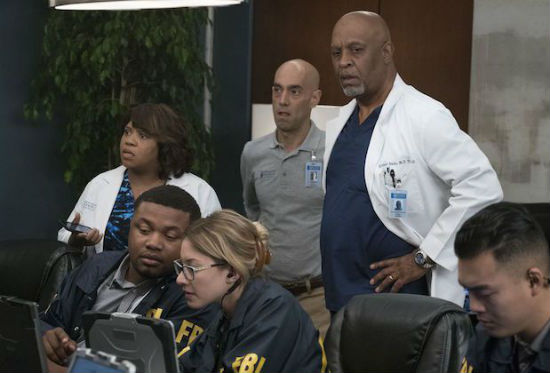 The staff, Richard and Bailey in particular, grapple with the frustrating Feds, who rush in to control the situation while doctors and nurses try to keep their patients in the dark for as long as possible. The Federal officer in charge admits that, yes, the only way to get back into the system is to pay the astronomical ransom — but he wouldn't let them pay it, even if they could. That could incentivise hackers to do the same thing at other unsuspecting hospitals.
Throughout all this, Arizona and Carina reconnect after helping a woman deliver her baby in the hallway, Meredith and Levi launch into surgery even though the code to the blood bank has been changed by the hackers and Jo and Alex have to try to figure out what they can and cannot give their patient whose condition is quickly deteriorating. Jo has just found out from a nurse what they absolutely cannot give their patient — the same medicine Karev is about to give him — when she runs into her abusive ex while rushing back to the room. (Oh, yeah, and he's played by Matthew Morrison.)
And, in total Grey's style, that's where they left everyone when the episode cut out.
So, when does Grey's Anatomy return from winter break to wrap up the season? And by that you know we mean, how long will you be waiting for answers to all your questions?
When does Grey's Anatomy return from winter break?
The second half of Grey's Anatomy season 14 kicks off Thursday, January 18, 2018 at 8:00 p.m. EST on ABC. If the first half of season 14 was any example, fans should try to expect the unexpected as the season rushes toward its finale later in 2018.