Whether or not you're happy with how they killed off his first wife, you're probably wondering when does Kevin Can Wait return from winter break if you've been watching season two.
Some fans were confused, others not so pleased, with how they killed off Kevin's wife played by Erinn Hayes at the beginning of the second season in order to make room for King of Queens alum Leah Remini. Even if you're happy to see Remini and Kevin James on the small screen together again, it was a clunky transition that fans picked up on.
Either way, the season has been picking up steam, except for the last few weeks. That's right, we're in that excruciating span of a couple weeks when all of your favorite shows like Kevin Can Wait are on hold for midseason breaks.
What's going on with the second season of Kevin Can Wait?
But before we get to your burning question of when does Kevin Can Wait return, let's talk about where the series left us with the front half of the second season. And, don't worry, Remini is still going strong and showing no signs of also being killed off abruptly.
If you've been watching the whole season, you know that Kevin Can Wait pulled a fast one on audiences. It tricked you into thinking it was another warm and fuzzy family comedy before slowing taking you down a dark, dark road that reveals it's anything but.
As Esquire noted: Kevin Gable can't be trusted. His bumbling is calculated, and he tends to get everything he wants.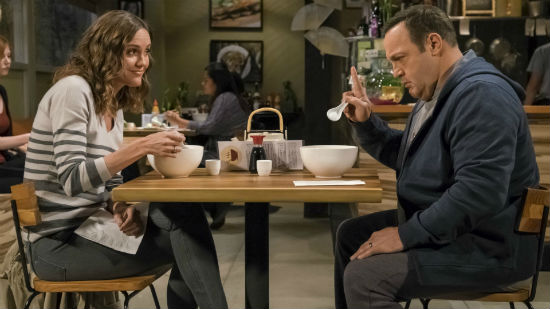 But will that tie into Donna's (Erinn Hayes) death? James seemed to downplay Donna's death when he finally talked about it back in October. "The plot of the show didn't have enough drive," James said of the decision to kill off this character. "If we got through a second season, I wouldn't see us getting through a third one. We were literally just running out of ideas."
He claimed the show was originally envisioned with his character as a single father, and this plot point simply moved the show back to how he saw it going in the first place. One thing's for sure: we're certainly getting a thorough — if not so flattering — view of James' character without Donna around to draw any attention away from examining him.
But if his character is right and "the world is a dark, dark place," we might not have seen the last of his immorality and deception.
So, when does Kevin Can Wait return?
The second season of Kevin Can Wait kicks back off after break with episode 13, entitled "Monkey Fist Insecurity," on Monday, January 15 at 8:00 p.m. EST on CBS.