Riverdale season 2 episode 22, the highly anticipated finale, airs tonight. The episode, "A Brave New World," will pick up where the last one left off — leaving us white-knuckled and broken, feeling as though we'd just endured open-heart surgery. (If you came out of that in one piece, I'm utterly impressed.)
To recap, in "Judgment Night," which aired on May 9, we saw Cheryl escape near-death when the Black Hood broke into her home (she proved handy with a bow and arrow). We learned that Midge Klump's grieving mother, not Reggie, shot Fangs — and he didn't make it through surgery.
Betty's hunch about her father was spot on: he admitted to being the Black Hood and was eventually taken away in handcuffs. Hiram Lodge paid off Penny Peabody (yes, she's back) and the Ghoulies (yep, them too) to stir up trouble with the Serpents. Veronica found out that Hiram planned an "October Surprise" where he'd purposely leak information about Hermoine and Fred's affair in order to ruin the man's reputation and, thus, his mayoral run. Veronica and her mother also nearly escaped an attack from Poppa Poutine's son.
Jughead offered himself up to Penny and the ghoulish Ghoulies in exchange for peace between them and the Serpents. We saw him being beaten by a mob of angry gangsters — and Penny had a knife — and it was all very devastating because if Jughead dies, Riverdale will lose it's bad boy with a heart of gold and brilliant way with words. (Also, I might lose my mind.)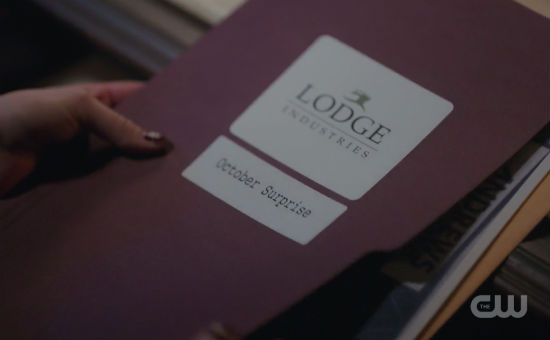 Going into the Riverdale season 2 finale, we have many questions: If Betty's father is the Black Hood, who attacked Town Hall during the mayoral debate? And who on Earth broke into Archie's house and shot Fred Andrews? (Remember, he was wearing a bulletproof vest, so he's okay.)
Also, what happened to Chic? Will Veronica get revenge on her father for being the dreadful, power-hungry, priority-confused scoundrel we've always known him to be? Most importantly, is Jughead alive? (Because he looked pretty lifeless when FP carried his beaten body out of the woods.) Out of all the questions we have about the show, Jughead's mortality is by far the most pressing one. He's a fighter, but who knows what Riverdale season 2 episode 22 will bring.
When does Riverdale season 2 episode 22 start?
The Riverdale season 2 finale will air at 8:00 p.m. ET tonight. You'll be able to watch it on The CW, The CW app or, for select markets nationwide, on Hulu Live TV.
If you miss Riverdale season 2 episode 22 this evening, you can watch it on The CW's website starting tomorrow — or on Netflix at the end of May when season 2 is released for streaming. Remember, stay off social media to avoid spoilers. 
Now, with well wishes for Jughead, the Serpents and Riverdale as a whole, bring on this season's final curtain call. We're as ready as we'll ever be. 
Once you've watched, check out our info on Riverdale season 3.