Get ready for your weekly dose of girl power because Supergirl season 3 is almost here.
The first episode of the new season is less than a couple weeks away, and fans are already getting excited for the first episode of Supergirl season 3, the title of which has already been announced: "Girl of Steel." Now if that doesn't make you want to scream "I'm woman, hear me roar," we don't know what will.
What can you expect from Supergirl season 3?
Although most of the details we have right now are specifically about the season premiere, executive producer Andrew Kreisberg opened up about one subject that will run through all the episodes: this season's bad guy, or should we say, girl.
You already saw Reign (Odette Annable) introduced at the end of last season, but she's going to step into the spotlight in Supergirl season 3 in a big way. But unlike other villains of superhero shows and movies, she might be relatable for a lot of the audience.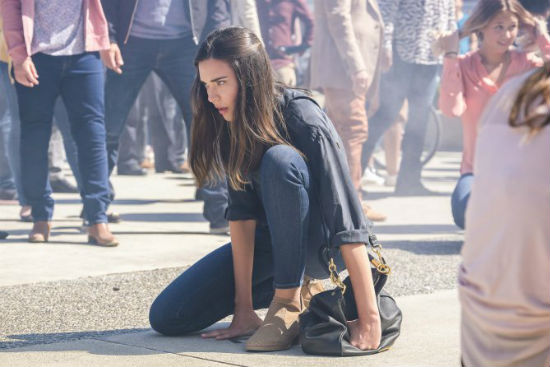 "When we meet Reign, she's just a woman," executive producer Andrew Kreisberg told Entertainment Weekly. "Her name is Samantha and she's a single mom, and she has no idea that she is Reign; she has no idea that she was the baby in the pod at the end of last season, so the journey that she takes this season is watching her realize her heritage and see how it manifests."
But there's even more reasoning behind treating this big bad differently than you're used to on these shows. Kreisberg is eager to stay away from patterns he's had on The Flash and Arrow when it comes to introducing these characters. "One thing we've never really seen on any of these shows," he said, "is we've never seen the big bad become the big bad."
Bringing the focus back to Kara (Melissa Benoist), we know there's going to be a new threat to NAtional City and that she's going to channel on her energy into fighting it as Supergirl partially to deal with the loss of Mon-El (Chris Wood). A mysterious character will also be introduced in National City who has a connection to Kara. Additionally, as their wedding approaches, Alex (Chyler Leigh) will confess a secret to Maggie (Floriana Lima).
Watch the official Supergirl season 3 trailer below:
So when does Supergirl season 3 start?
The superhero show will soar back onto your small screens on Monday, October 9 at 8 p.m EST on the CW. We hope you have a pair of tights on hand to don for the season premiere.