When is Unbreakable Kimmy Schmidt season 4's scheduled release date? The Netflix series follows Kimmy Schmidt (Ellie Kemper), who continues to adjust to the 21st century and learn more about herself after spending 15 years in an underground bunker as part of a doomsday cult. But it's funny — we promise! That's because the series is helped along by Kimmy's best friend slash roommate, Titus Andromedon (Titus Burgess); her employer-turned-friend Jacqueline (Jane Krakowski) and her landlord Lillian (Carol Kane).
Last season, we saw Kimmy acclimate to life as a college student — while she and her eccentric group of friends dealt with heartbreak, infidelity and the return of Richard Wayne Gary Wayne (Jon Hamm), the man who held Kimmy captive. So what has Kimmy been up to since we saw her last? Here's everything we know about the Unbreakable Kimmy Schmidt season 4 release date — and the coming season.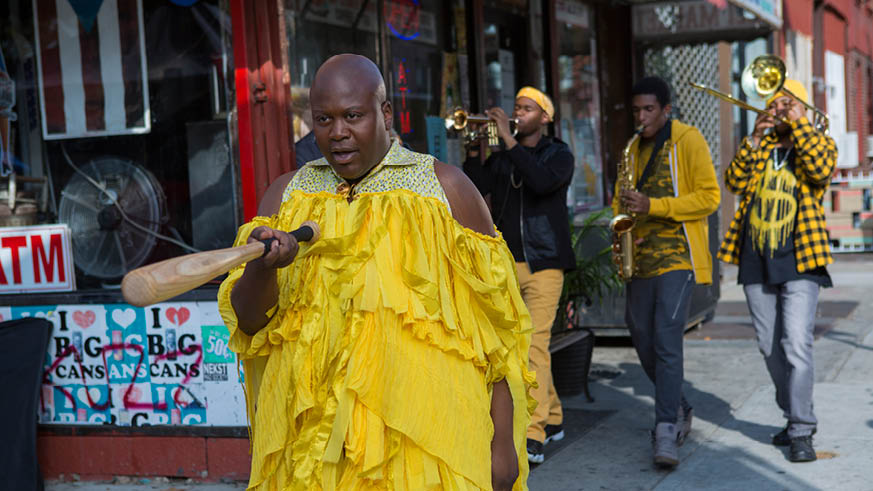 Tituss Burgess in Unbreakable Kimmy Schmidt. NETFLIX
Unbreakable Kimmy Schmidt Season 4 Premiere Date
The fourth season of Netflix's hit comedy series will be released on May 30, but there's a catch: only the first six episodes will be available. The second half of the season will premiere later this year.
#JaneKrakowski tells us that 6 new episodes of @KimmySchmidt will be released on May 30th! pic.twitter.com/6Jga0YpljT

— Kathie Lee and Hoda (@klgandhoda) February 14, 2018
"We finished filming season three a year ago…we are thrilled to go back tomorrow," Jane Krakowski told Today in February. "I also have really good news about our show. Because it's been so long, we're going release the first six episodes on May 30th. We're going to shoot them and get them out as quickly as possible so we don't have to make our fans and audiences wait so long."
Tina Fey — who has appeared on the series as multiple characters across its three-season run — and Robert Carlock will be back as executive producers, along with Sam Means, Jeff Richmond and David Miner.
Good things come to those who wait, we suppose. Better late than never!