The 2018 Formula E championship comes down to one final week of races at the NYC ePrix. Luckily for dramatic purposes, it's going down in the biggest city in the world: The Big Apple. 
Just 23 points separate Team Techeetah's Jean-Eric Vergne (163 points) and DS Virgin Racing's Sam Bird (140 points) heading into the weekend festivities in Red Hook. With the Statue of Liberty and World Trade Center providing a stunning backdrop, the intimate 14-turn track will call for the very best from the field before a champion is crowned.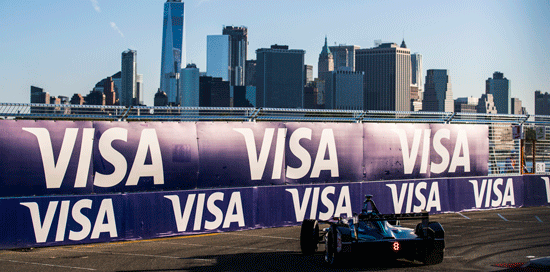 Vergne's chances of taking home the title at the NYC ePrix look very good, however, there is some doubt surrounding his ability to clinch things. He could have put the championship to bed during the last round in Zurich, Switzerland in June, but he was only able to muster a single point. Bird, on the other hand, managed to accrue 18 to make the two-race slate in New York a very interesting one. 
Bird's dominance in New York should also be a concern for Vergne. During Formula E's debut in the Big Apple last year, Bird won both races as he finished fourth in the driver standings. 
"I love this track. What an amazing backdrop we've got here in Red Hook overlooking Manhattan," Bird said.  "What a great place to be and I'm so pleased Formula E has been able to secure one of the biggest cities in the world for such an event."
When is the NYC ePrix?
The 2018 NYC ePrix goes from Saturday, Jul. 14 (3:30 p.m. ET) to Sunday, Jul. 15 (3 p.m. ET). Two races will be run with points awarded to each participant depending on their finish. Obviously, the better the finish, the more points are rewarded. 
Here is how the points are distributed:
1st – 25pts
2nd – 18pts
3rd – 15pts
4th – 12pts
5th – 10pts
6th – 8pts
7th – 6pts
8th – 4pts
9th – 2pts
10th – 1pt
While there are two chances for Bird to overtake Vergne in the standings, he is putting all his focus on Day 1. 
"Saturday is key," Bird said. "I need to beat JEV on Saturday in order to make it to Sunday. That's just the way it is. If I don't, my life will be very difficult on Sunday."
It's not out of the realm of possibilities for Bird to come from behind and win it all. Last season saw Lucas di Grassi overtake Sebastien Buemi on the final day of the 2016-17 campaign to take the title. 
Bird and Vergne are very familiar with each other, which also adds a little bit more to the championship's final races. During the 2015-16 season, just the second of Formula E's existence, Vergne raced alongside Bird for DS Virgin Racing. 
However, there seemed to be some problems with the team owned by Sir Richard Branson. 
"We had a bit of a difficult time as teammates but we put that to bed. JEV is a world-class driver who can compete with anybody on the global stage on his day," Bird said. "He comes from Formula 1 and honestly he could still be in F1, he's that good… I have the utmost respect for him."