It all comes down to this. One of the more traditional powers in world soccer, France, looks for its second-ever global title against new kids Croatia this weekend in the 2018 FIFA World Cup Final.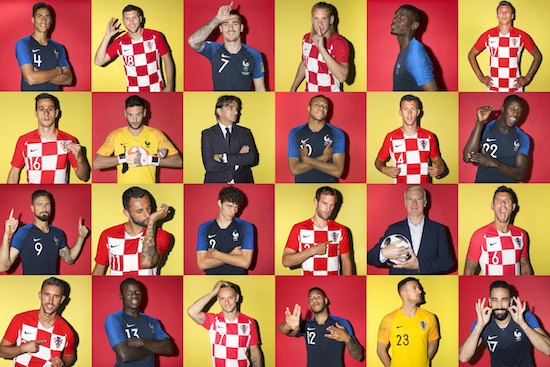 France, who came into the tournament as one of the favorites to win it all, has lived up to its expectations as a force in Russia. The organized side has proven to be a defensive stalwart thanks to a style of play that stresses the counter-attack and the creation of chances through set pieces. 
That counter-attacking brand of play fits perfectly for the likes of 19-year-old Kylian Mbappe, who has become a household name after a brilliant showing against Argentina in the Round of 16 as he recorded two goals and set up another by drawing a penalty. 
He's become the perfect compliment to Atletico Madrid man Antoine Griezmann, the attacking engine of a French team that has scored seven goals in its last three matches. 
It was his ball in the 51st minute of the semifinal against Belgium that set up Samuel Umtiti's match-winning header that punched Les Bleus to its third World Cup Final in 20 years. 
France will be facing a Croatia side that has become the darlings of the tournament. Gaining independence in 1991, the nation of 4.1 million has quickly evolved into a force on the international stage. The 1998 World Cup semi-finalists have gone one step further in 2018, defeating England 2-1 in extra time after trailing within five minutes of the start of the semifinal. 
Despite being the second-smallest nation to reach a final, Croatia is rich in talent. It could very well have the best midfield duo in the world with Real Madrid man Luka Modric pairing up with his La Liga rival, Barcelona's Ivan Rakitic. They have been the two engines behind striker Ivan Perisic, whose 68th-minute goal against England set up extra time and Mario Mandzukic's 108th-minute winner. 
Perisic leads his side with three goals at the tournament while Modric has added a pair of his own. 
This will be Croatia's first-ever appearance at a World Cup Final or a major international tournament of any kind. The Blazers have only made it as far as the quarterfinals at the European Championships. 
Looking at the numbers, these are two very similar teams which is the perfect ingredient for an entertaining Final. Croatia has scored one more goal than France at the World Cup, 11-to-10, but Les Bleus has conceded one less goal with four given up in six matches.
World Cup Final: France v. Croatia viewing information
Date: Sunday, Jul. 15
Time: 11 AM ET
TV: FOX
Live Stream: Fox Sports Go, fuboTV