It used to be so easy to watch 30 Rock online.
You just logged into your Netflix account and picked up where you left off, watching the entire Tina Fey series through — for the thirteen time. But the streaming service caused some serious anxiety — and, of course, a lot of screaming "Blerg!" — when they announced that all seven seasons of the beloved series was leaving their catalogue on October 1.
Wait, they did what?!
That's right. We hope we didn't ruin your night cheese with this horrible news, but if you were a 30 Rock addict you already knew about this. Netflix has always had their offerings on rotation, with new TV shows and movies coming to and leaving the streaming service each month; we just never thought the cycle would leave us without Liz Lemon.
To make things Liz Lemon in shorteralls bad, the streaming service nixed all seven seasons in one go instead of a couple seasons at a time like they do with other series.
Is there anywhere I can watch 30 Rock online?
We know, we know, we also want the show about unlucky-in-love, food obsessed Liz Lemon and all the quirky writers and stars of TGS to be accessible for as long as Kenneth has been alive. Luckily, though Netflix failed to commit to the New York-centered show forever, another streaming service is picking up the torch and letting you watch 30 Rock online. Enter Hulu.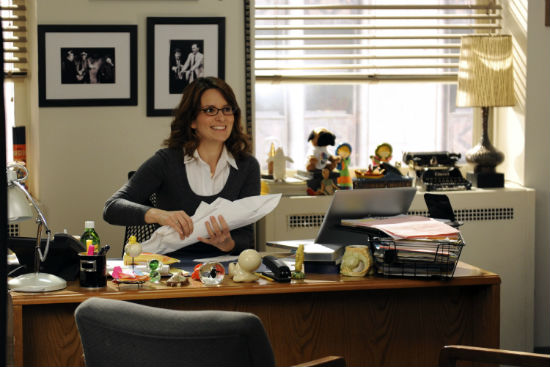 That's right, you can rewatch the long running feud between Tracey and Jenna on Hulu. You'll get access to all seven seasons, that's 137 episodes of Scotch-swilling Jack advising Liz Lemon on everything from leg rashes to her dad's "gentleman's intermission." Stock up on meatball subs, extra bread, and bags of Sabor De Soledad for your upcoming marathon.
A subscription to the streaming service will set you back $5.99 per month for the first year right now, since Hulu is running a special promotion. Maybe they sensed the waves of 30 Rock fans headed their way.
Are there any other options?
You can also access individual episodes of 30 Rock, or whole seasons if you prefer, on Amazon Video. You'll shell out $1.99 per SD episode ($2.99 per episode for HD), and $19.99 per SD season ($24.99 per season for HD). Though that's a lot loftier of a price tag than Hulu, at least you can rest assured knowing you'll have permanent access to all your favorite episodes.