Whether or not you're running the 2018 NYC Marathon on Nov. 4, it's a good weekend to love carbs in the city. These NYC Marathon carbo-loading specials like unlimited pasta and free beer are not just for runners.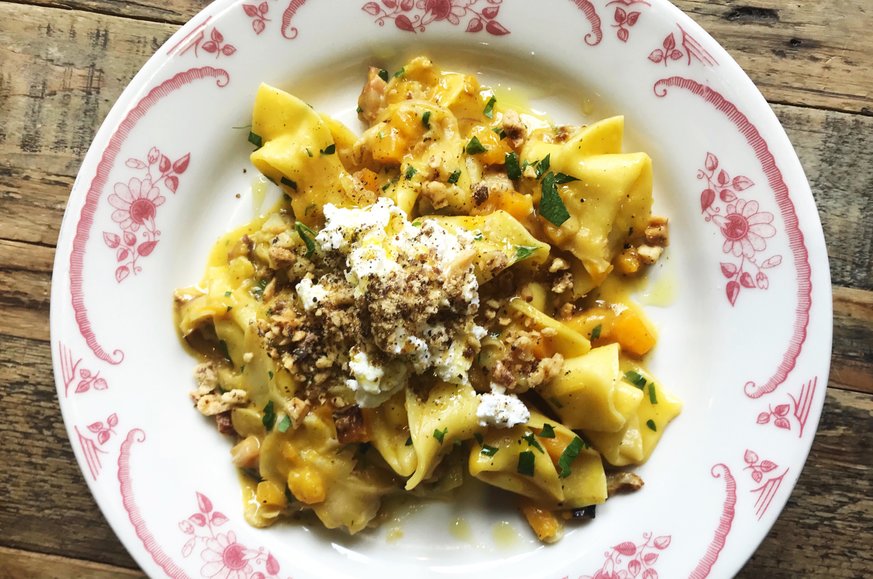 Where to carbo-load all weekend before the 2018 NYC Marathon
For the ultimate carbo-load, you can't beat unlimited. Head into Tribeca's Church & Dey in the Millennium Hilton New York Downtown for their $25 Unlimited Pasta Dinner. From Nov. 2-4, enjoy bottomless bowls of cavatelli with shrimp, tricolor penne with basil pesto or rigatoni Bolognese. 55 Church St., hilton.com
The Fireman Hospitality Group is taking care of runners all weekend at all three of their Italian restaurants with a Pasta Gigante special: a 10-ounce portion of rigatoni tossed with pomodoro sauce and topped with fresh ricotta for $25. Nov. 2-4, Bond 45 (221 W. 46th St.), Café Fiorello, (1900 Broadway), Trattoria Dell'Arte (900 Seventh Ave.)
Upscale Italian spot Cardoncello DiVino has lined up an entire special carbo-loading menu for the night before the race, Nov. 3. Created with the help of the Italian Association for Health and Nutrition for optimal athletic output, the $48 three-course menu includes whole wheat cavatelli with broccoli rabe and pesto, and turkey breast with mashed potatoes. Want more pasta? Runners who return to Cardoncello on Monday, Nov. 5, get a 10% discount when they show their medal. 43 W. 27th St., cardoncellodivino.com
Feelin' fancy? The Upper East Side's Regency Bar & Grill is doubling down on the carbs with Rigatoni Pomodoro and a pint of Brooklyn Lager for $26.20 all race weekend, Nov. 2-4. 540 Park Ave., loewshotels.com
In Lower Manhattan, the Conrad New York's Atrio restaurant is offering runners 30% off any pasta dish the night prior to the race and 20% off the bill for the entire table with a runner in the party on the day of the marathon. 102 North End Ave., conradnewyork.com
Santina's new executive chef Ashley Eddie has something for the carbo-loaders and those who can't get enough of pumpkins just because Halloween is over: the Pumpkin Pesto Rigatoni. The pesto is made with pumpkin seeds and pumpkin oil, with salata cheese sprinkled on top. 820 Washington St., santinanyc.com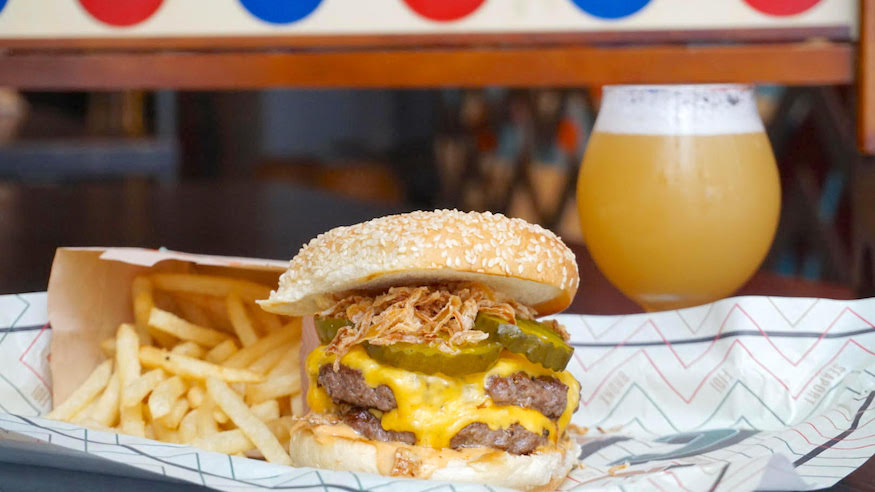 Freebies for NYC Marathon 2018 runners after the race
The crew at Threes Brewing will take their enthusiasm to the race route with a sign-making session at the corner of Fourth Avenue and Douglass Street in Gowanus starting at 9 a.m. Then from noon until close, runners are invited to stop by either of their taprooms for a free pint (non-runners get drink and food specials, too). threesbrewing.com
Clinton Hall just nabbed gold at the New York City Wine & Food Festival for their Double Smashed Burger. Get it for free along with a pint of their new house brew the Gigawatt IPA — also free! — by showing your NYC Marathon 2018 medal. clintonhallny.com
Restaurateur Michael Chernow is running the NYC Marathon on the City Harvest team. To spread the racing love, all six locations of Seamore's is offering all marathon runners (with proof of medal or bib) free fish taco refills on Sunday! Basically, buy your first order then get as many refills as you'd like. seamores.com
Ready for dessert? Head to Boulton & Watt on the Lower East Side for the restaurant's signature Cast Iron Chocolate Chip Cookie. It comes with a side of cold milk, and for runners on Nov. 5 it's totally free. 5 Ave. A, boultonandwattnyc.com
Your congratulatory drink is on Park Avenue Tavern in Murray Hill. Swing by for a free cocktail for all finishers, because after 26.2 miles, you'll need some hydration. 99 Park Ave., parkavenuetavern.com
Planning to celebrate after the race? All of Quality Branded's restaurants are offering runners a bottle of wine on the house by showing this year's medal. Participating restaurants include Don Angie, Quality Italian, Quality Meats, Quality Eats, Smith & Wollensky, Park Avenue and Maloney & Porcelli.
Cross the finish line and reward yourself with a free beer, wine or mixed drink at Parker & Quinn. 64 W. 39th St., ingoodcompany.com