There's no shortage of things to look at when you're walking down the streets of New York. But the city of skyscrapers, incredible parks and endless great food is also full of amazing street art everywhere you look, brightening up abandoned storefronts, turning corrugated gates into canvases, covering entire city blocks and adding even more color to Coney Island. Take a walking tour of the best street art, mural and graffiit in NYC with our guide.
New York
Feel like this city is getting more out of control by the day? @glossblack has the mural for that, created in March 2018 at the original Lower East Side location of noodle kings Twin Marquis Foods. Even when it feels like things couldn't get much weirder, this city always finds a way. 39 Canal St.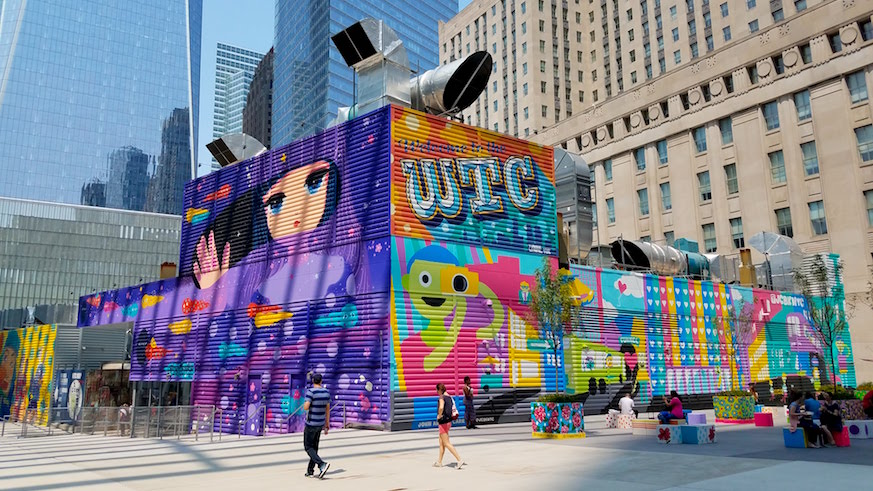 2 World Trade Plaza
Much of the World Trade Center site is still a construction zone, but at least now it's a prettier one. Developer Silverstein Properties put up corrugated metal gates around the in-progress 2 World Trade tower and invited eight muralists to cover the facade. The result is pop of technicolor fun, including a pedestrian-friendly plaza with seating. Through June 2019 (at least), from Church to Greenwich streets, between Vesey Street and the Oculus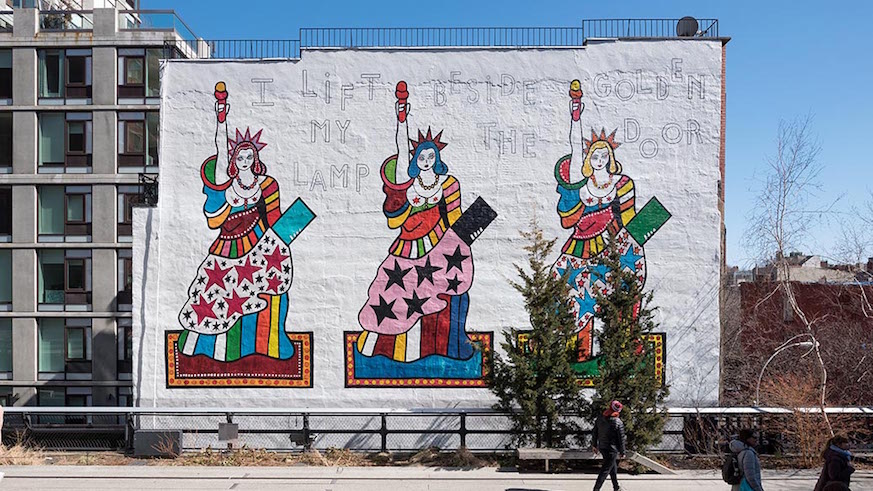 High Line
New York City's elevated urban garden the High Line is also home to lots of art installations that change annually, usually during the spring. This year's projects are collected under the title Agora, the ancient Greek word for "square," and are meant to challenge the notion of who, what and which ideas belong in a public space. The standout mural is I Lift My Lamp Beside the Golden Door, artist Dorothy Iannone's tribute to the Statue of Liberty and the Emma Lazarus poem that proclaims her message of inclusion to immigrants. Through March 2019 at 22nd Street
Anthony Bourdain Mural
There's no better tribute to the food world's enfant terrible than a mural in the Lower East Side neighborhood whose food he loved. Created just a month after his death in June 2018, the Anthony Bourdain mural is the work of street artist Bradley Theodore, who announced his work in an Instagram post simply captioned: "In a city full of villains we all need heroes." 100 Delancey St., on the north side between Essex and Ludlow streets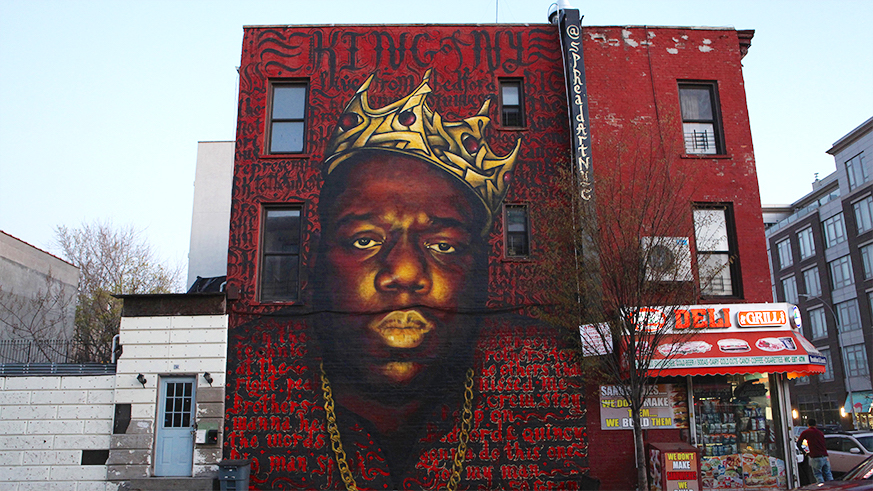 Biggie Smalls Mural
Brooklyn's legendary rapper Notorious B.I.G. stands three stories tall on a Bed-Stuy residential building at Bedford Avenue and Quincy Street. Officially named the King of NY mural, the tribute was created in 2015 by Naoufal "Rocko" Alaoui and Scott "Zimer" Zimmerman. It was threatened by a proposed renovation in 2017, but an outcry from fans all up and down the East Coast saved it. For completists, there's another smaller Biggie mural in Fort Greene at Fulton Street and South Portland Avenue.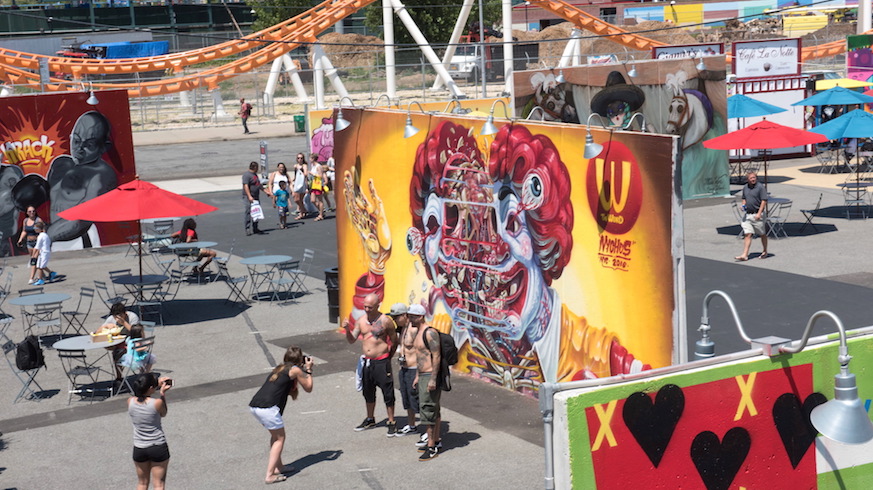 Coney Art Walls
Every summer, Coney Art Walls adds a 50,000-square-foot outdoor gallery to the many pleasures of the seaside amusement park. This year's crop of 38 are all by different artists featuring everything from whimsical sideshow performers to psychedelic backdrops, fearsome creatures straight out of H.P. Lovecraft stories and racing hot dogs. Like the rest of Coney Island, there's something for everyone! 3050 Stillwell Ave., noon-8 p.m. daily through September, coneyartwalls.com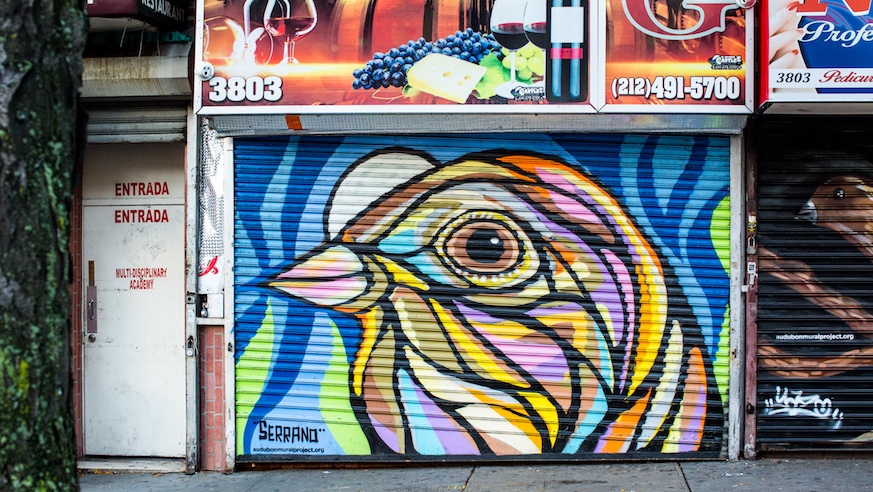 Audubon Mural Project
Climate change is real, but it can be hard to see in our concrete jungle. The Audubon Mural Project aims to change that, with the goal of painting murals of all 314 North American bird species threatened by global warming. So far, 67 birds adorn the wall and gates of buildings in Harlem mostly along Broadway from 133rd to 165th streets, with more to come all the time thanks to artists commissioned by Gitler &_____ Gallery. The National Audubon Society also offers occasional tours of the murals, and you can donate online to support the project.
The Bushwick Collective
The community project that is The Bushwick Collective of street artists has helped transform an industrial Brooklyn neighborhood into one of the city's cultural destinations. Murals change year-round, and you can watch the masters at work during the Bushwick Collective Block Party each June. Troutman Street from Cypress Avenue to Irving Avenue, thebushwickcollective.com
East Village Walls
Rising rents in the East Village are driving out the indie concert venues and dive bars that gave the city's punk rock scene its start, but the artistic spirit remains strong thanks to the work of groups like East Village Walls. You'll find their colorful murals all over the neighborhood, with new ones popping up all the time. Their latest guest artist is Eduardo Kobra of Brazil, with a tribute mural of Michael Jackson called Black or White that depicts the singer with half his face as the teenage star of the Jackson Five and the other half as the King of Pop. 11th Street and First Avenue
Gandhi and Mother Teresa Mural
Followers of the New York public art scene already know Eduardo Kobra for creating one of the best-loved pieces of street art in the city in 2012 with The Kiss, the V-J Day moment between a sailor and a nurse in Times Square seen through a rainbow kaleidoscope. That mural was painted over by the building's owner in early 2016, but Kobra is back in New York with plenty of new plans. Besides his Michael Jackson mural in the East Village, he's created a moment of zen in Chelsea with a shared mural of Gandhi and Mother Teresa called Tolerance. 18th Street and 10th Avenue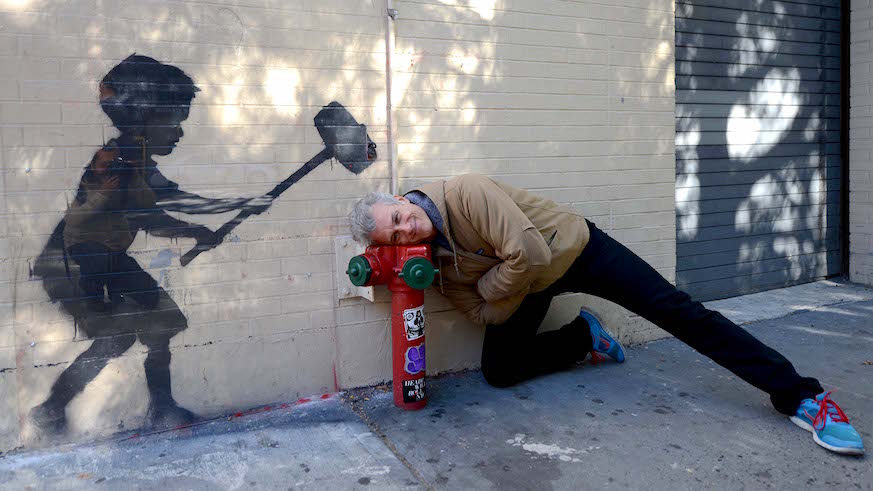 Banksy
Despite kicking around New York for a month in October 2013, you'll be hard-pressed to find any of Banksy's works — they were almost always immediately tagged, defaced or removed from public view. There is one exception: Boy With a Hammer, which is protected by a sheet of plexiglass quickly put up by the owners of nearby Zabar's bakery (thanks to Street Art Tours NYC for the tip!) West 79th Street near Broadway, Upper West Side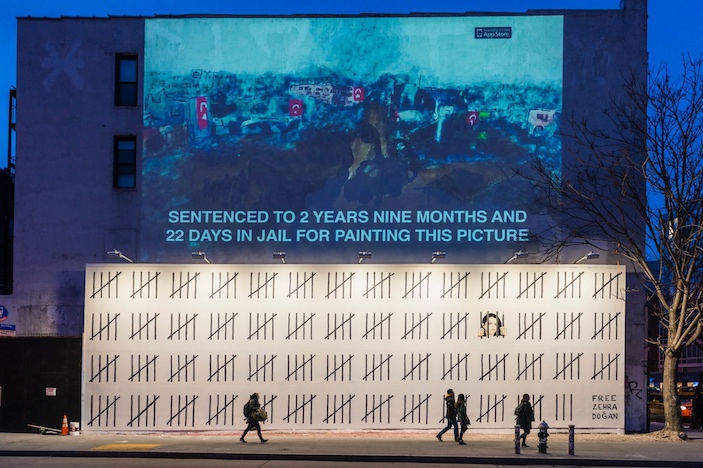 Houston Bowery Wall
Since Keith Haring first turned the wall on Houston Street at Bowery into a mural in the late 1970s, it's been a magnet for art. Now owned by Goldman Properties, the space most recently hosted a politically charged work by Banksy created in March 2018 about Turkish dissident Zehra Dogan, who was imprisoned for painting a mural in her home country. That mural was erased in July 2018, so watch the space for what comes next. 76 E. Houston St.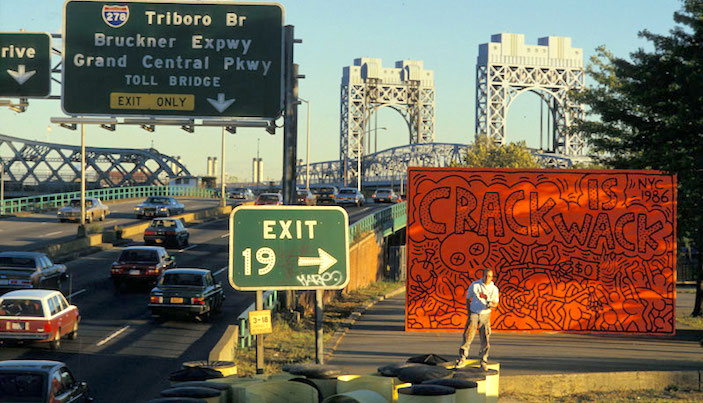 Crack Is Wack
Keith Haring created his neon orange Crack Is Wack mural in 1986 at a Harlem handball court, during the height of New York City's crack epidemic. The piece challenged the idea of what is graffiti vs. street art; Haring was initially arrested and the mural painted over, but a public outcry of support and the blessing of then-Mayor Ed Koch led Haring to repaint the mural, which remains to this day at the Crack Is Wack Playground. 128th Street and Harlem River Drive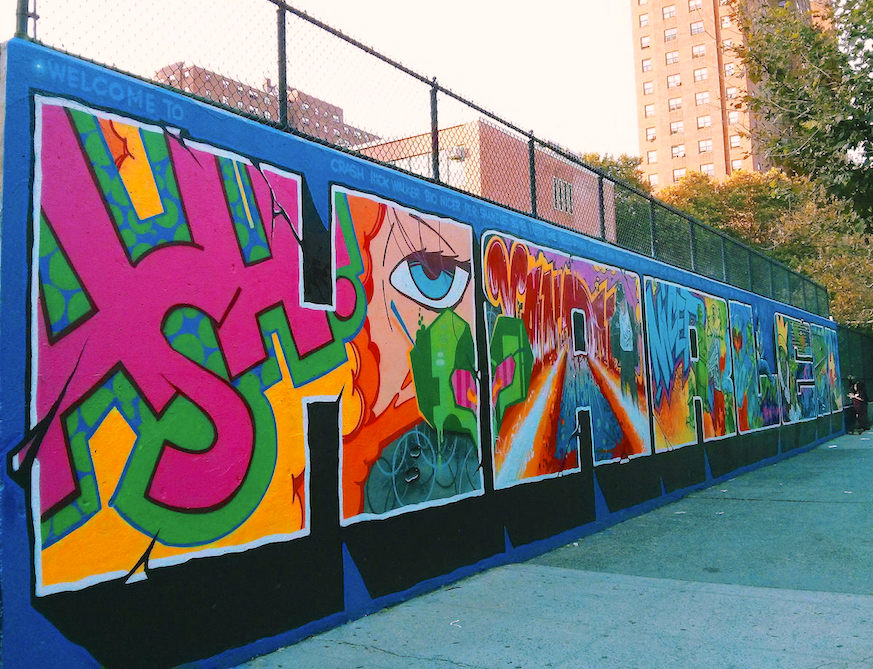 Graffiti Hall of Fame
The entire Jackie Robinson Educational Complex used to be an ad-hoc showcase for up-and-coming graffiti artists in the 1970s. Now, the only wall they use is the street-facing boundary of the schoolyard, and the theme is Strictly Kings or Better, making it an open invitation for internationally renowned street artists stopping through the city to come and leave their mark. East Harlem between 106th and 107th streets on Park Avenue
Welling Court Mural Project
The community-created Welling Court Mural Project turns the streets of Astoria, Queens into a sprawling art gallery with more than 120 artworks. Ad Hoc Art invites a new batch of artists every year, ranging from promising newbies to famous veterans of the street art world, and gives them free rein on themes. Here's the map of all Welling Court Mural Project 2018 works.
Love Wall
Artist James Goldcrown has turned his "bleeding heart" mistake into Instagram-famous Love Walls all over New York City. They're something of a cliche at this point, but the overlapping rainbow hearts do speak to a sort of desperation for love, and that's something we can all relate to. We like the one at Kida in SoHo. 369 Broome St.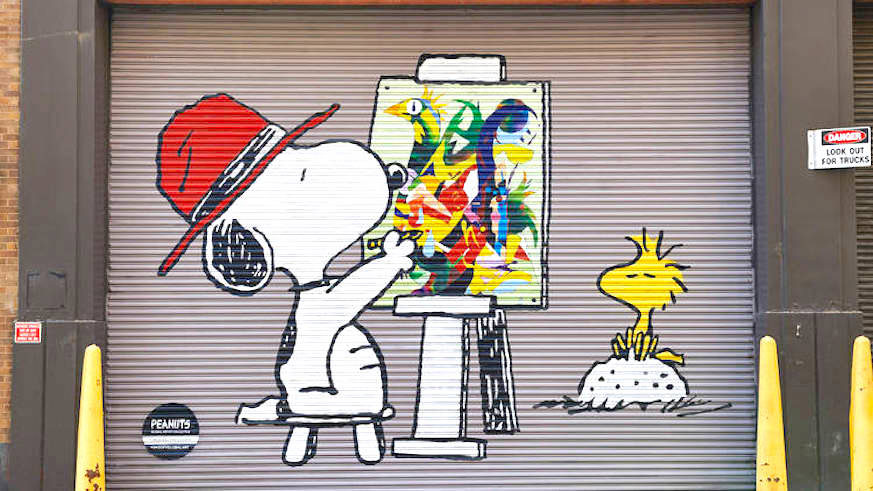 The Snoopy Collection
Reconnect with one of your childhood favorites with a series of murals in the West Village depicting the beloved characters of the Peanuts comic strip. The collection of seven murals feature all your favorites, from an anime-style Charlie Brown to psychedelic rocker Snoopy with his trusty bird sidekick Woodstock, painted by the Peanuts Global Artist Collective with the blessing of the family of Peanuts creator Charles Schulz. Hudson Square by Children's Museum of the Arts