If you need to be somewhere in a hurry, should you flag down a taxi or hop on a bike?
There's now an interactive map to tell you which one is faster.
Todd Schneider, a local software developer, pitted the two modes of transportation against each other to create an interactive map that shows when Citi Bikes beat cabs in terms of travel time.
The map is searchable by neighborhood and time of day, showing the median length of time a taxi trip and bike ride would take.
So which one is the ultimate winner? Biking tends to be a lot quicker, Schneider found.
Based on the data from July 2016 to June 2017, Schneider estimated that 40 percent of weekday taxi trips in the areas serviced by Citi Bike would have been faster if the commuter switched to two wheels.
During peak midday rush hours, more than half of all taxi trips would be faster as Citi Bike rides.
It depends on your starting location and destination, though. For example, from the Financial District to Brooklyn Heights, taxis beat Citi Bikes 93 percent of the time.
But say you're traveling from Williamsburg to Flatiron, a Citi Bike will get you there faster than a cab more than 85 percent of the time.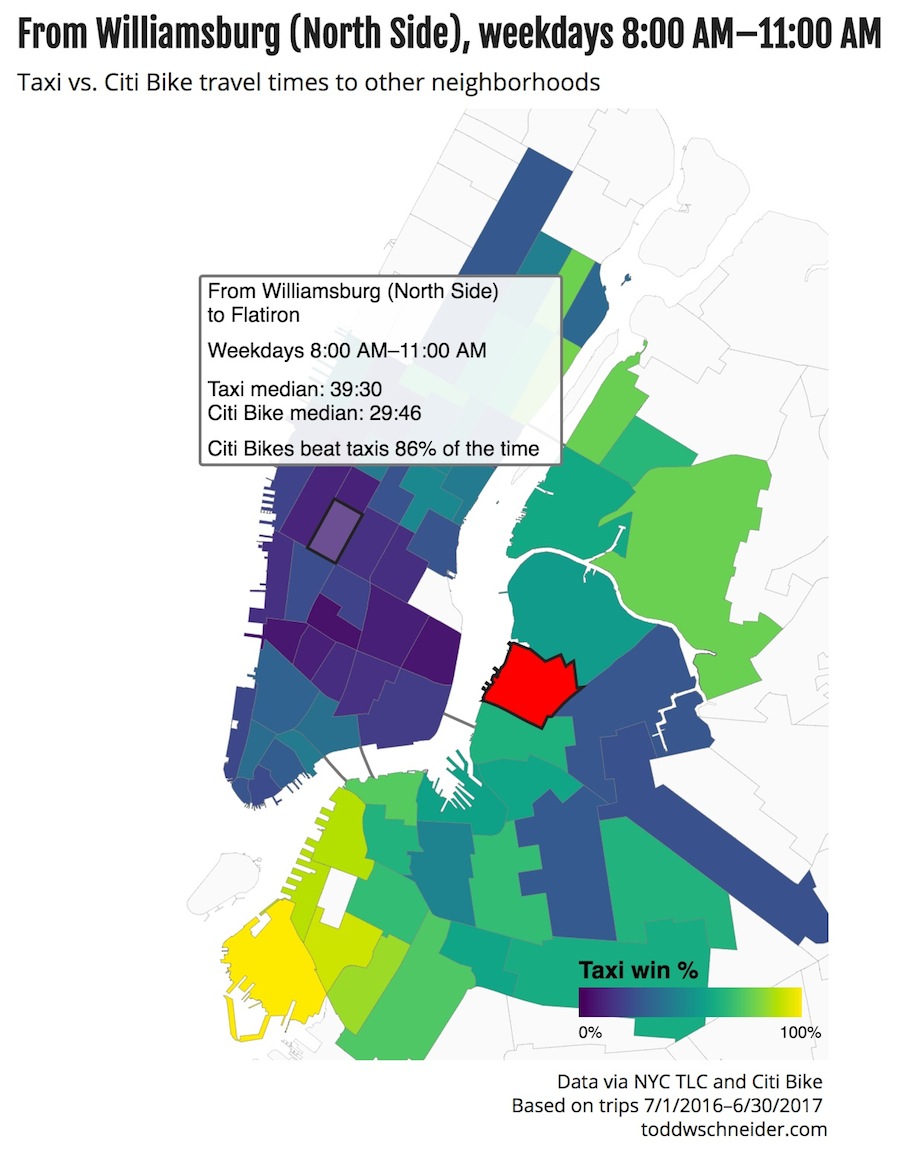 An example of the interactive map showing the travel times between neighborhoods by both bike and taxi. Click here for the full interactive map. 
Schneider works at Genius but took on the task as a side project just for fun, he told Metro.
"I've written previously about NYC's publicly available taxi and Citi Bike data, so comparing the two of them felt like a natural extension," he said in an email. "Plus, there's been lots of debate recently about traffic, congestion pricing, etc., so it felt relevant to that too."
People have been talking for a while about how city traffic is getting worse, he said, so there was nothing particularly surprising in the data to Schneider. The most interesting thing he found, though, was that taxis have gotten slower since 2009.
A taxi trip in 2017 took 17 percent longer than the same trip in 2009, according to his research.
On the other hand, Citi Bikes have gotten slightly faster, and how long a bike trip takes is less likely to be affected by the time of day than a taxi ride.
As for Schneider's own preferred mode of travel, he said he regularly commutes by subway and also likes to walk.
"I'm not a Citi Bike member," he added, "though I am thinking now that I probably should be!"