America's favorite singing competition with spinning chairs is back on the air! So let's recap. Who got voted off "The Voice" this week?
Before we dive in, we should not that things are a little different this year. Resident bickering bro's Blake Shelton and Adam Levine welcomed new judge, and former reality singing champ, Kelly Clarkson to the show. Last year's reigning champ Alicia Keys also makes her return as a judge and the judges now have a chance to "block" each other's picks once per episode. I know. Some really riveting shake-ups in Voice-land.
This week's two-part premiere was the "blind auditions" and out of all of the talented singers who left their hearts out on the stage, only the best made the cut.
Who got voted off 'The Voice' this week? Episode 1
Blaise Raccuglia
In the first episode, none of the judges were impressed by Blaise Raccuglia, the twenty-five-year-old wakeboarding pool technician from Austin, Texas. His uninspired version of Hunter Hayes' "Wanted" was not exactly what the judges …ahem… "wanted" and was sent home packing.
During his intro, Raccuglia talked about the cultish Christian church he founded with "just his guitar" called Ministry Cliffside 360. From the sound of it, he led all of his "100 or so" followers to the top of a cliff to find the true meanings of the Lord. I'm glad he was one of the first people who got voted off of "The Voice" because I don't know if I could have handled a full season of him talking about that.
Mackenzie Thomas  
The second person who got voted off "The Voice" was nineteen-year-old Mackenzie Thomas from Wallingford, Kentucky.  This one stung a little bit, as Thomas' intro showed her a sweet and shy girl who loved singing with her local gospel choir. Needless to say, I was rooting for her but her voice was pretty shaky during her rendition of the funky Childish Gambino hit "Redbone". You could tell that both Alicia and Kelly were digging it but neither of them slammed down on their decider buttons to seal the deal. What gives???
Who got voted off 'The Voice' this week? Episode 2
Sophia Dion
The only causality who got voted off of "The Voice" in the second "blind audition" episode was seventeen-year-old Sophia Dion from Park City, Utah. Her crescendos during her rendition of "What a Man" by En Vogue all seemed to fall flat and never really take off to the heights she was intending. Blake criticized her by saying that she mumbled through the lyrics and basically said he couldn't tell what song it was. Whoops!
And there you have it! Now that the judges have picked their teams, it will be interesting to see how they mold each of their students. Who knows, maybe Adam Levine will wear another cool Hawaiian shirt?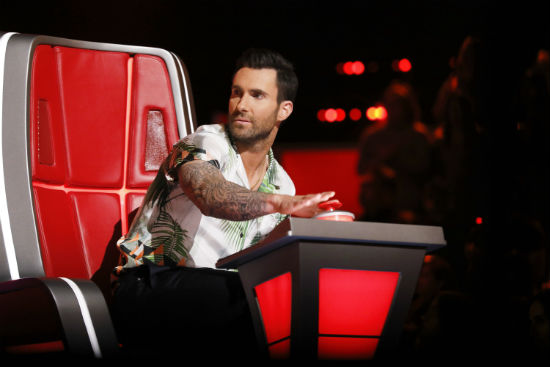 [Photo by: Trae Patton/NBC]
Check back to find out who got voted off "The Voice" next week!