If you missed The Walking Dead midseason finale for season eight that aired last night, we're sure you have a million questions running through your mind, like: Did the show really deliver "All Out War"? Did Negan find out that Dwight betrayed him? And, probably most importantly, who died on The Walking Dead last night?
If you're a fan of The Walking Dead, you know by now — eight seasons in, c'mon people — that big episodes like the midseason and season finales almost always kill someone off. You know because you've had your heart broken multiple times over the course of the past season. So you know going into last night's season 8 midseason finale that a goodbye was probably coming.
But who was it?
Who died on The Walking Dead last night?
If you read our preview of The Walking Dead midseason finale, you know that though the producers and writers of the show like to keep loyal fans on their toes, there were three major theories about which character would breathe their last during The Walking Dead season 8 episode 8. We'll give you a run down of where we stand with all three of them and answer your burning question: Who died on The Walking Dead last night?
Did Dwight die during The Walking Dead midseason finale?
As you remember, Dwight has been playing double agent for a while now — and that's risky business when you're turning on a guy like Negan. That's the same guy who stole his wife and took an iron to Dwight's face, after all.
Leading up to The Walking Dead midseason finale, we saw Dwight was in danger from two related sources: Eugene and Eugene's recorder. Eugene is aware of Dwight's double life, but has kept mum for the time being. But we also saw Dwight fail to scan the room when spying on and confronting the mullet-clad Eugene while he was working on his flying contraption. That means Eugene's recorder, which Dwight didn't notice, got everything he said — including an admission of working with Rick and the gang — was caught on tape.
But did he get caught and was he killed? Is the mystery of who died on The Walking Dead last night that simple?
After helping lead a group of the Saviors into a trap, and picking some of them off himself, he's clipped by Laura. But he lives through that and stumbles right into almost getting picked off by Daryl and Tara. In the end, though, he manages to convince them of his utility in the future and lives to see another day.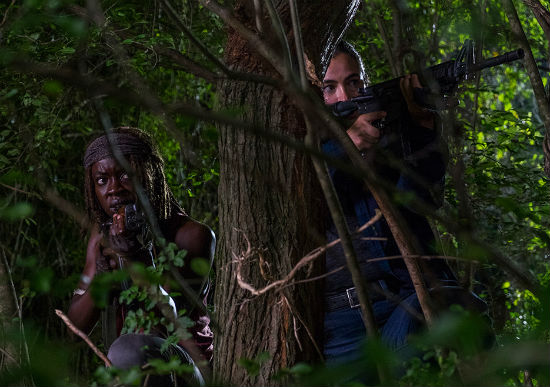 Did Judith die during The Walking Dead midseason finale?
Maybe you remember this devastating theory: That the flash-forward sections we've seen this season that feature a precious six-year-old girl weren't, in fact, of Judith but rather the baby Rick and his friends pick up during an earlier episode. The theory went that the other flash-forward sections which show Rick with red-rimmed eyes were foreshadowing of his grief after the loss of her baby daughter.
Now, that would really be a heart-wrenching bait and switch on the part of the writers and producers but, we've got to admit, a compelling twist for the post-apocalyptic show. But did they pull this emotional stunt and stun all viewers last night? If you were gambling on Judith being the answer to who died on The Walking Dead last night, we don't blame you one bit.
Judith has survived a lot over her seasons, from almost dying during birth to managing to escape unscathed every time she cries at the most inconvenient times (aka when it endangers the lives of everyone else because walkers or enemies are around). And you can add this midseason finale to that list, too. Judith made it through the episode.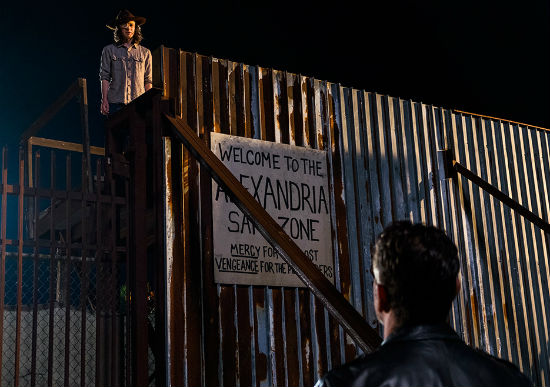 Did Carl die during The Walking Dead midseason finale?
Some of the most passionate debates happening online leading up to The Walking Dead midseason finale was whether or not Carl was going to be killed off. There seemed to be evidence on both sides: On the one hand, Chandler Riggs (who plays Carl in the AMC series) posted on social media about a new haircut for a movie, indicating he might be off the show. Then again, characters like Maggie have dramatic haircuts without meeting their demise.
The midseason finale trailer seemed to taunt us with the possibility of his death. It featured a line from Carl that appeared to tempt fate as the eyepatch-wearing youth said, "All we need to do is survive tonight." So was it too much? Did he laugh in death's face a little too long?
We know that comic book fans were looking forward, to some degree, to Carl taking over as the leader of the group. This season gave us plenty of imagery that suggested producers would stay true to the comic arc and let things play out this way for a while. Unfortunately, it's not to be. During last night's The Walking Dead midseason finale, Carl was bitten by a walker. Though he didn't technically die during the episode, showrunner Scott Gimple confirmed on the episode of The Talking Dead that aired right after the midseason finale that Carl will absolutely die during the upcoming midseason premiere.
It's a huge deviation for the show, and perhaps a return-to-form for the AMC hit that some say was better in years past, but don't expect divine intervention on this one. Both Candler Riggs and Andrew Lincoln spoke to the death in interviews. It's definitely happening.
So, brace yourself for The Walking Dead midseason premiere. Stock up on tissues to keep by the couch. And, if you're up to it, send off this character with an ode to one of his fan-favorite moments throughout the show by cheersing to him with a big bowl of chocolate pudding.