While the New York Mets are grinding through another embarrassing season, Peter Alonso gave the franchise a reason to smile this weekend at the home of one of the team's fiercest divisional rivals.
And he's not even playing in the majors.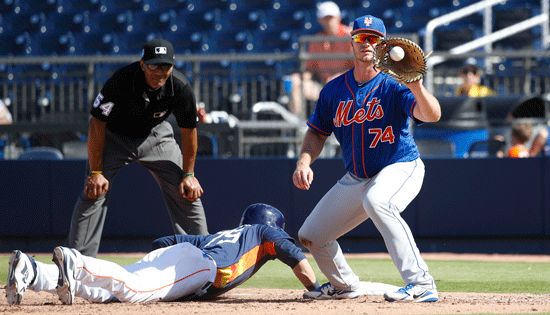 The first-base prospect is the No. 7-rated talent in the organization's farm system according to MLB.com. That might have to change after his performance in Sunday's Futures Game, a part of Major League Baseball's All-Star weekend in which the best minor-league prospects are split into an American and international team.
Alonso got the call to nation's capital thanks to his monster start of the season down in double-A Binghamton as he batted .314 with 15 home runs and 52 RBI in 65 games. It earned him a call-up to triple-A Las Vegas where the 23-year-old has encountered some struggles. 
The power is still there with six home runs and 23 RBI in 23 games, but a recent 10-game streak in which he's batted just .139 and dropped his average to .190, leaving something to be desired. 
Talks of average quickly went out the window on Sunday though as Alonso came up in the seventh inning of the Futures Game against Adonis Medina, the Philadelphia Phillies' second-ranked prospect in their farm system. On a 3-2, 95 mile-per-hour fastball, Alonso turned on the offering and sent a mammoth home run over the left-field stands at Nationals Park. 
It was a no-doubter as his blast even had the commentary team going:
Does this count as #CRUSHED?! @PeterAlonso20 with an absolute moonshot in the All-Star #FuturesGame! pic.twitter.com/uuxiolaJ1p

— New York Mets (@Mets) July 15, 2018
"Oh my God," Alonso said after the game. "It felt like a lightning bolt hit the tip of my bat. That was awesome."
What was so special about the blast by Peter Alonso?
There very well could have been some sort of supernatural force that helped that ball get to where it did at Nationals Park because the metrics on the bomb simply have not been matched before by any ballplayer in the minors or majors. 
Statcast's Matt Kelly measured Alonso's home run to have an exit velocity of 113.6 miles per hour with a launch angle of 46 degrees, allowing it to travel 415 feet. Since home run technology launched in 2015, no Major Leaguer has ever hit a round-tripper with that kind of exit velocity and height. 
It's only a matter of time before he's unleashed on the rest of the big leagues, but for now, Mets fans will have to sit around with this current mess of a team and wait patiently until that day comes.