Instagram is the virtual world of too-pretty-for-their-own-good meals and even prettier selfies that we all love — and, more accurately at times, love to hate. With 1 billion monthly users as of June 2018, there seem to be infinite accounts to follow. And, it's easy to assume that celebrities have the most Instagram followers of them all.
Who exactly holds the title for the most Instagram followers in the world right now? Take a guess. 
The most Instagram followers goes to…
In February 2018, 133 million people followed Selena Gomez's Instagram page, and Marie Claire dubbed her the celeb with the most Instagram followers. Seven months later she keeps that title with a current following of 142 million.
Portuguese soccer star Cristiano Ronaldo comes in as a close second with 141 million followers. 
In comparison, Ariana Grande has racked up 128 million. Kylie Jenner, Queen of lip kits, has 114 million. Beyoncé and Kim Kardashian have 117 million apiece (Metro staffers were absolutely certain a Kardashian-Jenner would have the most Instagram followers in the world — imagine our surprise when we found out they were beat out by a pro soccer player).
However, if we're talking about accounts in general, Instagram's Instagram would technically take home the prize, with a current count of 249 million followers.
"People so badly wanted me to be authentic," the 26-year-old singer/actress told Vogue last year of her music, "and when that happened, finally, it was a huge release. I'm not different from what I put out there. I've been very vulnerable with my fans, and sometimes I say things I shouldn't. But I have to be honest with them. I feel that's a huge part of why I'm where I am."
This goes for songs and social media.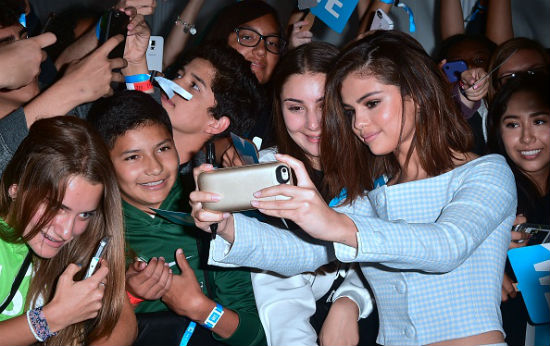 After a post on August 15, 2016, Gomez gave up her phone for about three months and underwent a much-needed detox (since social media has proven, in some cases, to have a negative impact on mental health and relationships, this would be a good decision for anyone no matter their celebrity status). The program Gomez entered included individual, group and equine therapy — which involves horses.
"It was one of the hardest things I've done, but it was the best thing I've done," she said.
Instagram connects us through photography and storytelling, but it can be a dangerous place of unrealistic beauty standards and, often times, underrepresentation of real life experiences. That being said, self-love and body positivity has also taken hold on the platform, reminding us that social media can be as authentic as you make it.
For Gomez, becoming the person with the most Instagram followers became too much. 
"As soon as I became the most followed person on Instagram, I sort of freaked out," Gomez explained. "It had become so consuming to me. It's what I woke up to and went to sleep to. I was an addict, and it felt like I was seeing things I didn't want to see, like it was putting things in my head that I didn't want to care about. I always end up feeling like shit when I look at Instagram. Which is why I'm kind of under the radar, ghosting it a bit."
Though she still admits to having a "complex relationship" with Instagram — one of her "most difficult relationships" at that — Gomez told Harper's Bazaar in February, "It has given me a voice amid all the noise of people trying to narrate my life for me."
"It's an incredible platform, but in a lot of ways it's given young people, myself included, a false representation of what's important," she noted. 
At the end of the day it provides Gomez with her "truth." But, like any love-hate relationship, it's a slippery slope.
Whether or not you take notice of how many Instagram followers you have, remember what's real, have fun with it and stay true to who you are beyond the double taps and hashtags.