The 100th PGA Championship came to a close on Sunday, and Tiger Woods received second place prize. Girlfriend Erica Herman was in attendance waiting to congratulate the pro golfer.
"I didn't know when I was going to start this year and how many tournaments I was going to play, how well I was going to play," Woods, who underwent his fourth back surgery in April 2017, said of his performance. "I didn't know what swing I was going to use, either."
Herman greeted Woods with a kiss — and even slipped in a few butt taps for kicks — and some fans were left stunned, unsure of who this woman was.
Watch the exchange below:
Tiger gets the ole kiss on the lips and a good game before turning in his scorecard…

"Wow. That was fun to watch." pic.twitter.com/VOpWIfbmNW

— Daren Stoltzfus (@DarenStoltzfus) August 12, 2018
Despite the fact that the two have reportedly been together since last year, their relationship hasn't made headlines as of late, and many people took to Twitter to express their confusion. 
"The fact that no one really knew that [they were dating] suggests maybe he's figured out how to keep his personal life personal …" one fan wrote.
Woods' ex-wife, Elin Nordegren, divorced him in 2010 after he admitted to a string of infidelities with other women. Since, he's dated stylist Kristin Smith and Olympic skier Lindsey Vonn.
Here's everything to know about Tiger Woods' current girlfriend, Erica Herman.
Erica Herman has worked in the restaurant industry
Herman, 34, was reportedly general manager of Woods' namesake restaurant, The Woods, which opened in 2015 in Jupiter, Florida.
She was reportedly involved in the opening of The Woods' first pop-up restaurant, The Woods At 10, at the Genesis Open in February 2017. It offered fans a menu that included lollipop lamb chops, truffle fries and tuna tartar. 
"We are bringing the TGR expertise and experience to a live event," Herman said at the time. "It's just a taste of our menu. This is a way of sharing what we have learned and done. It's a great opportunity for people to see what we can do."
Herman, whose full name is reportedly Erica Fallon Herman, previously worked at Aura Bar & Restaurant in Orlando.
Erica Herman and Tiger Woods have been dating publicly since October 2017
At the Presidents Cup in October 2017, Herman wore a "player spouse" badge that's reserved for golfers' wives and girlfriends.
She's since been spotted with Woods at other tournaments — and attended Wimbledon with him this year.
Here she is at the Open Championship in July with Woods' children, 11-year-old Sam and 9-year-old Charlie: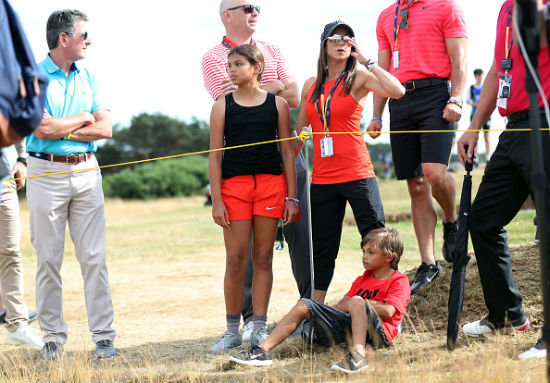 Erica Herman and Tiger Woods could have met before she worked at his restaurant
A source told Radar Online that Herman met Woods in a nightclub he used to frequent, though other outlets claim they met while she managed his restaurant.
"Erica's been chasing Tiger around like a puppy for close to ten years," the source told the gossip site.
Erica Herman and Tiger Woods may have been together while he was dating Kristin Smith
It was also rumored that Woods had an affair with Herman during his relationship with Smith, whom he broke up with around August 2017. Woods reportedly denied this affair.
"Kristin suspected it, but he would always deny it by belittling Erica," a source told Radar Online. "Kristin eventually caught them together. It was a big mess." 
Herman has reportedly banned her family from speaking to the press, and besides the occasional paparazzi photo, we haven't seen much of her.
Woods has kept their relationship well under wraps, and neither of them have commented on the romance.  
By the looks of it, though, Herman isn't going anywhere.