Powerhouse singer Demi Lovato had an "all-night party" Monday and was hospitalized the following day after an apparent drug overdose. While fans, friend and former boyfriends Wilmer Valderrama and Joe Jonas reacted to the reports, there's been no word so far from Lovato's rumored new love interest, rapper G-Eazy (G-Eazy and Halsey, if you recall, dated for about a year and broke up in early July).
G-Eazy and Halsey, the 23-year-old "Bad At Love" singer from Jersey, were broken up for two weeks before news leaked that Lovato and G-Eazy left a Hollywood nightclub together — reportedly holding hands.
G-Eazy, 29, also has a history with drugs. Back in May, he was arrested for assaulting a security guard and possessing cocaine.
"Grateful & blessed to be free & safe," G-Eazy wrote on Instagram a few days later. "…Embarrassed & apologetic beyond words about the incident."
He continued on to say that, "above all I'm so [f*cking] grateful they let me go, craziest experience of my life, awful night with a lot of bad luck and some even worse decisions."
Months prior, a photo surfaced of G-Eazy and Halsey snorting what appeared to be a white, powdery substance on a boat in Miami. When asked about the photo, G-Eazy said on The Breakfast Club radio show, "I don't know, it's New Year's Day. It's Miami. I'm on a yacht. What do you think I'm doing?"
"Him & I," a song from G-Eazy and Halsey, also talks about the couple doing drugs together.
G-Eazy and Halsey both told the press that Lovato is merely a friend. Who is Demi Lovato dating, if not him? As Lovato focuses on a full recovery, perhaps G-Eazy will speak out.
Here's everything you need to know about the rapper. 
G-Eazy's real name is Gerald Earl Gillum
Gerald Earl Gillum (G-Eazy) was born in Oakland, California. His parents split when he was young. Money was tight, so he worked at the restaurant chain Top Dog. 
"I had a job since I was old enough to work, since I was like 14," he told Rolling Stone in 2014. "That's the only way we brought money in. My mom [artist Suzanne Olmsted] was a single parent. She taught at two different schools part time and so if I wanted something I had to go and work for it."
Mixtapes, college and rise to fame
G-Eazy moved to New Orleans to attend Loyola University's Music Industry Studies program.
He produced his own mixtapes in high school — selling them out of his backpack for $5 apiece — and once enrolled in college, he continued producing tapes.
One song, "Candy Girl," garnered him viral attention on MySpace in 2008, but his fame didn't start picking up until around three years later when he toured with Drake, then with Schwayze. He performed in 2012 Warped Tour as well.
Still, G-Eazy sold many of his possessions and couch-hopped while he chased success.
"…this window of achieving success in music is not something you can just go out and get anytime," he told Rolling Stone. "What costs the world to you as a working kid fresh out of college, costs nothing to you as a successful musician… I felt like the idea, the creative content, was so much more valuable than any physical content. Like if this works, I could buy 100 couches."
G-Eazy made his major-label debut in June 2014 with These Things Happen from RCA Records.
Since, he's released two more albums: When It's Dark Out (2015) featuring his hit single "Me, Myself & I" and, most recently, The Beautiful & Damned (2017).
He's worked with artists like Lil Wayne, Britney Spears and Kehlani.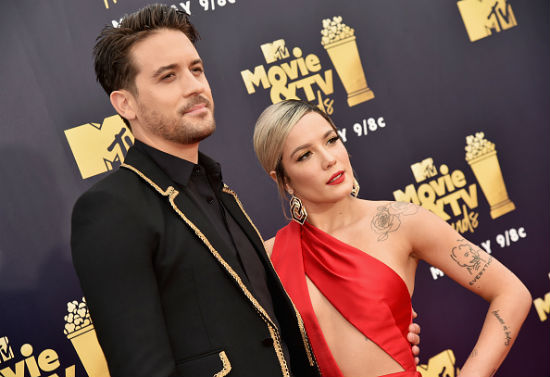 G-Eazy and Halsey: a very public breakup
In 2017, G-Eazy dated singer Lana Del Rey for about five months. He then dated Halsey for a year.
In early July, Halsey wrote on her Instagram story: "I normally keep this kind of thing private but provided our public nature I feel I need to inform my fans. G-Eazy and I are taking some time apart. I'm eager to continue the upcoming passage of time dedicating myself to my art and career, and the duration of my tour. I wish him the best. Thanks for respecting our privacy at this time."
Halsey has since implied that G-Eazy cheated on her:
pumpkin eater.

— h (@halsey) July 4, 2018
But sources close to G-Eazy and Halsey said they split due to the pressures of their respective careers.  
"They both tried to remain strong to ensure their work commitments together went smoothly, but ultimately called it quits after too much fighting," sources told E! News. "The trust was lost between the pair when they were apart, and it got too difficult for both of them."
Recently, Halsey made headlines for posting some cryptic messages on G-Eazy's Instagram (underneath one photo captioned "big dick energy," she commented with a series of emojis). But, when asked if she was throwing shade at her ex, Halsey wrote to a fan, "no petty here …"
More on life after the G-Eazy and Halsey breakup
Who is Demi Lovato dating? Rumor has it, G-Eazy. However, both the rapper and his ex, Halsey, have shut down those rumors.
When asked about Lovato, Halsey assured TMZ, "Nah, they're just friends. Just friends. Yeah, they're cool, Demi's cool. They're just friends."
G-Eazy also told Entertainment Tonight that Lovato is "just a friend," adding that speculation about his dating life "comes with the territory" of being a celebrity.
Regardless of these dismissive comments from G-Eazy and Halsey, we hope the rapper is there for Demi during her recovery if need be.