Remember when you couldn't quite pinpoint who Taylor Swift's boyfriend was? There was Tom Hiddleston, Calvin Harris, Jake Gyllenhaal, Taylor Lautner — even a Kennedy mixed in, too. Her heart just couldn't decide (or, perhaps more accurately, her men couldn't keep up).
But T-Swift has been publicly dating her current beau, Joe Alwyn, since 2017.
Swift and Alwyn's relationship first made headlines in May 2017 when The Sun revealed they'd been secretly seeing each other for months (in fact, the two could have reportedly started their romance sometime in 2016).
The couple has been very private — Swift even wore disguises when she went to see him in London before news about them broke.
"Taylor has flown in via private jets and her security has made it a military-like mission to prevent her from being seen," a source told The Sun at the time.
"Joe is just an amazing boyfriend," a source told PEOPLE in late June. "He is very supportive. Taylor adores his family. She's in a very good place."
Alwyn has finally made his Instagram public, as various outlets reported early this week. Though there's not much to take note of — he hasn't posted a picture with Swift yet and his account only consists of 11 photos so far — we can finally see evidence that they've been spending time together out of the spotlight.
Exhibit A and B:
MOM AND DAD????? @taylornation13 @taylorswift13 #joealwyn #TaylorSwift pic.twitter.com/SC509umf8h

— Divya (@dibblessswift) August 13, 2018
Who is Joe Alwyn, exactly? Here's everything you need to know.
Joe Alwyn is a British actor
Alwyn, 27, is known for his lead role in Billy Lynn's Long Halftime Walk, based on Ben Fountain's novel, also starring Kristen Stewart.
Currently, he's working on a film, The Favourite, with Emma Stone. It's slated to hit theaters November 23.
Other upcoming movies include Mary Queen of Scots (December 7) and Operation Finale (August 29).
Alwyn, Taylor Swift's boyfriend (in case you forgot), is also playing Henry in the highly anticipated gay conversion film, Boy Erased, coming out November 2.
"I wasn't one of those kids who get up on the table and dance at a young age," Alwyn told Vogue in 2016, "but I always wanted to be an actor. I just never told anybody — I kept it a secret."
Joe Alwyn, Taylor Swift's boyfriend, grew up in London
Alwyn was born in North London to parents Elizabeth and Richard Alwyn (Swift is reportedly even considering buying a house near his family).
He studied at London's Royal Central School of Speech and Drama and landed the lead in Billy Lynn's Long Halftime Walk before the conclusion of his final year.
He left school early to play Lynn — the Hollywood Reporter notes that he's since graduated — and Alwyn said it all happened "incredibly quickly."
"In many ways, he's a long, long way away from me," he said of playing Lynn. "I'm from London, and he's a Texan soldier. But at the heart of it, the story is about a boy finding his place in the world."
Alwyn had never been in front of a camera until he auditioned for the film.
"One minute into the first audition, for me it was a done deal," Oscar-winning director Ang Lee said in February 2017. "He was an absolutely top-notch talent. I could smell it from two miles away."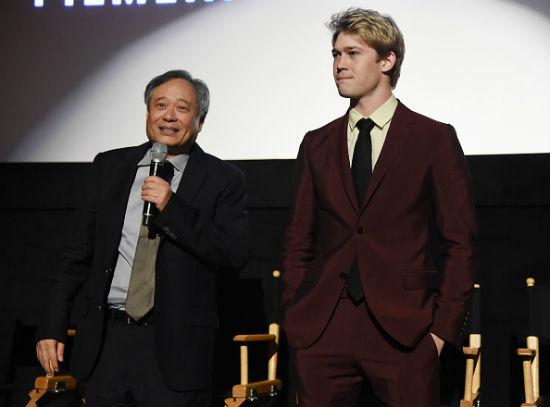 Taylor Swift's boyfriend has also done modeling
Alwyn was the face of the Ascension spring/summer 2018 men's campaign for Prada, reports WWD. The photos, based on graphic novels, were shot in Milan.
"Establishing Alwyn as a new Prada protagonist, these images elevate Alwyn both physically, and metaphorically," states the company. "He is a conqueror, an adventurer, an idol. A new, definitely heroic embodiment of the Prada masculine ideal."
He was then featured in their fall/winter campaign.
Make that endorsement money!! #TaylorSwift's boyfriend, #JoeAlwyn, is featured in Prada's F/W 2018 campaign. That face!! https://t.co/7QXQKZrl9s pic.twitter.com/JuqQeOUSF2

— Perez (@ThePerezHilton) June 12, 2018
Who is Joe Alwyn? Taylor Swift's boyfriend and muse
Swift reportedly references Alwyn in Reputation. According to fans, the singer told them during a secret listening session that Gorgeous, one of the album's hit tracks, was about Alwyn:
Taylor told fans at the secret sessions that #Gorgeous is about her boyfriend Joe pic.twitter.com/4mxHSz9neL

— Taylor Swift News (@TSwiftNZ) October 20, 2017
Fans have speculated that others songs like Dress and Delicate are an ode to the relationship as well.
Their romance went under the radar for quite some time, and though the couple has gotten more publicity as of late, they still seem to stay quietly — and happily — in love.