In its latest campaign-finance filings, the Trump campaign disclosed that it paid the law firm representing Keith Schiller more than $66,000. The amount raised eyebrows. Schiller has before.
Who is Keith Schiller?
Donald Trump's longtime bodyguard, Keith Schiller followed Trump to the White House as the Director of Oval Office Operations. He worked in that position from January to September 2017, when he resigned to join the private sector — but not before taking on an occasional starring role in Trump drama.
Schiller, now 59, is perhaps best known as the guy who handed FBI Director James Comey his termination letter. While Trump remained in the White House, he dispatched Schiller to an FBI field office in Los Angeles to give Comey the ax.
Last November, Schiller told Congress that when Trump visited Moscow in 2013, Schiller was approached by a man who offered to send five women up to Trump's hotel suite. Schiller said he declined the offer, saying, "We don't do that type of stuff."
Keith Schiller before the White House
Before the White House, Schiller had worked as Trump's personal bodyguard since 1999. He joined the Trump Organization after years as a patrol officer in the NYPD, where, he said, he worked extensively on drug crime. He has been by Trump's side throughout countless deals, "The Apprentice," bankruptcies, his emergence into politics and the presidential campaign. The Daily Beast reported that Schiller even opened the door for Stormy Daniels when she arrived for her sexual encounter with the future president. Former "Playboy" model Karen McDougal also said she met Schiller during her own affair with Trump. Former campaign manager Corey Lewandowski said that if he wanted to reach Trump, he called Schiller.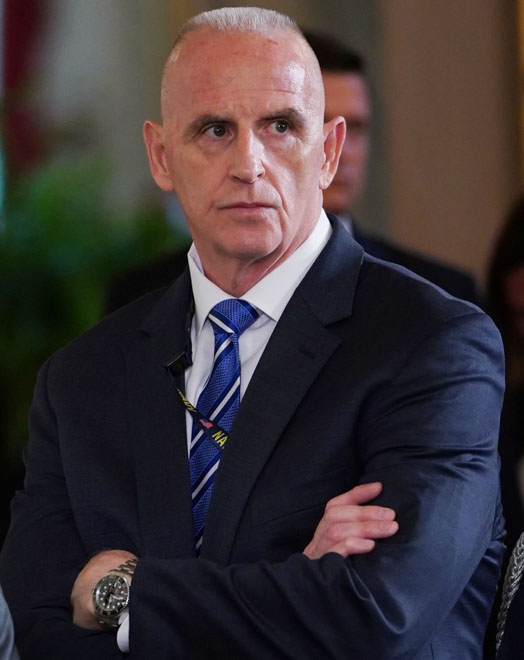 "There is no doubt that Keith Schiller knows where all the bodies are buried. Next to Michael Cohen, if Mr. Schiller ever turns state's evidence, the impact on the president would be catastrophic," said Michael Avenatti, the lawyer for Stormy Daniels. "He's knee-deep in all of this."
Schiller has been called Trump's "emotional security blanket" and a "loyal lieutenant," and Bloomberg reported that Trump was "crushed" when Schiller resigned from his White House role.
But the two might get a chance to hang some more as the Mueller inquiry and New York FBI investigation into Trump, Russia and Stormy Daniels continue.