Who plays Lawrence on Insecure? The HBO series, follows Issa Dee (creator Issa Rae of The Misadventures of Awkward Black Girl), who struggles to navigate the tricky professional and personal terrain of Los Angeles along with her best friend Molly — and ex-boyfriend Lawrence. But who, really, is the HBO series' resident hunk with the fiercest glow-up, ever?
Who plays Lawrence on Insecure?
Lawrence is played by none other than Jay Ellis, a 36-year-old actor who was raised in South Carolina. And Ellis — who is as charming in real life as is he in Insecure — has gone on record about how excited he is to be in a series about people of color that shows every side of them.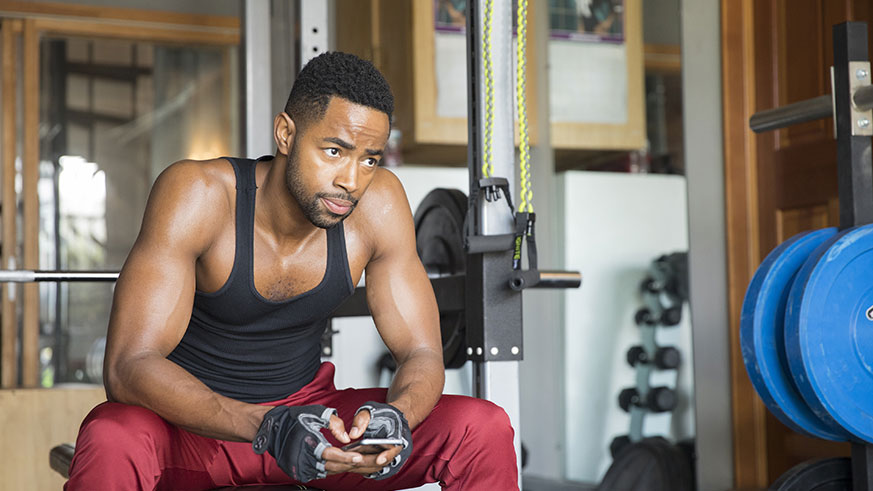 Jay Ellis as buff Lawrence in Insecure. HBO
"I love any time when people can just go out there and just be us," he told Metro last summer. "And I love comedy, so a show like ["Chewing Gum"] gets me, because I get to sit there and just laugh at the world she's created and all the things that go through her head. It's brilliant! We don't get to show our truth on television that often. It's told through someone else's lens of what they think our truth is. And I just love the fact that we're getting to tell our stories from a true place, from an authentic place and that's from us."
He also recently hinted that Lawrence might not be making a comeback to Insecure in the series' third season. "The way it ended… I'm not sure!" he said… and then followed up admitting, "I know nothing about season 3." Very helpful!
 At least he's still got his (very good) looks.