Five months after they tied the knot in a world-televised ceremony, Meghan Markle and Prince Harry announced via the Kensington Palace Twitter account that they're expecting their first child together.
Markle's due date is confirmed for spring 2019. But who will be the baby's godparents?
In July, Prince William and Kate Middleton announced the names of Prince Louis' godparents ahead of his christening. They include William's close friends Nicholas van Cutsem, Guy Pelly, Harry Aubrey-Fletcher and Lady Laura Meade, as well as Middleton's friend Hannah Carter and cousin Lucy.
According to Bounty.com, a Church of England service requires at least three godparents. Royal babies traditionally have a total of six, ABC News reports.
"There's a feeling that because of their role as members of the royal family that they need as many confidants as they can get apart from their parents," royal correspondent and editor Robert Jobson told the site.
"Tradition for godparents is not to choose members of the family, certainly not the immediate family," correspondent Victoria Murphy added.
Another royal correspondent explained to USA TODAY that close relatives normally don't make the list because they're guaranteed important roles in the children's lives anyway. 
So, who will Meghan Markle and Prince Harry choose as their child's royal godparents?
Meghan Markle and Prince Harry: Who will be their firstborn's royal godparents?
Daily Mail reported yesterday that George and Amal Clooney are "all but confirmed" as two of the royal godparents on Meghan Markle and Prince Harry's list.
"I'm all for it," Clooney's cousin said. "He'd make a wonderful godfather, he'd make a wonderful just about anything…"
The Clooneys, who attended the royal wedding, reportedly flew the couple out to their Lake Como residence over the summer.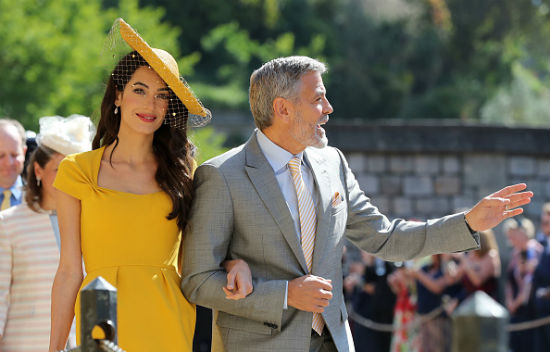 "Amal and Meghan have been close for years, and Harry and George have become buddies because of that," one source told Daily Mail. "They're much closer than the headlines let on."
Another source told PEOPLE back in May that Amal helped Markle "settle into London life."
As for the full official list of royal godparents, stay tuned until the baby's christening next spring.