Netflix's Fyre: The Greatest Party That Never Happened provides an in-depth look at what went wrong with the infamous 2017 music festival that never was. 
The implosion of the Fyre Festival is so riveting that Netflix aren't the only company to have made a film on the debacle. Their rivals Hulu also have their own Fyre documentary. 
Hulu even surprised the world by suddenly releasing theirs on Monday January 14th unannounced, days ahead of the January 18th release of Netflix's documentary.
Since then both films have accused the other of being unethical, as Netflix's was executive produced by Mick Purzycki, the founder of the marketing campaign for Fyre Festival, while Hulu paid a huge sum to interview Billy McFarland, the man who organized the festival and is now in prison for fraud.
Why is Billy McFarland not in Netflix's Fyre documentary?
Fyre: The Greatest Party That Never Happened's director Chris Smith insists that when they started work on the documentary "no one was doing anything on Fyre."
"So at that point I started to figure out okay, is there a story here and what could be the way in … Mick [Purzycki], who was a producer on the movie works for a company called Jerry Media, and was instrumental in getting a lot of the interviews. Because he had actually worked on Fyre, their company handled some of the social media."
It was through Purzycki that Smith actually tried to get in contact with McFarland for an interview about Fyre Festival, but it soon became apparent that he wanted much more than the documentary was willing to give.
"[Purzycki] was actually in touch with Billy, and there was a few occasions where we were supposed to film Billy and then it would fall apart. But in the end Billy wanted to get paid for his interview, and after filming so many people that had lost money, and had such a hard time at the festival, it didn't feel right to us."
Why wasn't Ja Rule, who co-organized the festival with McFarland, interviewed for Fyre, though?
"We didn't try to see Ja Rule. There was a lot of archival footage of Ja Rule, so we felt, for us the focus were the people who were on the front lines, the contractors, the attendees, the people that made the promotional video, and the people who worked for Fyre media which was the company that was making the app."
"You know we were really interested in trying to tell the story from their perspective because it was part of the story that hadn't been told."
Smith's main intention with Fyre was to make a "relatable" and "human story," and he insists that during this process he got to know the individuals that were "on the ground" and tried to make the festival happen, all of whom were "incredibly thoughtful, conscientious, intelligent, hardworking people that were just doing their best in a really awful situation."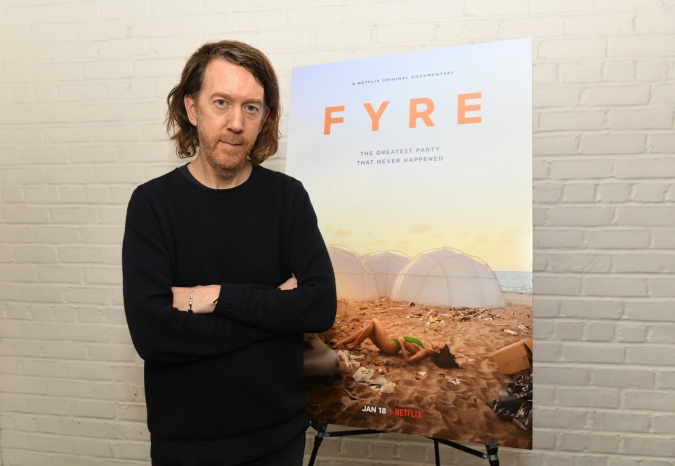 In fact, Smith admits that one of the goals of Fyre is that those that were trying to make the festival happen feel no shame or guilt about being involved in what was ultimately a shambolic disaster.
"When we started, a lot of people didn't want to talk about Fyre and they didn't want to be associated with it and one of the goals of the movie for me was to show that working on Fyre was nothing to be embarrassed about."
"You know there was a great group of people who worked very hard to try to pull this off, and when you actually look at it through that perspective and meet the team, the people who were working on it, my hope is that people will come away from the film with a greater appreciation for what was going on and that no one should be ashamed of being a part of that experience."
Fyre: The Greatest Party That Never Happened is now available on Netflix.