Kevin Can Wait's decision to fire Erinn Hayes and replace her with Kevin James' former King Of Queens star Leah Remini was met with surprise earlier this year, especially when it was confirmed that Hayes' would actually be killed off.
But it wasn't that much of a surprise to "Kevin Can Wait" cast member Gary Valentine, who also just so happens to be Kevin James' older brother. I recently spoke to Valentine about the second season of "Kevin Can Wait", and immediately quizzed him on his first reaction to Remini's return.
"I thought it was great. We love her, she's fantastic. You can't deny the chemistry for sure. All of my social media was asking, 'When are you doing to do a reunion of 'King Of Queens'.' So we were like, 'Here you go.' This is kind of a reunion, but in a more creative way."
Valentine confirmed that it was actually James himself that pushed for Remini to be made a permanent cast member on "Kevin Can Wait", especially after her character Vanessa made her debut in the first season finale. "It was Kevin's idea. He always had it in the back of his mind. They all agreed, because you could see after the season finale last year what the ratings were, and social media blew up. It was something special."
Rather than having the same dynamic as "King Of Queens" Remini's Vanessa will actually be the boss to James' Kevin Gable in season two. Valentine noted that this has allowed the show to venture off into "a different direction."
"It's not as much about the family, as it is about him going back into detective work with Vanessa, Leah Remini's character. They wanted to make it more of a working atmosphere. [Last season] seemed to be the same beat every time. Him and his buddies and me and his family. Him and his buddies and me and his family. Now they have us mixed up a little bit. Like, this week, I am doing scenes with Vanessa and Kendra. They are trying to get me a dating profile for online dating,  I am hitting on Vanessa, and at the same time [Kevin] has got his detective work in the office there."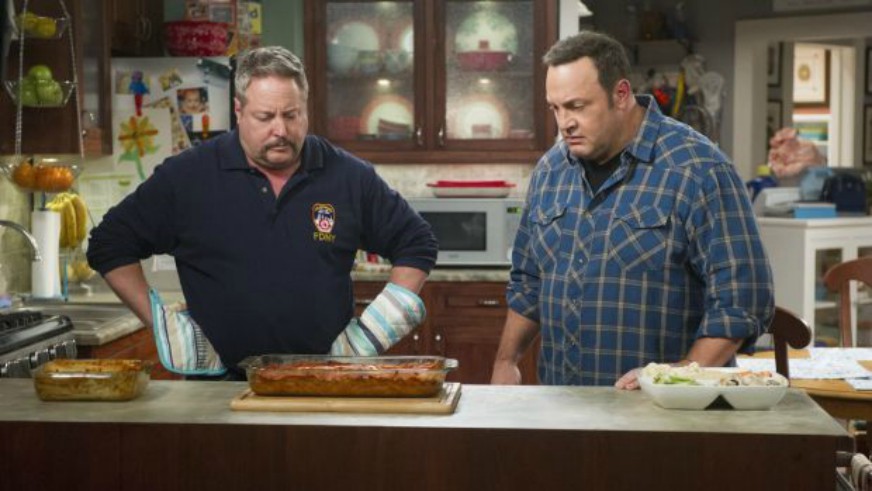 Unfortunately, the addition of Remini meant that there was suddenly no room for Hayes, and, according to Valentine, they didn't even entertain the idea of including both characters.
"It would have been too much of a comparison, and people would have got confused. This way Kevin and Leah have their same relationship. But it is not husband and wife, it's just partners."
In order to make room for Vanessa the decision was made was to kill off Donna. But rather than picking up in the immediate aftermath of her death "Kevin Can Wait's" second season actually takes place "a year or two later." Valentine insists that they "never actually make fun of the actual death," even though there are "jokes around it," and while there are "some nice moments between Kevin and the kids," the first episodes of season two will help to just "blow over it with some sadness."
"We are a comedy so we have to keep the laughs coming," stressed Valentine.
You'll get to see exactly how the sitcom handles Donna's death, and whether Leah Remini and Kevin James instantly rekindle their "King Of Queens" magic, when "Kevin Can Wait" returns on Monday September 25 at 9pm EST on CBS.