It's big enough news that The Office is coming to Broadway as a musical parody. But when The Office musical opens at the Jerry Orbach Theater on Sept. 20, the person playing Dunder Mifflin boss Michael Scott won't be another naive man but actress Sarah Mackenzie Baron.
The producers of The Office musical decided early on to genderswap the role played by Steve Carell on the NBC sitcom into a woman, promoting Baron to regional manager of the Scranton branch.
"At the very beginning when we started writing [the show], we thought it would be important to see a woman play that part because of who Michael Scott was and how he acted towards women," says Tobly McSmith, who co-wrote the musical with his partner Bob McSmith. "We thought it would be really funny with his inappropriateness if it was a girl. It made the commentary of our parody really apparent, too."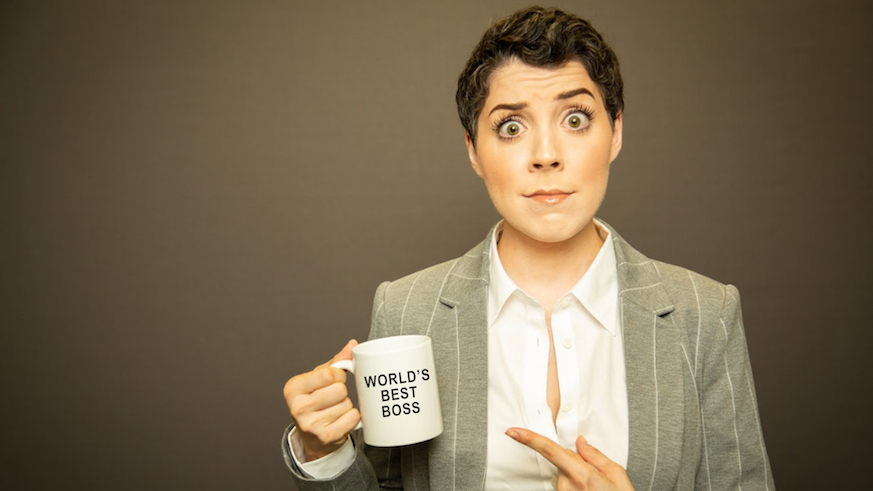 The Brooklyn-based playwrights went through two rounds of in-person auditions for the role of Michael, but ended up holding a national open call through video submissions. Their casting notice was for actors of any gender, race and age, but they must be a triple threat: "singer, dancer, paper lover."
Hundreds of incredibly diverse actors responded; some of the more memorable auditions can be seen online. In the end, the McSmiths chose Baron, who'd only recently moved to New York from Los Angeles, to lead The Office musical. "There is a cluelessness to him, and I think women, because they can see that on a different level with different eyes, they can see that humor too," he says. "Sarah is a really great comic actress, she just knew how to slow it down and make it feel cringe-y and make it still funny and push it and pull it.
"There is so many more levels when it's a woman doing it. This show was in the early 2000s, which wasn't that long ago, but there are so many cringe-y moments especially now that the commentary was needed. This is something we were watching only 15 years ago, and here's how far we've come."
What happens in The Office musical?
The Office! A Musical Parody (unauthorized, as all of the McSmith's five previous musical parodies including Keeping Up with the Kardashians and most recently Friends) follows a very busy day in the life of the characters from the show. It's a typical morning at Scranton's third largest paper company — until it isn't, with the surprise arrival of a documentary crew. Musical numbers include That's What She Said!, Welcome to Diversity Day, The Creed of Creed and Marry Me, Beasley.
"What we did," McSmith says, "is the characters are really cartoonish already, but there is definitely a way to bring them a step higher too, to make them a little more silly and the situations they got themselves into a little more ridiculous."
The Office! A Musical Parody opens Sept. 20 for an open-ended run at the Jerry Orbach Theater, 1627 Broadway. Tickets are $35-$77 through Ticketmaster or 212-921-7862. Premium seats include access to the stage after the show for photos and a meet&greet with actors; theofficemusicalparody.com