It's official: North Korea's going to the 2018 Winter Olympics, which means a lot of people might be wondering, wait, why was Russia banned from Olympics? After all, they're not (currently) threatening other countries with nuclear weapons and engaging in constant saber rattling like Kim Jong Un's missile testing.
Russia banned from Olympics: What's real and what's hype
First of all, though you'll see countless articles touting and hear people relaying the Russia banned from Olympics headline, that doesn't give you a full picture of what's happening. While Russia as a country will indeed not be represented at the PyeongChang Olympics, that doesn't mean all Russian athletes are barred from the games.
Officially, having Russia banned from the Olympics means that the country's flag will not fly in PyeongChang and their national anthem will not be played.
Russia banned from Olympics: The motivation
The country caused a lot of controversy during the 2014 Winter Olympics, which were held in Sochi, Russia. They lead the medal count, taking home (or keeping home since the games were held on their home court so to speak) 33 total medals, 13 of which were gold. That looks great for the country, especially on the year they're hosting. But the problem was that this glowing success at the games wasn't entirely, well, natural.
Some Russian Olympic athletes had a little assistance with their wins, according to a former Moscow antidoping lab director. But as many know, Olympic athletes are tested for drug use. So how did they get around that? The urine samples of Russian athletes were reportedly swapped out for clean ones. In fact, the World Anti-Doping Agency determined that since 2011 more than 1,000 Russian athletes have doped.
Russia banned from Olympics: What it means for athletes
As previously mentioned, though Russia as a country is banned from the 2018 Winter Olympics, not all Russian athletes are. The International Olympic Committee (IOC) released a list of Russian athletes that are eligible to compete in the PyeongChang Olympics next month. Any athlete left off of this list will not be allowed to compete. Every athlete that made the list was carefully vetted.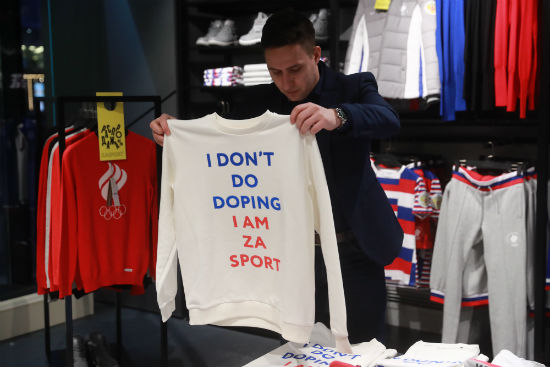 Any Russian athletes on the IOC's list that do indeed qualify for the 2018 Winter Olympics in their sports will compete under the Olympic flag rather than the Russian and will technically be considered "Olympic Athletes from Russia" rather than Russian athletes or Russian Olympians.
Russia banned from Olympics: Their reaction
The Russian Olympic Committee is none too pleased about this development, but as of this week, Russia indicated that they had no interest in missing out on the 2018 Winter Olympics. That means, in all likelihood, they're still going to send what athletes they can from the IOC's list. In fact, a spokesman for President Vladimir Putin said "right now it is important to avoid words like 'boycott,'" according to the Associated Press.
The Russian Figure Skating Federation issued a statement saying it was "deeply disappointed in this baseless IOC decision," that disqualified figure skaters Ksenia Stolbova (two-time medalist in the 2014 Winter Olympics at Sochi) and Ivan Bukin, claiming the decision was "reminiscent of a provocation with the aim of forcing Russian athletes by any means possible to decline to participate in the games."
Russian athletes: Who is and isn't allowed to compete
The fact that Russia isn't consider boycotting the games is big news after the IOC's list eliminated three of the country's top medal hopes in one fell swoop. Six-time speedskating gold medalist Viktor Ahn, cross-country skier Sergei Ustyugov and biathlete Anton Shipulin were all left off of the list and will therefore not be allowed to compete in the 2018 Winter Olympics. It's a decision with which Stanislav Pozdnyakov, a senior vice president of the Russian Olympic Committee, strongly disagrees.
The three top athletes — Ahn, Ustyugov and Shipulin — "have never been involved in any doping cases and all of the many samples they have given during their careers testify that they are clean athletes," the senior vice president claimed in a statement, the Associated Press reported. He did, however, recognize the decision, concluding: "Regardless, their names are currently missing from the list of potential participants in the games."
Viktor Ahn, six-time speedskating gold medalist, will not be allowed to compete in the 2018 Winter Olympics. Photo: Getty Images
Other big blows to the country's medal hopes include Stolbova and Bukin, the previously mentioned figure skaters, and formal NHL players Anton Belov, Valeri Nichushkin and Sergei Plotnikov, who are all ineligible to compete for the Russian hockey team.
Who is allowed to compete? The IOC refused to make their list or specific testing data public, a decision that isn't sitting well with members of National Anti-Doping Organizations. "We all want to trust, but history has shown we must verify," said Travis Tygart, CEO of the U.S. Anti-Doping Agency, in a call for more transparency. "Publish the testing history of each athlete by name, type of test, and we can know for sure if what the IOC says is accurate."
So far the IOC is staying mum on that list except to say in a statement that "more than 80 per cent of the athletes in this pool did not compete at the Olympic Winter Games Sochi 2014," which they claim shows "this is a new generation of Russian athletes."