Police nabbed Tekashi Six9ine at JFK International Airport on Wednesday after returning home from a European tour, according to Page Six. The controversial rapper is no stranger to legal troubles, but why was Tekashi 6ix9ine arrested this time?
Why was Tekashi 6ix9ine arrested at JFK?
The arrested stems from an outstanding warrant the Brooklyn-born rapper — real name Daniel Hernandez — has in Texas. He is accused of choking a teen at the Galleria Mall in Houston, with video footage to backup the allegations.
"Delete the video," Tekashi told the teen after he grabbed him "by the neck, causing small scratch marks and pain," according to court documents, while "bodyguards began to surround [the teen] in an intimidating way, also yelling at him."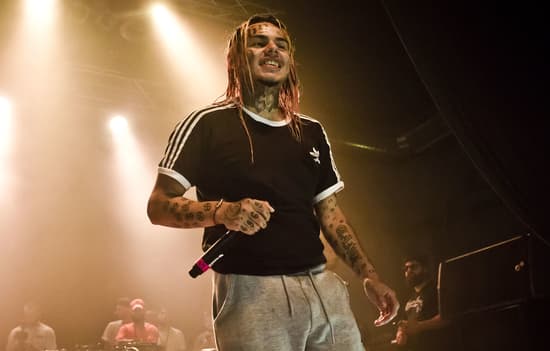 Tekashi appeared in a Manhattan court on Wednesday and is expected to be extradited back to Texas to face the misdemeanor assault charges. His lawyer is concerned about the rappers safety while in Texas custody.
"This is a misdemeanor case out of Texas," Ian Niles said. "[6ix9ine] will be in great danger because of his fame if he's incarcerated."
So, that answers the question of why was Tekashi 6ix9ine arrested this time, but he still has multiple other cases pending.
Why was Tekashi 6ix9ine arrested before?
There are multiple answers to the question "why was Tekasi 6ix9ine arrested before?" He was also due in a Brooklyn court on Wednesday to answer to assault charges, but couldn't go because he was detained for the Texas case.
"It's ironic he finds him himself in this situation," Niles said, "because he was arrested coming back from Europe to appear in court."
According to Page Six, he was to appear for assaulting a police officer at the 77th Precinct station in May. At the time, he was brought in after being pulled over with a suspended license. Tekashi allegedly grabbed an officer by the hand and "squeezed" while getting his handcuffs off, causing "pain and swelling."
In 2015, Tekashi 6ix9ine also pled guilty to three felony counts of use of a child in a sexual performance. According to court documents, three videos were uploaded to social media showing the rapper and a 13-year-old girl. He reportedly touched her breast in one video and another showed a liquid being dumped on her. The victim's mother saw the videos in February 2015 and filed a complaint.
Tekashi 6ix9ine denied the claims publicly, even though he pled guilty. He later told his side of the story during a 2017 interview with DJ Akademiks. He said that "s*** got crazy" after he invited a young girl to hang out with him other men in Harlem.
"I don't know her exact age, I think she was 14 or some shit like that," he told Akademiks, adding that police later told him the victim's real age. "They were like, 'Yo, you know the girl was 13 right?'" He claimed she said she was 19 and that he didn't have sex with her.
"I'm not touching the girl, I'm not having sexual intercourse with the girl, I'm not doing nothing, she just nude in some type of way," he told Akademiks. "I didn't touch the girl" and added that "no one got raped."
"So, no one had sex with the girl?" Akademiks asked.
"No one had sex with the girl, word," 6ix9ine replied.
However, other video footage reveal that "the child engages in oral sexual intercourse with the separately charged defendant Taquan Anderson, while the defendant, Daniel Hernandez, stands behind the child making a thrusting motion with his pelvis and smacking her on her buttocks. The child is nude in the video."
Did Tekashi 6ix9ine get prison time for the sexual charges?
According to an investigation by Jezebel, the details of his plea agreement called for his sentencing to be deferred until October 20, 2017. It was later deferred again. Other terms of the plea required Tekashi to serve one year of interim probation, do 300 hours of community service and get his GED. He was also ordered to obtain his GED, not post or repost sexually explicit videos and to write a letter to the victim and her family about why his actions were harmful.
He was also ordered not to commit another crime for two years. If he met all the requirements, he would then get three years probation. If no, he faced one to three years in prison.
"If the defendant completes each of the above conditions successfully and commits no new crimes prior to the sentencing date, the People will not oppose a Youthful Offender adjudication. As a result, the defendant will not be required to register as a sex offender."
No word if his recent arrests will affect his probation, though one thing's for sure: the question "Why was Tekashi 6ix9ine arrested?" has plenty of answers.