"The courage of survivors will always be stronger than Donald Trump's misogyny. The lives of survivors will always be more important than Brett Kavanaugh's career," Alyssa Milano begins an essay published on Vox.com Sunday. She is one of the hundreds of thousands who have spoken out on social media in a movement defined by the Why I Didn't Report hashtag.
This #WhyIDidntReport movement sheds light on why, as RAINN reports, seven out of 10 victims of sexual assault do not go to authorities.
The hashtag started when Trump tweeted about Dr. Christine Blasey Ford's allegations against SCOTUS nominee Brett Kavanaugh, stating that if the 1982 account had happened like she said it did, she would have filed with local authorities "immediately." 
Ford, a psychology researcher and Palo Alto University professor, alleged that Kavanaugh sexually assaulted her at a high school party when they were both teenagers.
In a piece by the Washington Post where she reveals her identity for the first time, Ford claims he "pinned her to a bed on her back and groped her over her clothes." He reportedly tried to undress her, and she feared for her safety.
Ford says she didn't tell anyone about the incident until 2012, when she revealed the details to a therapist during couple's counseling.
She's now one of two women claiming sexual misconduct allegations against the Supreme Court nominee — claims that he's adamantly denied. The second, Deborah Ramirez, came forward on Sunday, alleging that Kavanaugh exposed himself to her at a party when they were both Yale freshmen.
A national walkout, dubbed "Believe Survivors," was staged today by Tarana Burke, founder of the #MeToo movement, and organizations like Women's March and Time's Up in solidarity with these women.
The main event was held in Washington, D.C., where a mass of protesters, wearing black, marched out of the Hart Senate atrium to the Supreme Court. Workplaces and college campuses across the nation — like Harvard and Yale — participated as well.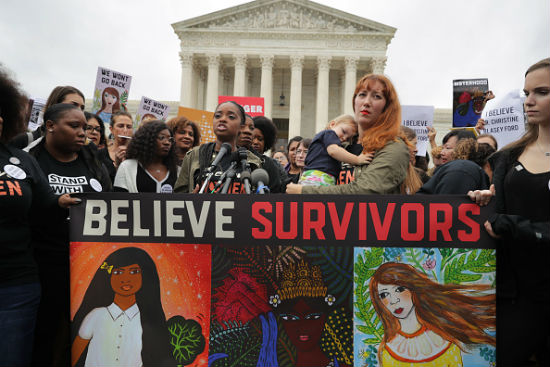 Kavanaugh and Ford will testify in front of the Senate Judiciary Committee on Thursday in a public hearing.
Why I Didn't Report tweets: A sample that speaks volumes
In response to Ford's claims, Trump tweeted late last week, "I have no doubt that, if the attack on Dr. Ford was as bad as she says, charges would have been immediately filed with local Law Enforcement Authorities by either her or her loving parents. I ask that she bring those filings forward so that we can learn date, time, and place!" (Similar to how he responded to sexual misconduct allegations against him from over a dozen women before and after the 2016 election.)
It was, as Rachel Sklar said on CNN, his way of "grope-splaining."
People were quick to retaliate with Why I Didn't Report tweets, shedding light on the weighted silence that often persists long after an incident occurs.
Some of the reasons why this silence can be so difficult to break through, as these tweets showcase, include guilt, fear and lack of resources or knowledge. Sometimes the accounts are reported but ultimately get delegitimized or result in subsequent — and relentless — shame.
Alyssa Milano's original tweet, detailed further in her Vox.com essay, went like this:
Hey, @realDonaldTrump, Listen the fuck up.

I was sexually assaulted twice. Once when I was a teenager. I never filed a police report and it took me 30 years to tell me parents.

If any survivor of sexual assault would like to add to this please do so in the replies. #MeToo https://t.co/n0Aymv3vCi

— Alyssa Milano (@Alyssa_Milano) September 21, 2018
Riverdale's Lili Reinhart wrote, "Because I didn't want to lose my job or make people think I was a drama queen. #WhyIDidntReport."
Others had powerful accounts of their own.
Abused for years by (now deceased) relative. Too young to understand what was happening. Too young to know it was even a crime. Only knew I hated it. Was told "It will hurt your mommy if you tell anyone". And I loved my mother more than anything. #WhyIDidntReport

— Donna Lynne Champlin (@DLChamplin) September 21, 2018
I did, it didn't matter, I was dismissed, disparaged, & I still get blamed #WhyIDidntReport

— Daryl Hannah (@dhlovelife) September 21, 2018
One harrowing story read: "#WhyIDidntReport. The first time it happened, I was 7. I told the first adults I came upon. They said 'Oh, he's a nice old man, that's not what he meant.' So when I was raped at 15, I only told my diary. When an adult read it, she accused me of having sex with an adult man."
"My parents WERE the FBI & I didn't report my first assault. Our culture treats people perceived as weak enough to be attacked as worse than their attackers," another woman tweeted. "Young people are particularly terrified of repercussions for exposing the monsters in our midst. #WhyIDidntReport"
Here are a few more Why I Didn't Report accounts:
#WhyIDidntReport
Because I was a party girl at university
Because I went home with him
Because I thought everyone would say I asked for it
Because I thought this was just what happened when you partied too hard
Because I thought no one would believe me
I thought I deserved it ?

— Lerato Chondoma (@blkfaerie) September 22, 2018
because he was a stranger

because I'd be dismissed for being drunk

because the university counselor told me I shouldn't have "dressed like a slut"

because I have a history of being gaslighted about my trauma #whyididntreport

— sara lons ?️‍? (@saralonsberry) September 24, 2018
I tried. Called police on spot. Plenty witnesses inside the venue. Police refused to go in and ask them. One guy came out had my back, police just left, left me there. I was terrified he would come after me. Was threatend after so never spoke again. #WhyIDidntReport

— Tirza Chantelle (@TirzaChantelle) September 24, 2018
Because I consented to the sex. I didn't consent to the way he held me down by my hair and refused to stop when I told him he was hurting me, saying it was his right to finish, even though I was crying. #WhyIDidntReport

— MelassiMeega (@MelassiMeega) September 24, 2018
The Why I Didn't Report hashtag had a slew of male participants as well:
I was four, and he said he'd kill me. #WhyIDidntReport

— David Leavitt (@David_Leavitt) September 21, 2018
#WhyIDidntReport – because I was in love. He was much older than me, but not by much. I trusted him. I didn't realize what was happening until much later. The emotional and physical abuse started to expose themselves but i kept my eyes closed bc i was blinded by him & his "love"

— alex ?NYE360 (@acomstockk) September 24, 2018
#WhyIDidntReport When I told my Social Worker what happened I was accused of 'making it up' and 'being a problem child'.

If my designated Social Worker wouldn't believe me, why would anyone else?

They were, after all, well known figures in my town.

— Tom Canham ? (@tcanham459) September 24, 2018
Hundreds of thousands of stories with the Why I Didn't Report hashtag are circulating social media. All of them speak the same truth.
In the wake of allegations against Kavanaugh, RAINN reported that last Friday and Saturday, the National Sexual Assault Hotline saw a 42-percent spike in calls compared to the average Friday and Saturday.
If you have experienced sexual misconduct of any kind and wish to break your silence, you can call RAINN's National Sexual Assault Telephone Hotline at 800-656-4673.