In the age of computers using artificial intelligence and other forms of automation to perform tasks at work, many people fear the time will come when a computer or robot will completely eliminate millions of jobs.
The thought of this makes us ask: Will a robot take my job?
Fortunately, there's a website that could prepare you for your worst nightmare. The aptly named site "Will Robots Take My Job" will provide you with a basic idea about what jobs may get eliminated by a robot.
The handy website uses data compiled from a data report from the Oxford University in 2013 and will let you know hat jobs are at risk of being phased out by computers.
The site's "About" section states:
"We extracted the jobs and the probability of automation from the report and have made it easy to search for your job. We've added some additional information from the Bureau of Labor Statistics to provide some additional information about the jobs."
The site has a clean design and it's very easy to use. Simply type in a job and the website gives you a few job groups to choose from. Click on the job or job type and the site will rank your job based on automation risk level ranging from "totally safe" to "you are doomed" in the form of a percentage. Other useful information is provided such as projected growth, average salary, and the number of people with that job.
Depending on the results you get from using this tool, get ready to cry at your desk, or do a fist pump a-la Tiger Woods.
Here are a few job titles we tested on the site. If you're a bank teller, you might be in trouble. Robots have their eye on you. 
Construction Worker Job Security

Personal Trainer Job Security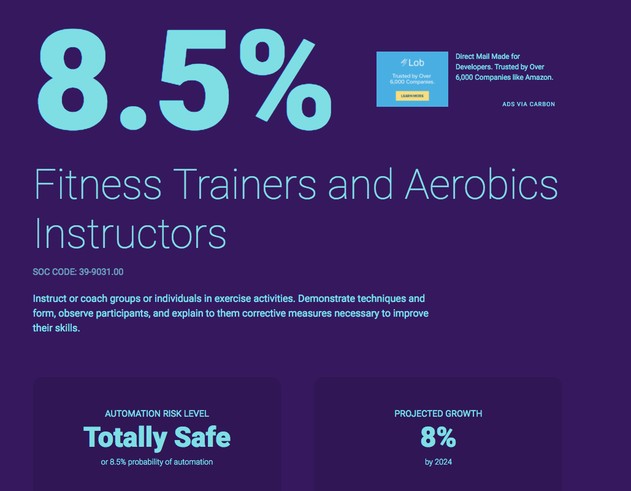 Journalist Job Security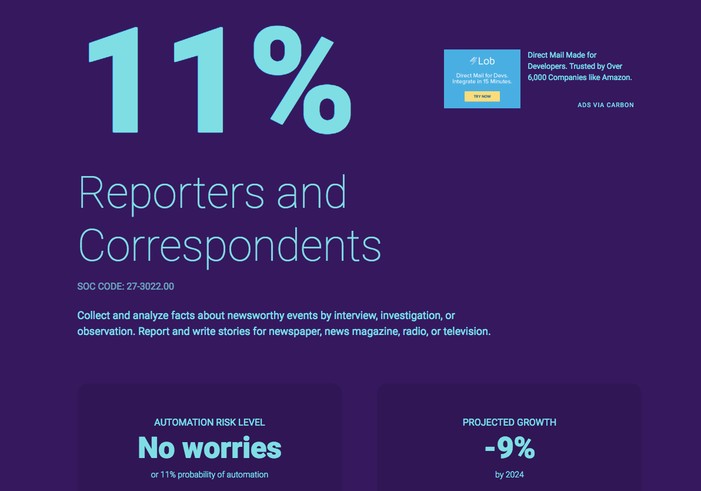 Bank Teller Job Security