"You can't think about it. You just have to do it. You said you were gonna do it. Like I don't get why you aren't." That was just one of multiple such texts Michelle Carter, then 17, sent to her boyfriend Conrad Roy III in 2014.
What was the action in question Roy had yet to do? Commit suicide.
Michelle Carter, from Plainville, Massachusetts, was convicted in 2017 of involuntary manslaughter for the 2014 suicide death of Roy. The prosecution argued that her text messages lay at the crux of the 18-year-old's death, having pushed him over the edge.
But now, Carter's attorneys say that that conviction infringes on her right to free speech.
In an appeal filed in the Massachusetts Supreme Judicial Court on June 29, 2018, Carter's attorneys argue that her text messages to Roy should not have been used as evidence to convict her of involuntary manslaughter.
"Because the judge convicted Carter for what she said, or failed to say, not what she did, this case implicates free speech under the 1st Amendment," the brief reads.
Carter's attorneys say that the text messages presented at her 2017 trial were "cherry picked" by the state in order to engage in "a systematic campaign of coercion" against Roy, targeting the young man's insecurities.
"But the evidence at trial did not support those allegations. Focusing on the two-week period before Roy's suicide, the judge found, 'the Commonwealth has not proven' that 'reckless or wanton behavior' by Carter 'caused the death of Mr. Roy,'" the appeal reads. "Rather, relying on a text that Carter sent later, the judge convicted her for failing to act."
What did Michelle Carter text Conrad Roy III?
Michelle Carter waved her right to a jury trial, meaning a single judge decided the case. At the crux of that trial was a series of text messages Carter sent to Roy, often inquiring when he would kill himself and even giving suggestions and advice on when and how to do it.
When Roy told Carter that he was "discouraged" about possibly failing in his suicide attempt, she encouraged him not to think like that — not about suicide in general, but about thinking he would fail.
"There is more success than there are failures," she told him. "You have to look at it that way and people only fail because they have the same mindset as you. Thinking they'll fail."
Carter also responded to Roy's worries about how his suicide would affect his family.
"I think your parents know you're in a really bad place. I'm not saying they want you to do it but I honestly feel like they can accept it," she wrote. "Everyone will be sad for a while but they will get over it and move on."
But the case seemed to hinged on one conversation in particular, though this one was over the phone. On the night Roy committed suicide inside his truck, which was parked at a K-mart plaza parking lot, he called Carter to once again express his doubts about going through with it.
He had gotten out of his truck, which was filling with carbon monoxide, to call her. She told him to get back in.
"She instructs Roy to get back in the truck knowing of all the feelings he has exchanged with her; his ambiguities, his fears, his concerns," Judge Lawrence Moniz wrote in the verdict.  "This court finds that by instructing Mr. Roy to get back in the truck constitutes wanton and reckless conduct by Ms. Carter, creating a situation where there is a high degree of likelihood that substantial harm would result to Mr. Roy."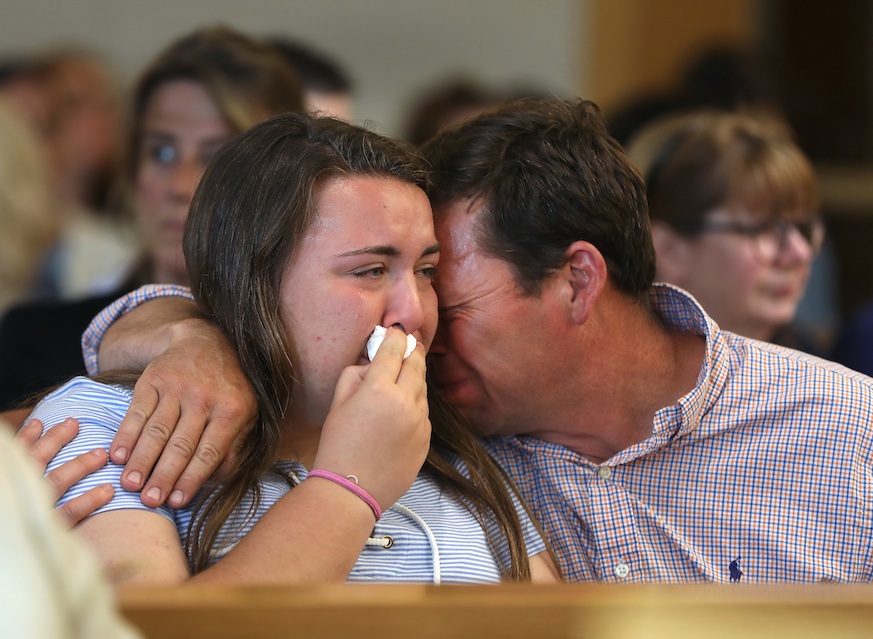 Conrad Roy, Jr., father of the deceased, comforts his daughter Camdyn Roy, sister of the deceased, as ADA Katie Rayburn makes her closing argument to Judge Lawrence Moniz during the trial of Michelle Carter in Bristol Juvenile Court in Taunton, MA on Jun. 13, 2017. Photo: Getty Images
Is Michelle Carter at fault?
In the appeal Carter's attorneys recently filed, they say there is "no reliable record, however, of what Carter or Roy said during their last two calls on the evening of June 12, 2014. "
In a text message to a friend the same night of Roy's suicide, Carter seemed to consider herself responsible.
"His death was my fault," she wrote. "Like, honestly I could have stopped it. I was the one on the phone with him and he got out of the car because he was working and he got scared and I [expletive] told him to get back in … If they read my messages I'm done. His family will hate me and I could go to jail."
The verdict rests on this text, Carter's attorneys say, and yet they argue it is "not a contemporaneous account, but an uncorroborated 'confession,' contradicted by physical evidence, that Carter made to another teen months later."
Carter is the first person convicted in the United States of involuntary manslaughter because of her words alone.
"No state has interpreted its common law, or enacted an assisted-suicide statute, to criminalize such speech," her lawyers write, " and no defendant has ever been convicted for encouraging suicide where the defendant neither physically participated nor provided the means."