It took a few years for Netflix to give us a new season of Jessica Jones — a season notable for having Trish do the absolute most. But when can we expect a third season? Can we expect a Jessica Jones season 3? Let's get into it.
Jessica Jones Season 3 Release Date
In April, Netflix officially announced a renewal for Jessica Jones Season 3. No release date has been announced, but Hollywood Reporter notes that second seasons of Luke Cage and Iron Fist, and a third season of Daredevil are currently in production. So it's likely that Jessica and crew will be back for more — but not until 2019 or 2020.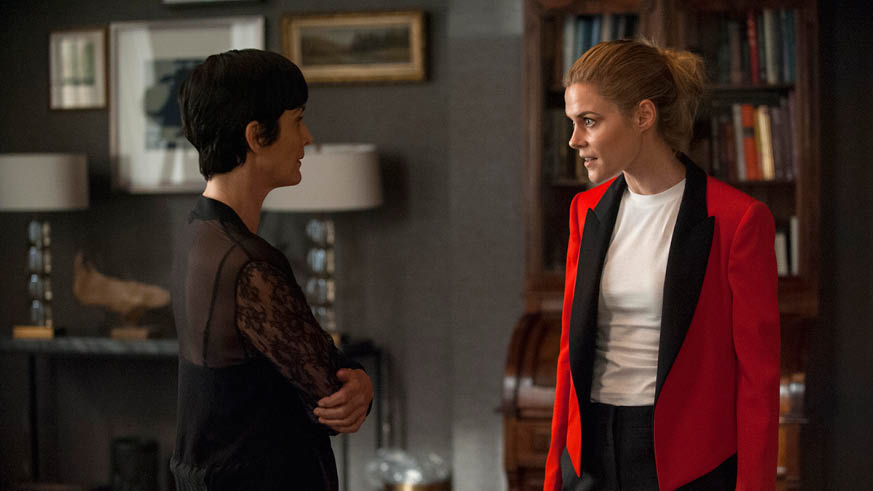 Jessica Jones Season 3 Cast
No official announcements about the cast have been made yet, so it's mostly guesswork at this point. We suppose Krysten Ritter will return as the ever tortured Jessica Jones; and Rachael Taylor will come back as Trish. Their friendship is a major part of the second season — even when, spoiler alert, Trish betrays Jessica, more than a few times. Even Taylor thinks so, telling us:
I don't think we do ourselves any favors by putting this perfect version of best friends on screen. It's so much more interesting to show a relationship that has a bunch of different, sometimes dark dynamics going on under the surface.

In lots of ways, I think [their friendship is] kind of the heartbeat of Jessica Jones. It's not this sanitized version of female friendship. It's complicated and it's messy — and there are shades of jealousy and shades of competition that are in a way, very real.
Outside of those two, there's no reason that the rest of the crew — Jeri (Carrie-Anne Moss) and Malcolm (Eka Darville) — wouldn't come back. Fingers crossed that Jessica's hot super-turned-boo-boo Oscar (J.R. Ramirez) makes a comeback, too.