Warning: There are SPOILERS ahead for Netflix's Polar. 
So please don't read on if you're yet to watch the action thriller. Instead, bookmark this article, check out the graphic novel adaptation, and then return to read what Mads Mikkelsen had to say about the future of the series. 
Mads Mikkelsen shines in Polar, Netflix's colorful adaptation of Victor Santos' neo-noir comic-book thriller. 
The Danish actor not only stars as renowned assassin Duncan Vizla, who expertly takes down dozens, probably hundreds, maybe even thousands, of people with aplomb, but he produced the film, too.
Will there be a sequel to Polar?
This means Mikkelsen is perfectly placed to know the plans for a possible sequel to Polar.
"We had one film in mind," Mikkelsen explains to Metro. "We knew that there was at least three graphic novels with the same character and two in the making. But we wanted to do one film. We wanted to focus on this story."
But the way Polar concludes, with Duncan promising Vanessa Hudgens' Camille that he will find out who paid him to kill her family, soon meant that discussions turned to potential follow-ups. 
"The more we got closer to the ending there was always this opportunity that we could open up a door for a sequel. We didn't want to start out like that, though. We just wanted to see what was the best door we could go through. And then eventually that opened up the possibility [for a sequel]. So I think that was a smart way of doing it."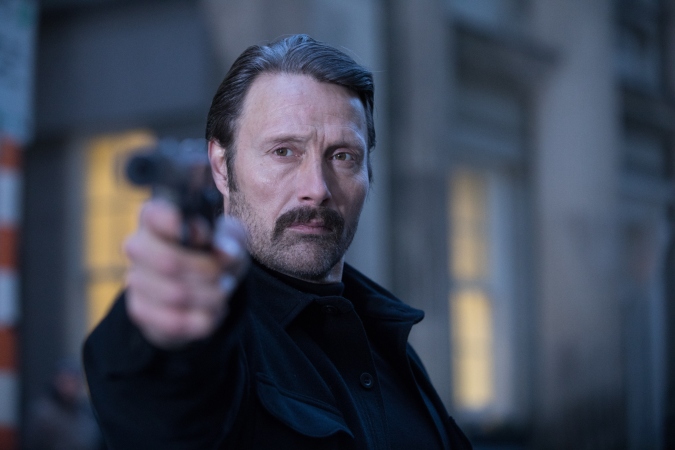 But how did Mikkelsen acquire his executive producer credit on Polar?
"I wasn't aware of that until there was two days left of shooting," he admits. "I think it was a contract thing that worked out between the producers and my agent. I don't know exactly what it meant. I was apart of the pitching and story making." 
"I love to be part of that. I think I have something to contribute. So that might have been because it was in the contract. I'm not sure. But I will definitely take advantage of it next time."
Polar is now available on Netflix.