Brooklyn is finally getting its own winter village this year — and it's going to be the new star among New York City's holiday markets. WinterFest brings an entire Christmas town to the grounds of the Brooklyn Museum, with a 40,000-square-foot wonderland brimming with holiday goodies and fun starting on the Friday after Thanksgiving.
Opening Nov. 23 for six weeks through Dec. 31, WinterFest is the charming holiday village you'd find in the suburbs dropped right into the heart of Brooklyn. There's really no other holiday destination in the city like it besides last year's holiday carnival Winter Wonderland in Staten Island, which hasn't announced a return for 2018. Instead of just being a place to buy gifts, WinterFest is packed full of things to do for all ages.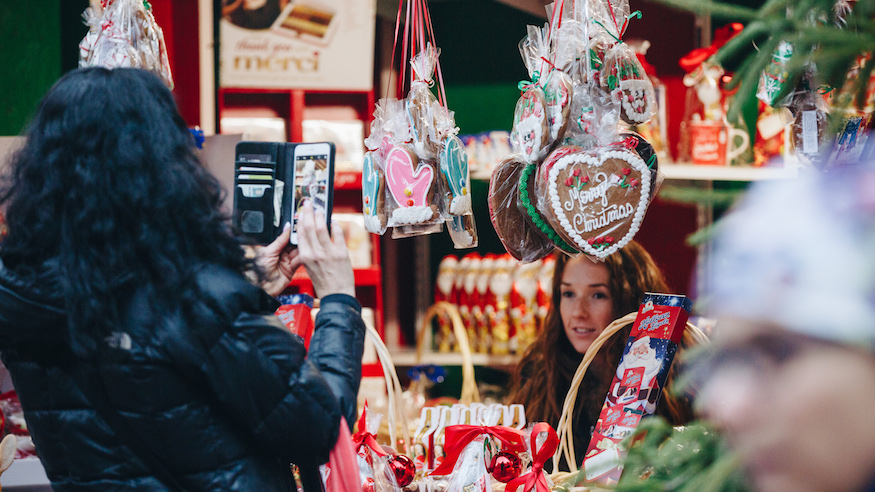 Attractions include the Enchanted Tree Maze that explores 20 different ways to celebrate the holiday season from around the world, an inflatable slide called Snowzilla and a giant snowman.
There's live music nightly featuring local performers like Dancewave and the Brooklyn Music School as well as touring bands, carolers and bell ringers. Thursdays are for karaoke so everyone can have a chance to get onstage, while Wednesdays are movie nights.
You can visit with Santa and Mrs. Claus for a photo ($15) — bring your pets on Thursdays! — or opt for a less traditional but more Instagram-approved pic inside a giant snowglobe.
For your holiday shopping needs, WinterFest's Angels Market promises to be as charming as the glass booths of Bryant Park's Winter Village. Small wooden cabins house about 50 local shops and artisans selling decorations, jewelry, clothing, crafts and more.
Foodies will enjoy the giant Chocolate Dome at the heart of the village, "an interactive experience made entirely of sweet treats," plus ticketed tastings at the Vinopolis Wine Tasting Experience and a beer garden.
Alongside all the Christmas fun will be events that recognize all the seasonal holidays like menorah lighting, specialty food, musical performances and activities for kids.
WinterFest is located at 200 Eastern Pkwy. Entry to the grounds is free, though most attractions and events charge admission. Tickets are on sale now at winterfestbrooklynmuseum.com.