A female spectator at the 2018 Ryder Cup was hit with a sixth hole tee shot played by golf pro Brooks Koepka Friday. The woman, 49-year-old Corine Remande, says that her eyeball "exploded" upon impact, and doctors have told her she's lost the use of her right eye.
Remande reportedly traveled from Egypt for the biennial competition between Europe and the U.S., which was held outside Paris this year.
The woman was transferred to a hospital in Lyon, France.
"It happened so fast, I didn't feel any pain when I was hit," Remande told French news agency AFP. "I didn't feel like the ball had struck my eye and then I felt the blood start to pour. The scan on Friday confirmed a fracture of the right eye socket and an explosion of the eyeball."
Watch the ball veer off course below. (Note: commentators incorrectly say the ball struck a spectator's knee.)
Ryder Cup fan's eyeball 'exploded' after being hit by golf ball
A woman is considering legal action after losing sight in her right eye after being hit by a shot from US golfer Brooks Koepka during the Ryder Cup pic.twitter.com/BJplSMAMFg

— JosAloEntra (@JosAl45444022) October 2, 2018
"In the best case scenario, she may be able to see shapes after the bruising eases in a month or so," Remande's husband told reporters, according to Evening Standard.
Koepka reportedly signed a glove for the woman and said after Friday's round of competition, "You don't want to hit anybody in the face, especially not a woman, and it's not a good feeling."
"It's hard to control a golf ball, especially for 300 yards, and a lot of times the fans are close to the fairway," he stated, according to BBC, adding that even if you yell "fore" to warn people who may be in harms way, "it doesn't matter from 300 yards, you can't hear it."
"I probably do it way more than I should," he admitted of injuring spectators. "It seems just about every week we're hitting somebody, and you know, it's unfortunate. You're never trying to." Multiple reports say the 28-year-old golfer seemed "shaken" when he went over to check on Remande.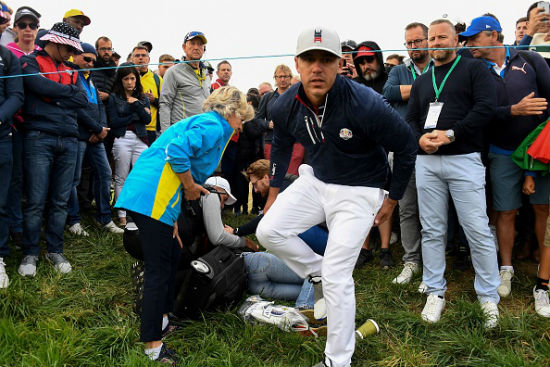 Remande is reportedly considering legal action to help cover medical bills. 
Ryder Cup responds to Brooks Koepka accident
Metro has reached out to PGA for more information on the Brooks Koepka incident. A Ryder Cup spokesperson told BBC that it's "distressing to hear that someone might suffer long term consequences from a ball strike."
Remande claims there was no warning before she was hit, and she criticized tournament organizers for "not making contact" after the accident.
The spokesperson, however, said she was "treated by first responders immediately and taken to hospital. We have been in communication with the family involved, starting with the immediate on-course treatment and thereafter to provide support, helping with the logistics of repatriation, including providing a transfer for the family from Paris to Lyon. We will continue to offer support for as long as necessary."
"We can confirm that 'fore' was shouted several times but also appreciate how hard it can be to know when and where every ball is struck if you are in the crowd," the statement continued. "We are hugely sympathetic and will do everything we can to support the spectator, insofar as that is possible under very difficult circumstances."
"Ball strikes are an occasional hazard for spectators but this kind of incident is extremely rare," the spokesperson said of the Brooks Koepka accident. 
Europe ended up winning the Ryder Cup 17.5 to 10.5.