Merriam-Webster's 2017 word of the year was "feminism," and 2018 is being called the "year of the woman." Or, better yet, year of the women, since a record number of female candidates registered to run for office leading up to the midterm elections.
But, until 1920, women couldn't practice the same basic right as men to cast a ballot. 
Feminist leader Susan B. Anthony seemingly catalyzed the fight for women's suffrage when, on November 5, 1872, she illegally voted in the presidential election. She was arrested two weeks later and given a guilty verdict. (Anthony was fined but never jailed for this "crime.")
Despite her efforts heading the National American Woman Suffrage Association (NAWSA) and inspiring females to find their voice, Anthony died over a decade before the 19th amendment was passed and ratified.
Now, 146 years since Anthony's epic arrest, women are placing their midterm elections "I Voted" stickers on her grave, located at Rochester's Mount Hope Cemetery.
The first people arrive at 7:05am here at Mount Hope Cemetery in Rochester, NY to place their "I Voted" stickers at the grave of Susan B. Anthony. It was November 5, 1872 when Anthony illegally voted in the presidential election, resulting in her arrest. #ElectionDay @News_8 pic.twitter.com/4yklblxbqY

— John Kucko (@john_kucko) November 6, 2018
This isn't out of the ordinary for an Election Day. Rochester Mayor Lovely Warren, the city's first female mayor, told the Associated Press that visiting Anthony's grave has become a "rite of passage" for many voters.
On Election Day 2016, the line at the Mount Hope Cemetery was overwhelmingly long. 
The scene at Susan B. Anthony's grave. And it's a scene. pic.twitter.com/mgQNwmsB9f

— Sarah Maslin Nir (@SarahMaslinNir) November 8, 2016
Anthony isn't the only notable activist and suffragist in U.S. history. There was Elizabeth Cady Stanton, Alice Paul and Ida B. Wells, to name a few. She was, though, one of the most crucial for mobilizing the movement for equal voting rights.
A popular Anthony quote reads: "The day may be approaching when the whole world will recognize woman as the equal of man."
Or, there's the quote displayed by six female demonstrators at the 1920 Republican National Convention in Chicago, seen below: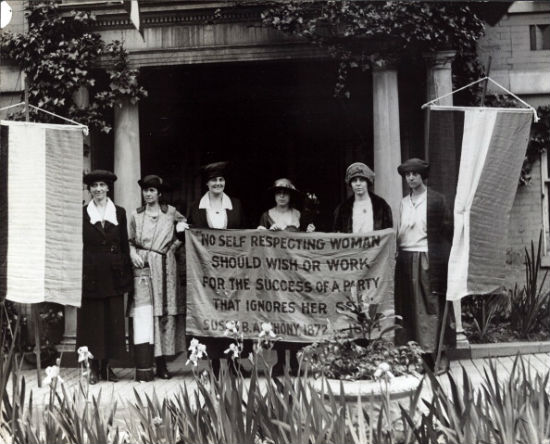 The saying goes: "No self-respecting woman should wish or work for the success of a party that ignores her sex."
Women share with Metro why they voted in the midterm elections
"To be completely honest, voting in the past had never really been a huge priority for me," one female NYC resident tells Metro. But, the midterm elections represented something different, and she had a "complete 180-degree change in mentality."
"As a woman, I'm terrified of the way certain women's rights issues are currently being handled in our government," she says. 
She continues on to cite Brett Kavanaugh's induction to the Supreme Court as a "complete wake-up call." After that, "I knew that if I wanted to see change, I would have to do my part to make it happen. I've never felt more inspired to have my vote count, and I had an insane sense of pride leaving the polls this morning knowing that my voice, no matter how small, was heard."
A female New York state resident says that, put simply, her overall outlook on casting a ballot is this: "You're not allowed to complain about the outcome if you didn't vote." 
"As a woman, I felt it was important to vote today because every day I see us getting closer to the oppression we once knew," a Connecticut native admits. "Women before me have fought for my right to vote, so I think it's really important to let politicians know that we are here and our voice matters."
Similarly, a woman from Philly says she's voting in the midterm elections because she needs to "live in a world where my rights are taken seriously. [They're] not just heard, but represented."
And, one from New Jersey really can't believe what "a sh*t show [it is] out there."
"I feel like every moment I sit idly by I'm allowing people to make reckless decisions about our basic human rights," she says. "Voting is one of the only tangible ways we can ideally invoke change, and this election is definitely the most historical I've been able to participate in."
"I'm pissed," she declares. "So I'm voting about it."