Stars at the 75th Annual Golden Globes wore black in support of the TIME'S UP initiative and to call attention to sexual harassment in the workplace. Actors, producers and activists alike stood in solidarity by sporting a color usually associated with grief. But that night, it represented a movement — and the atmosphere seemed charged with hope. 
"This is a moment of solidarity, not a fashion moment," Eva Longoria said in a statement when TIME'S UP was unveiled. "For years, we've sold these awards shows as women, with our gowns and colors and our beautiful faces and our glamour. This time the industry can't expect us to go up and twirl around. That's not what this moment is about."
Some stars took to social media before the Golden Globes to explain why they were wearing black.
Natalie Portman said in an Instagram video that she wore black to "be in solidary with all people who have suffered discrimination, harassment, abuse in the workplace. Time's up on the imbalance of power. Let's make our workplaces look more like our world."
While getting ready to walk the red carpet, America Ferrara also posted a video to Instagram to explain why she wore black, saying, "I believe that every woman, everywhere has a voice, has power and deserves to live with safety and with dignity."
Laura Dern, who won Best Supporting Actress in a Series, Limit Series or TV Movie for her role in "Big Little Lies," posted a picture from the TIMES UP account entitled, "Why I Wear Black Today," with the caption, "Because #timesup!!"
Oprah Winfrey delivered a powerful speech during her acceptance of the Cecil B. Demille award for her lifetime achievement in the industry. She stunned in an off-the-shoulder black gown.
"I want all the girls watching here and now to know that a new day is on the horizon!" she declared. "And when that new day finally dawns, it will be because of a lot of magnificent women, many of whom are right here in this room tonight, and some pretty phenomenal men fighting hard to make sure that they become the leaders who take us to the time when nobody ever has to say 'Me Too' again."
You can watch Oprah's full speech here.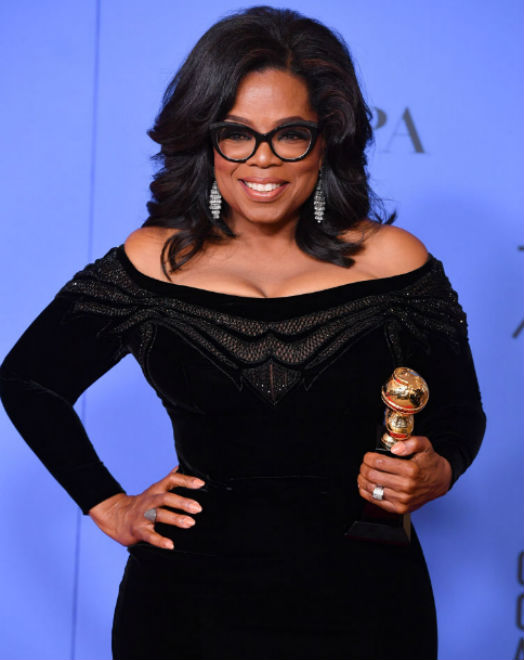 Many other empowering voices took the stage, all in black.
During the aceptance speech for her supporting role in "Big Little Lies," Laura Dern stated, "May we teach our children that speaking out without the fear of retribution is our culture's new North Star."
Laura Dern's sensational #GoldenGlobes speech bears repeating: "I urge all of us to not only support survivors and bystanders who are brave enough to tell their truth, but to promote restorative justice." pic.twitter.com/LL2kKkBMHw

— Jarett Wieselman (@JarettSays) January 8, 2018
And when "Big Little Lies" won for Best Limited Series, Reese Witherspoon thanked the audience and those watching at home: "This show is so much about the life we present to the world that can be very different than the life behind closed doors, so I want to thank everyone who broke their silence this year and spoke up about abuse and harassment. You are so brave and hopefully, shows like this, more will be made, so people out there who are feeling silenced by harassment, discrimination, abuse… time is up. We see you. We hear you. And we will tell your stories."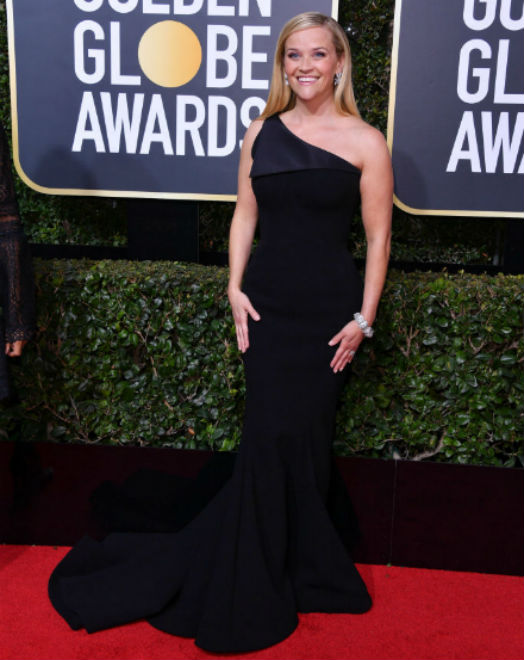 According to a PEOPLE source, there was some resistance against the blackout before the red carpet on Sunday. "Some feel women should celebrate their newfound power, strong voices and the future by wearing a wide variety of brighter shades," the source said. "Instead of distracting from the real issue with a mandate to wear one particular color."
When it came time to step onto the red carpet, the color of choice was predominantly black. There were, as it turns out, a select few who didn't participate, and we've compiled a list of these individuals.
Click through the pictures above for women who didn't wear black to this year's Golden Globes.