One of the greatest rivalries in sports is dormant no longer. The New York Yankees and Boston Red Sox, AL East rivals, will meet in the best-of-five-game American League Divisional Series, beginning Friday night from Fenway Park.
It's just the fourth time ever that the two clubs will meet in the postseason, the first since the 2004 American League Championship Series.
After a brief hiatus, the two are back atop the American League and this is the best they've ever been at the same time. In the 115-year rivalry, the Yankees and Red Sox had never won 100 games in the same season.
That changed this year as Boston put up a franchise-record 108 while the Yankees had 100.
As Major League Baseball's best regular-season team, the Red Sox enter the postseason with an obvious target on their back. The end of their regular season didn't do a lot to gain much confidence heading into the playoffs as they went 5-7 in their last 12 games, including a series loss to the Yankees last week in which they dropped two of three.
Still, this is a Red Sox team loaded with talent. On the mound, Chris Sale had another brilliant season, posting a 2.11 ERA in 27 starts while Rick Porcello and David Price contributed 17 and 16 wins respectively.
At the plate, Boston's two-headed monster of J.D. Martinez and Mookie Betts could very well be the best in the league.
Martinez turned in a monster season that will surely garner MVP consideration with a .330 average, 43 home runs and a league-leading 130 RBI. Betts is this year's MLB batting title champion, a .346 average 16 points better than the second-place Martinez. Not to mention he added 32 home runs and 80 RBI.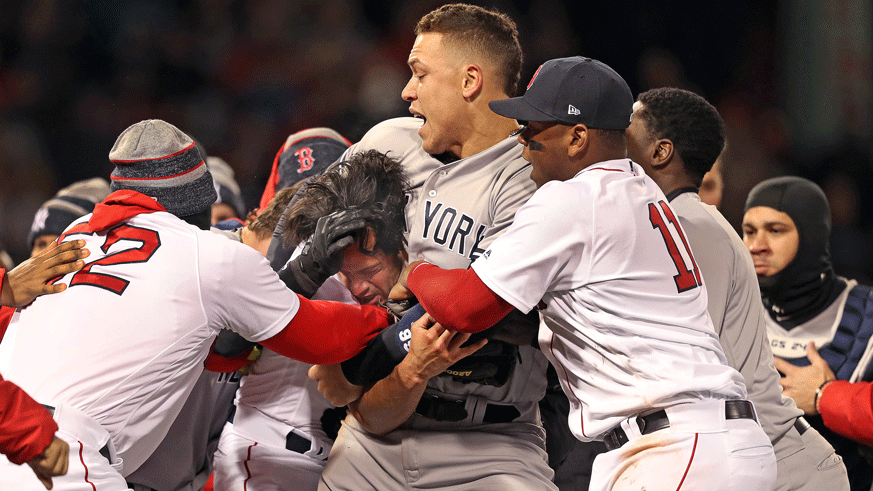 But the Yankees have an unexpected power trio that will give the Sox a run for their money. Giancarlo Stanton, who led the team with 38 home runs and 100 RBI, has gotten his bash brother Aaron Judge back and healthy. Both players went deep in the Yankees' 7-2 win over the Oakland Athletics in the American League Wild Card Game on Wednesday Night. 
The third Yankee basher is Luke Voit, a little-known first baseman who was acquired from the St. Louis Cardinals at the deadline.
While Voit couldn't hammer down regular playing time in the National League, he's become one of the Yankees' most powerful bats, launching 14 home runs in just 39 games.
New York also saw a promising result in Luis Severino's performance in the Wild Card. The Yankees struggling ace was solid against Oakland as he didn't allow a single hit through his first four innings of work.
The move to start Severino paid off for manager Aaron Boone as he will now have J.A. Happ, who has gone 7-0 with a 2.69 ERA since being acquired from the Toronto Blue Jays in July, available for two starts against the Sox. He was 1-1 with a 1.99 ERA against Boston in four starts this year.
Here is how you can catch all the action in this best-of-five-game series:
Yankees Red Sox ALDS viewing information
All games can be streamed live for free by using Reddit or by going to TBS.com (TV provider information required). 
For pay-to-watch feeds, visit fuboTV or MLB.tv.
Game 1 @ Red Sox: Friday, Oct. 5, 7:32 pm ET on TBS
Game 2 @ Red Sox: Saturday, Oct. 6, 8:15 pm ET on TBS
Game 3 @ Yankees: Monday, Oct. 8, TBD on TBS
Game 4 (IF NECESSARY) @ Yankees: Tuesday, Oct. 9, TBD on TBS
Game 5 (IF NECESSARY) @ Red Sox: Thursday, Oct. 11, TBD on TBS