Regardless of your stance on the one-game, winner-take-all Wild Card Game system that pits the top two non-divisional winners against each other for a chance to move on to the Divisional Series, the New York Yankees and Minnesota Twins seasons come down to nine innings on Tuesday night. 
With Yankee Stadium providing the most dramatic backdrop possible, two teams that were not expected to make it this far have surprised many, regardless of the Yankees' track record of success over the past century. 
New York was supposed to be a rebuilding franchise this season, amassing young talent that would develop the team into contenders in the next few years. But surely not now.
Well, in a way only the Yankees really could, those youngsters took over New York as Aaron Judge pieced together one of the greatest rookie seasons in MLB history, launching 52 home runs and becoming a folk hero in a matter of seven months. 
Not to mention the career year had by Didi Gregorius, the steady contributions of Chase Headley and the supporting power provided by Gary Sanchez. On the hill, Luis Severino has budded into an ace-like pitcher with an All-Star season that included a 14-6 record, 2.98 ERA that ranked third in the American League and 230 strikeouts, which ranked sixth in the majors.
While there is a bit of Yankee mystique that comes with a surprisingly successful year, many around baseball are still trying to figure out how the Twins got here. 
In 2016, Minnesota was the worst team in the majors, winning just 59 games. They weren't expected to do much better considering they didn't make dramatic changes in their roster. 
But things just clicked in 2017 as the Twins received solid offensive production from Brian Dozier (34 HR), Miguel Sano (28 HR) and Eddie Rosario (27 HR). Their 5.03 runs per game ranked seventh in the majors. 
The largest improvement though was on the mound as a re-bolstered rotation led by Ervin Santana went from allowing 5.49 runs per game to 4.86. 
It will be the 16-8 Santana facing Severino on the mound on Tuesday, so let's take a look at how these two teams and their projected lineups will match up against each other:
YANKEES PROJECTED DEFENSIVE ALIGNMENT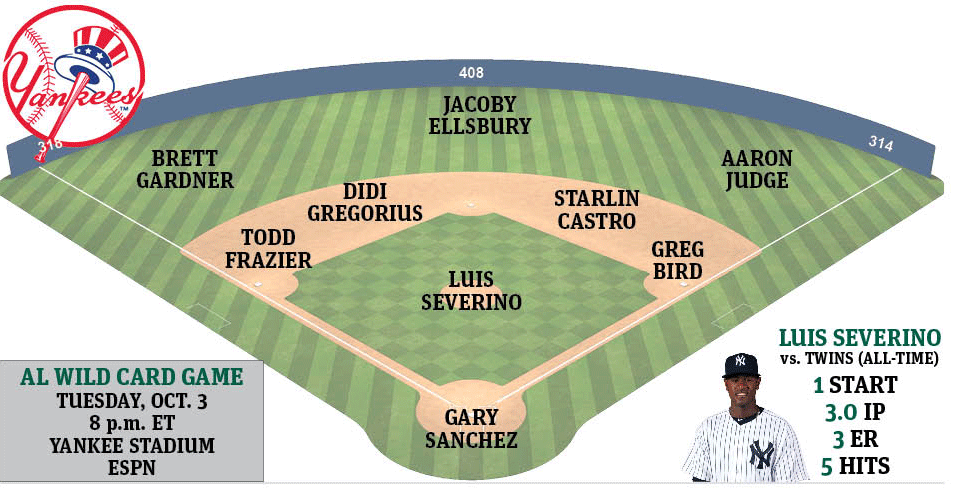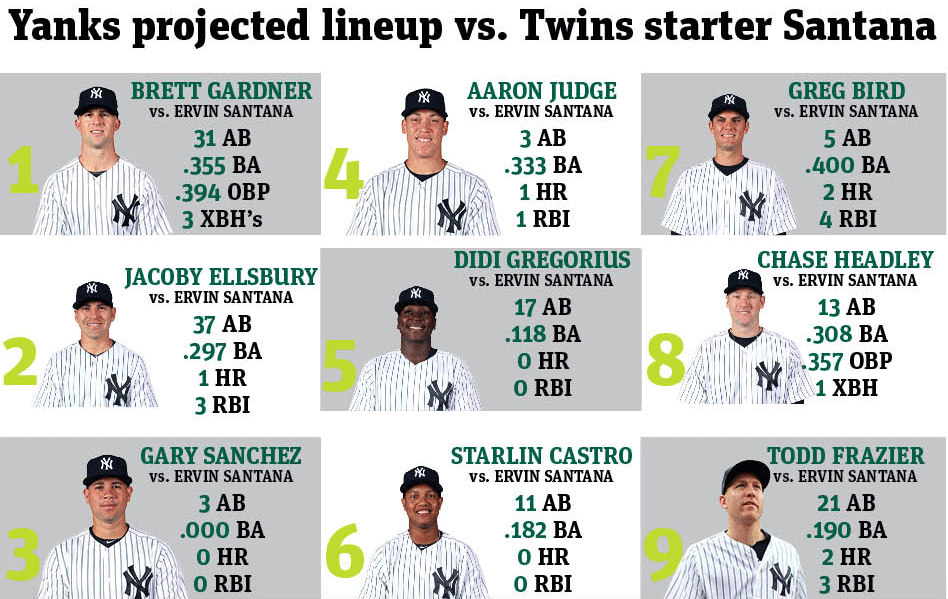 TWINS PROJECTED DEFENSIVE ALIGNMENT