The Kid Who Would Be King is hugely enjoyable for a number of reasons. 
First of all writer and director Joe Cornish imbues the fantasy epic with a real sense of wonder, modernizing the Arthurian legend while not forgetting to pack the action adventure full of set-pieces. At the same time he makes sure that the emotion and reliability of the film and its characters aren't dated, and there's a surprising and poignant depth to it throughout. 
The fact that there's so much going on in The Kid Who Would Be King meant that its leading actor was going to have to put in a hell of a performance. Step forward Louis Serkis, who excels as Alex. That should hardly be a surprise, though, because he comes from rather good acting stock, as his parents are Andy Serkis and Lorraine Ashbourne. 
Who is Louis Serkis?
So how did Louis Serkis end up in The Kid Who Would Be King?
"My casting process is very simple," Cornish tells Metro. "It was the same thing for Attack The Block. We saw thousands and thousands of young people. It didn't matter what their background was. Or how much or little experience they had. We gave them a scene and stuck them in front of the camera, and then judged them on how good they were. Louis arrived into this process pretty late."
It turns out that, at first, Louis Serkis wasn't actually that keen about auditioning for the film, too.
"His mom bullied him into the audition and he thought he was going to play football, he turned up in his football kit, looking a bit grumpy, and he didn't really know anything about the film or who I was, and we just gave him a page. Then he discovered that I directed Attack The Block, and he was like, 'Oh I really like that film.' So then he was a little more excited."
"The more he got through the audition and the more he realized what it was and the more excited he became. But he got the role purely through his ability and the kid acting opposite him was the complete opposite. He's got no experience at all. He just found the casting on a slip on the floor at his school."
Cornish was immediately impressed by Louis Serkis' performance, especially considering his age. 
"The thing that really impresses me with Louis is the detail in his performance. You know obviously I worked as hard as I could with him on set. Kids learn fast and so it helped that he had been on film sets before so he knew the ropes. But to be honest just all of them got the hang of it after a couple of days, and take it a bit more in your stride I think."
"But there's so much stuff I see in the film and in his performance that has nothing to do with me or how I was directing. You know little details about the way he uses his eyes or the way he phrases his lines.There's so much for him to do. He's got to do action and emotion and humor and physical stuff, and he's in pretty much every scene as well, yeah he absolutely carries the film."
Rebecca Ferguson, who plays the evil Morgana in The Kid Who Would Be King, adored working alongside younger actors. 
"I think children in general, it's not a challenge, but it's a bit thrilling working with children, they're a bit pure, there's a rawness because they haven't come to space where they've created art and appearances and they don't need to be anything particular, they're not little famous people, they're just who they are, and it takes away everything and our own expectations of ourselves, so it becomes a very honest set."
"Louis definitely, even though he's been brought up in an environment with a lot of acting expertise, he's just a young kid who is so good at throwing himself into imaginative situations. He's such a hard worker and there were tough days for him I know, and he just challenged through it, and created this wonderful character that I think a lot of young children would love to be. He's going to become a hero."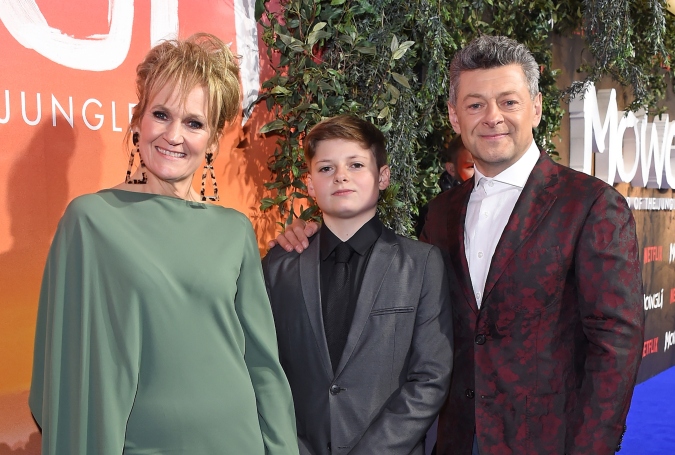 But while Louis Serkis leads the film, The Kid Who Would Be King also features the obligatory cameo from Adam Buxton, Joe Cornish's longtime friend who he created and starred in the cult British TV show The Adam And Joe Show with. 
"He insisted that the poster be just a huge picture of his face, and he wanted that globally, just huge helium balloons of floated over all the major cities, so I had to talk him down from that and negotiated him down from that," jokes Cornish.
"It was just a little role to give him because it's just fun working with him, it would be wrong not to have him in there, only because he'd go on about it on his podcast and I'd have to deal with all the abuse. So it's just damage limitation really."
The Kid Who Would Be King is now in cinemas.