You can pretty much get anything delivered to your door in NYC — including a car. Yes, really: Carvana is launching their car-delivery service in New York City, meaning you can buy any one of the 10,000 cars they have in stock and via your phone and have it delivered to you by the next day.
Can buying a car be as simple as ordering Starbucks? It's true — and their data shows that more people are buying cars through mobile than buying coffee.
And if skipping the hassle of a car dealership wasn't enough for you, then this might be: Carvana is celebrating its move into NYC by giving away a free year of Postmates.
How to win a free year of Postmates from Carvana
Carvana is taking over the city today with car-sized takeout boxes that'll help show people that buying a car really is as easy as ordering delivery. The parade is scheduled to travel through the city with stops in Soho, Columbus Circle, Midtown and more.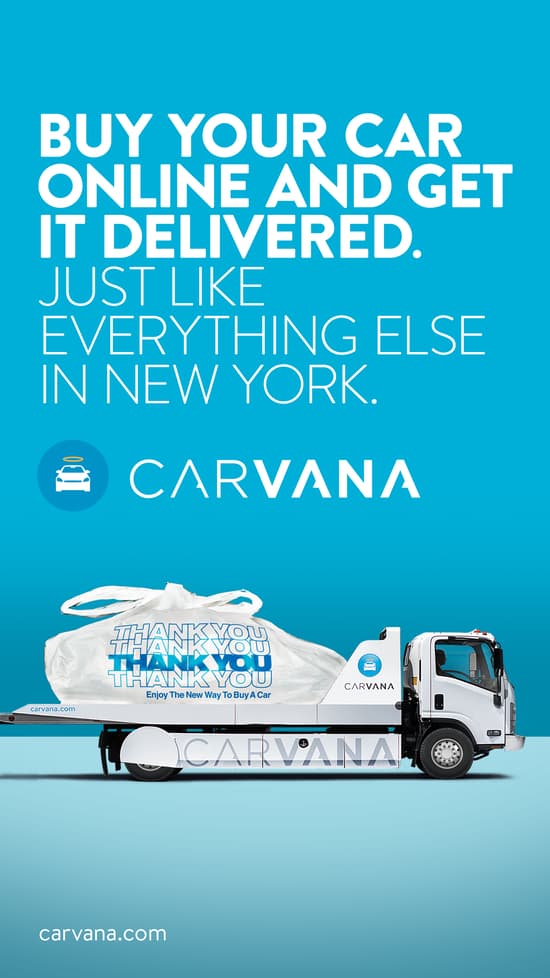 But, how do you win? Look out for these giant takeout boxes, snap a picture and post online with the hashtag #TheNYCWayToBuyACar and #sweepstakes. One winner will get a free year of Postmates service (a $5,000 value!).
"New York City is the largest market we've launched to date, so it's fitting we give it our largest celebration," Ernie Garcia, founder and CEO of Carvana, said in a statement. "New Yorkers are known for being mobile-first, so we're proud to be the first to give them a fully start-to-finish mobile car buying experience; a service they've become accustomed to for much of their purchasing decisions."
Should you buy a car from a mobile app?
If you've ever bought — or even rented — a car, you know that there's a lot that goes into it. You want to know if it's going to hold up and not turn into a lemon as soon as you sign the contract. Carvana's ordering process means you won't get to see the car before you push the buy button.
If it sounds a little risky, it is — but Carvana has a method to the madness.
"Every Carvana vehicle is Carvana Certified, meaning it has no frame damage, has never been in a reported accident, and has undergone a rigorous 150-point inspection," the company said. "Features, imperfections and updated information about open safety recalls are listed on the car's vehicle description page. Along with high-definition, 360-degree photos, every Carvana vehicle comes with a seven-day return policy so the customer has time to ensure the vehicle fits their life."
Not in NYC? You're out of luck on the Postmates giveaway for now, but you can get a car delivered to you faster than you can says "Grande Mocha Frappuccino."