Ivanka Trump might be a fashion designer, but she opted to go with a dress from another designer for her father's first state dinner.
According to Yahoo, Ivanka opted for a dress from Rodarte, a pink tulle creation "crafted to swathe the figure, with ruffles floating across the boat neck and V-shaped back," according to one website — and it set her back a crisp $12,888.
To be fair, the designers — sisters Kate and Laura Mulleavy — suggest saving the dress for "the most elegant of occasions."
And the dinner, held for French President Emmanuel Macron's official visit to the United States, was pretty elegant, capping off a full day of activity between the two leaders, complete with tree planting and dandruff brushing.
Did taxpayers pay for the Ivanka Trump state dinner dress?
Don't worry: You're probably not footing the bill for Ivanka's state dinner dress — or Melania Trump's French state dinner dress (from French fashion house Chanel), either.
According to W magazine, the First women of the White House — including Michelle Obama — usually opt to foot the bill for their own clothes. The first lady's go-to stylist, Hervé Pierre, told the New York Times that he goes "to Bergdorf, I go to Saks, Michael Kors, Dior," to find her dresses.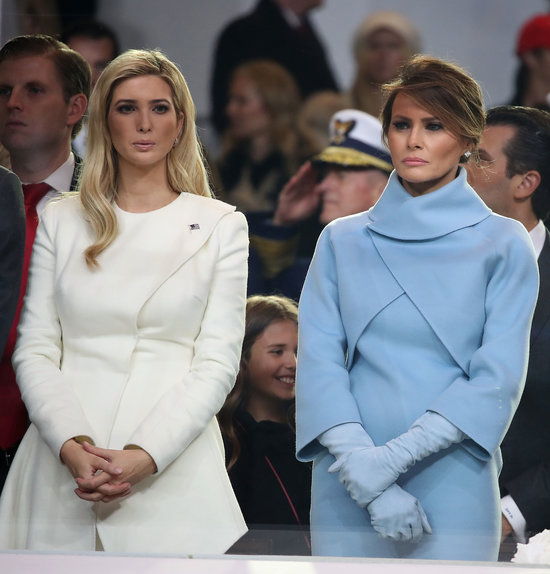 "What is challenging is when I cannot say what it is for," he said, likely referring to some designers' reluctance — or straight-up refusal — to give the first lady their outfits for events. Any clothing that is donated to the White House by designers is considered property of the U.S. government and has to be sent to the National Archives, according to ethics rules.
"I always ask: 'Was it already on the red carpet? Did somebody already wear it?'" Pierre added to the Times. "Because I don't want her to be on the 'Who Wore It Better' list."
Why Ivanka Trump's state dinner dress is notable
Unfortunately for Ivanka, her dress has been on the red carpet before — on Kirsten Dunst at the 2017 Venice Film Festival and Millie Bobby Brown wore a white version at the 2018 Brit Awards.
What's more surprising than the cost of Ivanka's state dinner dress is that it wasn't from her own label. She's often criticized for being "a walking billboard" for her clothing. According to The Wall Street Journal, Ivanka mostly wears her own clothing for her public appearances as a representative of the White House.
"Ivanka Trump is testing the boundaries on federal rules that bar government employees from using their position to promote brands that personally enrich them," Guian McKee, associate professor in presidential studies at the University of Virginia's Miller Center, told the Journal.
Ivanka stepped down from her company when she took an aide position in her father's administration, though she did pull in a multimillion-dollar income from it during at least the first several months of 2017, according to the Journal.
So, why didn't she wear one of her own creations to the state dinner? It's hard to say, especially since she picked an American designer, not a French one. Regardless of who made her clothes, Ivanka said she's not trying to use the Trump administration to bolster her brand.
"If what motivated me was to grow my businesses and make money, I would have stayed in New York and done just that," she told the Journal last year in an email statement.