The biggest day of New York City's Pride Week in June 24, when tens of thousands of rainbow-wielding partiers flood the streets of Manhattan for the Pride Parade. We've got your guide to making the most of the New York City Pride Parade, from prepartying at the best drag brunch to the glam afterparties.
Start with brunch
Because it's still Sunday morning, make your first stop Voss Events' famous Drag Brunch at Highline Ballroom, featuring wild performances and special appearances stars from RuPaul's Drag Race. The mimosas are bottomless for all two hours of the show, and all tickets include one brunch item. 11:30 a.m. and 2:30 p.m., $15-$69.95, highlineballroom.com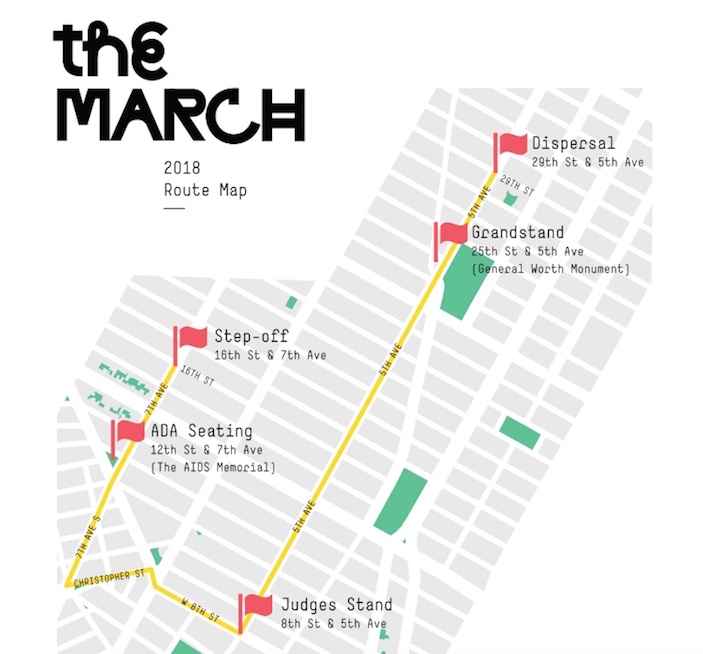 Cheer on the marchers
The 2018 Pride Parade still begins at noon, but the route is totally different from previous years. The more than 40,000 marchers and 100 floats will step off from 16th Street and Seventh Avenue in Chelsea, march down to the West Village to pass by the Stonewall Inn then turn north to end in Midtown at 29th Street and Fifth Avenue. Here's the map:
The new route is meant to speed the pace of the parade, which stretched to over nine hours last year. It's also a trial run for next year, when New York City will host its first-ever World Pride, a month-long celebration in honor of the 50th anniversary of the Stonewall Riots.
Before heading out, remember the three essentials:
Bring supplies: Last year's Pride Parade lasted for more than nine hours. It's going to be a long, sunny day out there, so bring water, sunblock, a hat and snacks to sustain your rainbow spirit.
Wear comfortable, closed shoes: You want to be able to cheer on the whole parade and also keep dancing, right? Plus, you'll be grateful when someone inevitably steps on your foot.
Pick the right viewing spot: Stand where you'll have the easiest subway access to wherever you're headed next. Or even better, make a reservation at a restaurant along the route and head there after the parade instead of fighting the crowds.
Refuel with food and cocktails
Carb up post-parade at Meatpacking's new retro pizza and cocktail lounge The Woodstock and split a special Pride pizza where every slice is a different color of the rainbow.
Since you're already going to be near the West Village, swing by The Loyal for an extra specially colorful Pride edition of their Instagram famous sundae spread, renamed by Rainbow Sundae for the occasion. They'll also be mixing a one-day-only special cocktail called the Unicorn Sour with vodka, white peach, ginger, lime juice and egg white, with $1 going to Planned Parenthood.
Take in the Southern California vibes at Taco Dumbo, which has created a frozen rainbow margarita topped with cotton candy clouds just for Pride. The cold-pressed juice cocktail is $6, or gay couples can get one in a shared size for free with proof of marriage.
Oo order anything at all at Soho's chic Italian spot Cafe Altro Paradiso, which is donating a portion of its Sunday proceeds (they're open until 10 p.m.!) to the Ali Forney Center for homeless LGBT youth.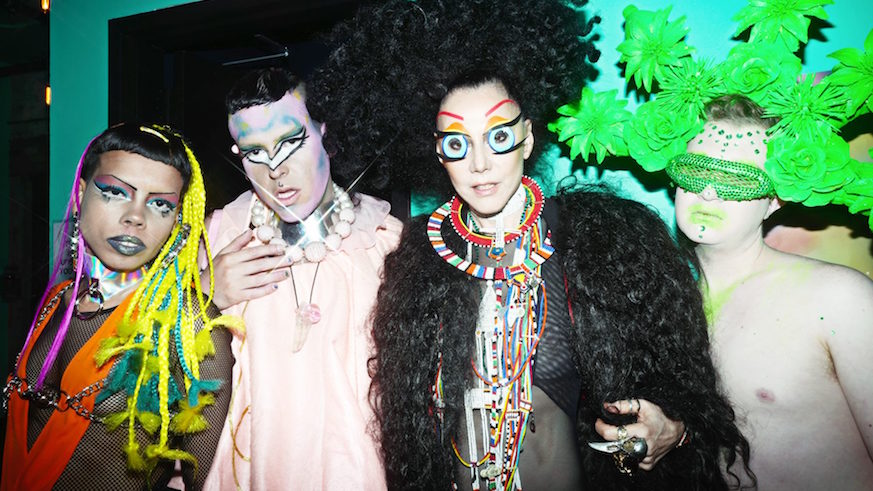 Kunst by Susanne Barsch and The Dreamworld. Credit: Maro Hagopian
Keep partying into the night
Queer party pioneers Papi Juice lead a day-long party at New York Live Arts, Chelsea's theater for "innovative movement-based artistry." From 2-8 p.m., snap some glam selfies in the open-air lobby with the kaleidoscopic installation "These bags we carry are filled with promise" by Nick Cave and Bob Faust, nab some complimentary cocktails and small bites if you're early enough, and catch surprise DJ sets and drag performances. Concerts are ticketed ($20 advance, $25 door).
If you're not ready to take the party indoors yet, grab a frozen drink and party all day with nightlife icon Susanne Bartsch and The Dreamhouse on Brooklyn's new Elsewhere rooftop until 10 p.m., when the party heads inside to continue raging until 4 a.m. Tickets are $25-$30, with a portion going to support emerging visual artists.
And of course, the glitteriest bash will be at Bushwick's House of Yes, where you're encouraged to be as loud and proud as you want at Bad Behavior, where the dancing starts at 8 p.m. and doesn't let up until 3 a.m. Get priority entry for $10 in advance, or hope for a ticket at the door for $15.