Wimbledon came and went. But now, fans and athletes alike are gearing up for another Grand Slam — and this time, it's on American turf. That's right: the 2018 US Open begins this August.
Worried about how you'll get tickets? We've got you covered. Unsure when it even starts? We've got that too. Need directions (don't we all)? Look no further — we know just where you can get them.
Not only is it the final Grand Slam of the year, but it also marks the US Open's 50th anniversary.
The 1968 US Open was the first time all five categories of competition — men's singles and doubles, women's singles and doubles and mixed doubles — were celebrated together at the West Side Tennis Club in Forest Hills, New York.
Here's everything you need to know about the 2018 US Open.
When is the 2018 US Open?
Get ready, tennis fans! The 2018 US Open is coming next month.
The 2018 US Open starts on Monday, August 27, and lasts through Sunday, September 9.
Where is the 2018 US Open?
It takes place at the USTA Billie Jean King National Tennis Center in Flushing Meadows – Corona Park, New York (AKA Queens).  
How do I get to the 2018 US Open?
Need directions to Flushing Meadows? The US Open website has a transportation guide all set up. It includes information for mass transit, car routes and parking. 
Access this 2018 US Open transportation guide, and start planning today. The easiest way to the 2018 US Open is the subway. To get there, take the 7 train from the Grand Central Terminal to the Mets-Willets Point Station. 
How much are 2018 US Open tickets?
Depending on how many rounds you're planning on seeing, and which day you're going to the US Open, tickets range in price. A single game could be well under $100, whereas ticket plans (multiple tickets for multiple days), can total up thousands of dollars.
Click through to the US Open website's tickets FAQ page to view details on the different types of tickets sold for day and evening sessions. You can also view which tickets have assigned seating, which are first-come, first-served (Grounds Admissions) and other information.
Where to purchase these tickets
You can buy tickets to the 2018 US Open through Ticket Master, which is the only authorized seller of US Open tickets online.
You can also call 718-760-6363 to purchase 2018 US Open tickets.
In addition, the US Open website notes that the Box Office will be open "every Friday from 9 a.m. – 5 p.m. and every Saturday and Sunday from 10 a.m. – 4 p.m. until the start of the tournament."
Tickets are available for the newly renovated Louis Armstrong Stadium, the Arthur Ashe Stadium and Grandstand.
Grounds Admissions tickets give you "first-come, first-served access to Louis Armstrong Stadium, the Grandstand and all field courts." They're only sold for the first eight days of the tournament, and you can't get into the Arthur Ashe Stadium with these tickets.
For travel packages, click here.
Can I resell my ticket?
The US Open website notes, "US Open patrons now have the opportunity to resell their unused tickets in a secured fan-to-fan environment, sanctioned by the USTA. There are many websites that may look very legitimate, but they are not affiliated in any way with the USTA."
For more information on which tickets are eligible for resale, click through to the Ticket Exchange page.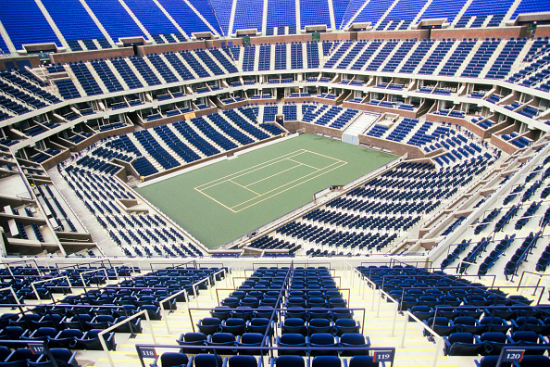 When do the gates open?
The US Open website states that generally, gate entry time is one hour before the start of a day or evening session. Typically, the earliest you can enter the grounds with a day session ticket is at 9:30 a.m, and the earliest you can enter with an evening session ticket is 6:00 p.m.
For prohibited items and security procedures, click through to the US Open website.
How much is the 2018 US Open prize money?
The prize money this year is reportedly $100,000 more than it was in 2017.
According to the United States Tennis Association, winners of the men's and women's brackets will each walk away with $3.8 million.
The total prize money for the 2018 US Open will is a record high of $53 million.
2018 US Open schedule
The first round of men's and women's matches will begin on Monday, August 27, at 11:00 a.m. Evening matches will begin that day at 7:00 p.m.
The final rounds will start on Friday, September 7, at noon and last through that Sunday.
The website notes that times are subject to change. For the most recent schedule, click through to the 2018 US Open schedule page.
So, what if it rains during the 2018 US Open?
If a US Open session is cancelled due to inclement weather, you can typically exchange your ticket for other sessions at the 2018 US Open or next year's tournament. However, certain tickets do not apply. It also depends on how much play has occurred before inclement weather interferes with a match. 
For more details on terms and conditions, go to the 2018 US Open inclement weather policy page.
How to live stream the 2018 US Open and where to watch
You can access live coverage of the tournament on the US Open App. Major sports networks like ESPN will be broadcasting the event as well.
Check back in with Metro as the US Open approaches for guides on where to watch (including TV schedules) and how to stream all the action.
The US Open social media accounts will also be posting updates and highlights. Follow US Open Tennis on Twitter, Facebook, YouTube and Instagram.
Who to look out for this year
Qualifying tournament draws will be available on August 20, and the 2018 US Open men's and women's singles draws will be revealed on Friday, August 24. Keep track of all the key contenders on the US Open Players page.
Top male contenders are rumored to be Novak Djokovic, Roger Federer, Rafael Nadal (2017 US Open singles champion), Andy Murray (who withdrew from Wimbledon) and Alexander Zverev (only 21 years old).
Women to look out for include US Open defending champion Sloane Stephens, Anastasija Sevastova, Julia Goerges and, of course, Serena Williams, who lost in the final round of the women's singles competition at Wimbledon to Germany's Angelique Kerber.
"I was really happy to get this far," Williams, who gave birth to her first child 10 months ago, told reporters shortly after the final Wimbledon match. "I didn't know a couple of months ago where I was, and so these two weeks have showed me I can really compete and be a contender to win grand slams. This is literally just the beginning."