File this under freaky: In 2013 the non-profit organization Oceana released a report in 2013 found in a massive investigation of over 1,200 seafood samples that one-third of the samples were mislabeled according to FDA guidelines. Yikes!
If you're anything like us, it freaked us out for a while (read: no sushi restaurants) and then we went along chomping down on our merry seafood dinners for many evenings to come. Now, Huffington Post has published an article helping consumers figure out how to determine if you're eating fresh tuna or fake stuff, which is typically a fish called escolar. (A whopping 84 percent of the "white tuna" the Oceana report looked at was actually escolar fish).
While the report did not look at pre-cooked canned or packaged tuna, the results are important for anyone who orders fresh tuna at a restaurant, picks it up from the grocery store, or dines on it at a sushi joint.
But it's not just that you're getting duped. Escolar fish can make you seriously ill and has been banned in Japan (sushi capital of the world) since 1977 because the government believes it to be toxic. Yes, you read that right.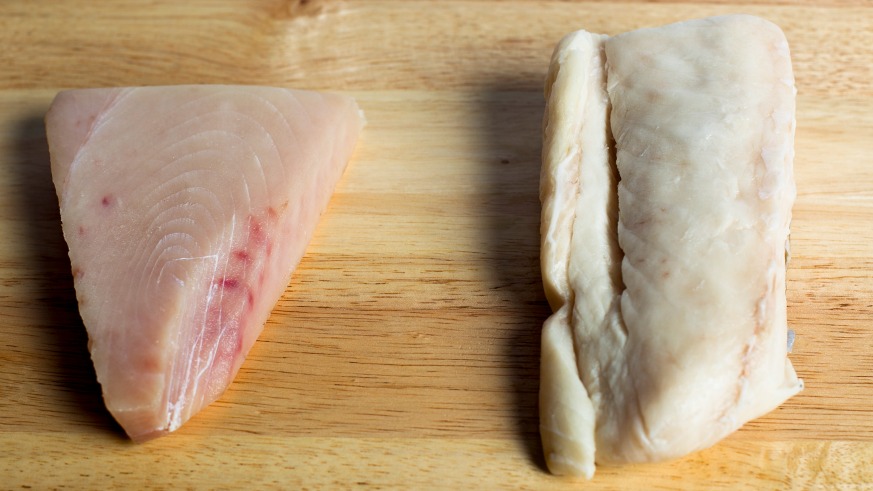 Here's what you need to know to spot fake tuna:
Escolar vs Tuna: Look at the price
Remember that fresh tuna is very different from canned, and don't expect the similar price points. "Oceana says that if the price feels too good to be true, you can bet that it actually is. In other words, if you want tuna, you should expect to shell out some serious cash," author Julie R. Thomson writes.
Escolar vs Tuna: Consider the color
Escolar is milky-white in color, and there are levels of opaqueness in tuna that you don't see in escolar, the story reports.
Escolar vs Tuna: Seek out the source
You know that whole knowing-where-your-food-comes-from thing? It's actually important, not just the subject of a Portlandia sketch. "Ask your fishmonger where the fish came from, and if it was previously frozen," R. Thomson writes. If they're unsure, don't know, or pause before answering either question, the fish may indeed be, well, fishy. Don't buy it!