Yvonne Orji has made a name for herself with her breakout role playing Issa Rae's best friend, Molly Carter, on the hilarious HBO show Insecure. But the actress and comedian is striving to become more of a household name as she can be seen starring alongside such comedic heavy-weights as Kevin Hart and Tiffany Haddish in the new comedy Night School.
Born to Nigerian immigrant parents, Yvonne Orji could have taken a much different path as she had initially earned a master's degree in public health and was on track to spend her days woring in the corporate world. Yvonne Orji will be speaking at this year's Forbes Under 30 Summit alongside such esteemed speakers as John Kerry, Anthony Scaramucci, and Olympic skater Adam Rippon. We caught up with her ahead of her appearance to talk about how important it is to keep your eye on the prize.
Yvonne Orji talks Insecure, Night School, and the Forbes Under 30 Summit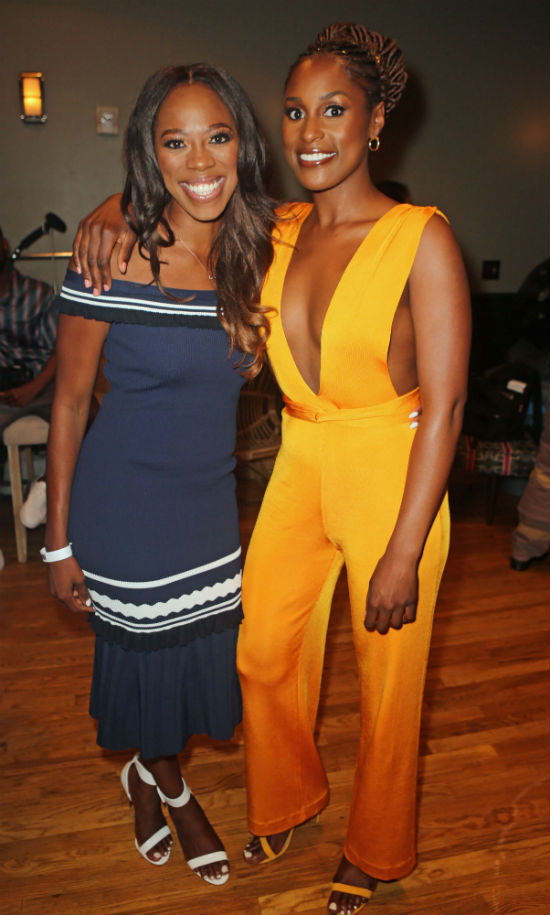 Yvonne Orji with Insecure co-star Issa Rae. Photo Credit: Getty Images.  
How excited are you to be speaking at this year's Forbes Under 30 Summit in Boston?
Yvonne Orji: I'm actually very excited! I never made the list because, obviously, I'm over 30. But it was one of those things that I looked at and was so inspired by all of the things that people were doing. I was kind of a late bloomer. I didn't figure out that I wanted to switch careers until I was like 25 after I got my masters. The journey takes a long time. I didn't get my first big break until I was 31 or 32. To see what young people are doing is so inspiring for me and then having the opportunity, even though I didn't make the list, to impart any wisdom that I've learned on the journey onto them is kind of like a full circle moment for me.  
I was going to ask — you had initially gone to school to get your master's in Public Health at George Washington University before pursuing your career as a stand-up and an actress. How were you able to keep your eye on the prize early on?
Yvonne Orji: I've got to just say that it was fate. The only way I could stand up to my very African immigrant parents was to be like 'this is a god given dream'. I was like, 'I have no idea how I'm going to do it.' It looks crazy. I have a lot of debt from student loans and still it was like 'this is something I've got to do.' It was only because I felt like the force and ammunition was behind me to keep going. Also, I think because of my immigrant upbringing, we were taught to never accept no and to just keep going in the face of adversity. So for me, it was failure is not an option. I don't know what that means. If I fail then what went wrong and how do you fix that? That's kind of what kept me going. To know that this is not something that you can do just on a whim. Like 'let me just try jokes.' (laughs) Because if you fail, you're failing an entire country that is rooting for you and expecting you to succeed because they've sacrificed so much for you to come to America! I think for me, some people look at that weight and crumble underneath it. But, I looked at that weight and looked at it as motivation to keep going. Your mom didn't fail when she came over here with four kids, a full-time job, and got her masters in nursing. No. She did it. So, I think you can to! You have no kids. No mortgage. You have no excuse!
It seems like your drive to succeed is pretty similar to your character Molly on Insecure. Did you see those similarities when you read those first scripts?
Yvonne Orji: Absolutely. One of the breakdowns for the role, is that she is able to switch between corporate America and being an 'around-the-way-girl'. I was like 'I know this chick'. I know her very well. Because I was in corporate America. I worked for a non-profit after graduation and then I worked in Liberia. I know what it was like to be driven and also what it was like to be the only brown face in an organization that helped a lot of brown people. So — speaking to Issa's non-profit 'We Got Y'all' and Molly's place in the workplace — you want to get ahead and you want to get to do the things that you aspire to do but there may be some roadblocks that you can't avoid. She can't avoid being brown. So it's like 'how do I show myself as an asset and valuable?" That's something that I've had to do not only in entertainment, but in corporate America.
It seems like an issue that Molly is facing this season is being able to find her voice at her new law firm. You star in the new film Night School alongside Kevin Hart and Tiffany Haddish. How hard was it to let your comedic voice be heard over two of the biggest comedic personalities in the world right now?  
Yvonne Orji: Here's where Molly and I differ. Molly is like 'I need to find my voice at all cost'. What Yvonne does is like 'Who's voice is supposed to be the loudest voice right now? Let's let that voice be the lead and then find your moments to let your voice be heard in the best way.' Sometimes, it's not the voice that's the loudest that gets heard. Maybe the voice that's kind of muted or comes in at a point when the loud voices are out-talking each other. You can come in and be like (in a tiny voice) 'Hey guys, I have an idea'. For me, in Night School, it was very much an understanding of  I know who the major players are. I know who's vehicle this is. I know what I bring to the table, and in this moment, I don't need to be anything but what I've been brought to the table for. I think Molly is struggling to figure that out. She wants to shine at all cost. Sometimes, just because the light isn't on you, that doesn't mean you're not shining. I think that's what Molly doesn't understand yet and in a way she is sabotaging herself.
Who were some people that inspired you to make the jump into the entertainment industry?
Yvonne Orji: Chris Rock, definitely. Being able to go on tour with him was crazy. Eddie Murphy. His trajectory from comedy into acting. Wanda Sykes. Steve Carell, even though I don't think he was a stand-up. Just his improv and his ability to be completely uninhibited. Jim Carrey. There are a lot of actors and people's careers and trajectories that I am inspired by. The Regina King's and the Angela Bassett's of the world. People who have had longevity and you see them grow in this business. A lot of the times, you just don't want to be a one-off. You see a lot of people who do shows and after the shows are over you don't see them again. For me, I don't know how long I have in this industry but I want to be able to have longevity. So to be able to see someone like Regina King or Angela Bassett who now have production companies or switched to directing. It's just so beautiful to see that you can do more than one thing. You can have many hats that you wear and not get pigeonholed.
Are you working on anything else right now? Will you be doing more standup?
Yvonne Orji: I am actually going to be doing the New York Comedy Festival this November. I have like five shows at Carolines on Broadway. I have a podcast called Jesus and Jollof that's doing really well. I do it with a really good friend of mine named Luvvie Ajayi. It's just kind of taken off like gangbusters! We're one season in.
I'm pitching and writing. I have this show First Gen that David Oyelowo and Harpo are alo executive producers on. For me, it's having all of the kettles and pots on the stove and just trying to figure out which one is going to boil first, which one still needs to simmer, what do I need to put in a crockpot? Just keep creating! I'm working on a book right now that I'm very excited about and very excited to share once that's done. Yeah. Lots of things!
You can catch Yvonne Orji in Night School opening this Friday September 28th in theaters and in the season finale of Insecure airing on HBO this Sunday September 30th at 10:30pm. For tickets to see Yvonne Orji speak at the Forbes Under 30 Summit head over to Forbes.com.