New York Mets pitcher Zack Wheeler's value continues to increase thanks to a recent run of solid starts. For a selling franchise, it couldn't come at a better time for the Mets, who could trade the right-hander before Major League Baseball's Jul. 31 deadline. 
The 28-year-old is coming off one of his best outings of the season, a seven-inning performance against the San Diego Padres where he allowed just two runs on four hits. Over his last five starts, he's 3-2 with a 3.03 ERA with 30 strikeouts in 32.2 innings pitched.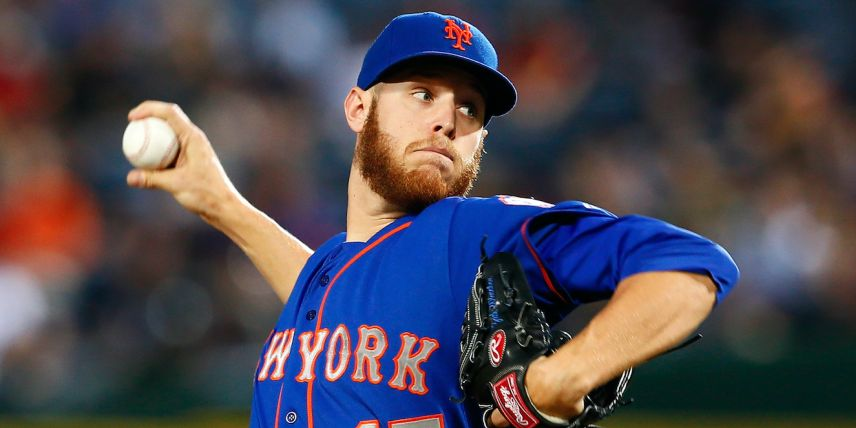 It's caught the attention of plenty of teams as the deadline approaches as SNY's Andy Martino reported that scouts from at least 12 teams were on hand at Citi Field on Tuesday. 
Even with Jacob deGrom and Noah Syndergaard also on the trade block, it's Wheeler that's getting the most attention seeing as he would be a cheaper option for a team looking to bolster the middle of its rotation. 
Martino added that Wheeler "could move any minute," and is expected to bring in at least one top-10 prospect from prospective suitors. 
Here are some of the teams that are believed to be in on him:
Zack Wheeler New York Yankees rumors
The Yankees continue to search for starting pitching help as the weeks leading up to the trade deadline haven't necessarily gone as planned. For a team that was once linked to the likes of Cole Hamels, Chris Archer and J.A. Happ, the Bronx Bombers have been unable to land any of them yet. That might be because the asking price is too high as the Yankees do not want to give up third baseman Miguel Andujar and left-handed pitching prospect Justus Sheffield. While Wheeler isn't going to create the type of 1-2 punch with Luis Severino as many Yankees fans were hoping for at the deadline, he at least offers a middle-of-the-rotation arm to offer an alternative to Sonny Gray while supporting the inconsistent Masahiro 
Milwaukee Brewers
Jon Morosi of MLB Network reports that the Mets and Brewers have discussed a deal involving Wheeler, though nothing is close as of yet. It has been made known since mid-June that Milwaukee was going to pursue starting pitching help as the deadline approaches. Junior Guerra and Jhoulys Chacin have held the top two spots of the rotation down well enough, but with the Brewers attempting to stay in contention in the NL Central, a third or fourth reliable starter will be needed. Wheeler would add just that. 
Cincinnati Red
The Reds aren't going anywhere this season, but plans of an increased payroll in 2019 has the team looking to make a few deals this summer. That would include bringing on some kind of pitching help now to move the rotation in the right direction. Cincinnati has one of the worst ERA's among starting pitching in the league, ranking 27th with a 5.21 mark. 
Boston Red Sox
There is some uncertainty surrounding the Red Sox despite their scorching-hot play as of late. Most of it stems from its pitching staff. There is no question about Chris Sale, Rick Porcello and David Price's standing in the rotation, but Boston has seen Drew Pomeranz, Eduardo Rodriguez and Steven Wright hit with the injury bug this season. Wheeler offers a very nice fourth or fifth option for the stretch run.
Seattle Mariners
The Mariners are holding the second Wild Card spot in the American League despite an inconsistent and at best, mediocre starting rotation. Behind the surprising Marco Gonzales, James Paxton is hurt while Felix Hernandez is having one of the worst seasons of his career. Wheeler could likely nab the No. 3 spot in Seattle's rotation when Paxton returns. If the Mets are keen on getting the Mariners' top prospect, Kyle Lewis, then they could add Asdrubal Cabrera to the deal as well. Seattle is also interested in bringing on the second baseman at the deadline.