Zoey Deutch is the cutest.
In the first two minutes of chatting about her new film, Flower, the 23-year-old actress offers one, "Aw shucks," a cute little, "You're so sweet!" and approximately one minute and 54 seconds of self-deprecating banter.
"I'm born and raised in the Valley and I talk very fast," she says, a mile a minute. "So I apologize if you can't transcribe any of this."
And then, "It's a junket day and I'm sure you're familiar with actors complaining about those," she says. "But the good news is, I love this movie and I am so excited to talk to you about it."
Before you dismiss that as a standard issue promotional tactic, let me be the first to tell you: Zoey isn't lying. She's genuinely excited about her role as the rebellious, bombastic Erica, a teen who teams up with her friends and step-brother Luke, self-styled as vigilantes, to take down a man who Luke believes sexually assaulted him.
We chatted with the actress about choosing the role of Erica, fighting for female angst and likeability.
What drew you to the film? I know you've said it's a piece you're really proud of.
You know, being able to live with [Erica] and really understand why she does the things she does was so fun and so important. One thing that I loved about playing her was that nothing Erica does is spontaneous. It's always some form of manipulation, or a test to see if someone will leave her or not. I had never played a character like that. And she is full of life and moxy. She's complicated and fragile and difficult and challenging. And oftentimes very frustrating. That was a fun thing to play with. Teenagers are f—ing frustrating! And she's definitely trying on this cavalier attitude and seeing if it fits.
She feels so much, and it's interesting to see how her bravado masks a sense of fragility or sense of impending abandonment, and how she acts out.
How I interpreted it was, Erica is somebody who makes such serious efforts to avoid abandonment. She has an incredibly distorted sense of self. That bravado that she shows — you have to believe there's a real fragility to it. When you're young and there's this self-involved, cavalier attitude that some people possess, [you're] not fully capable of understanding what the repercussions are. She just wants to drive people away.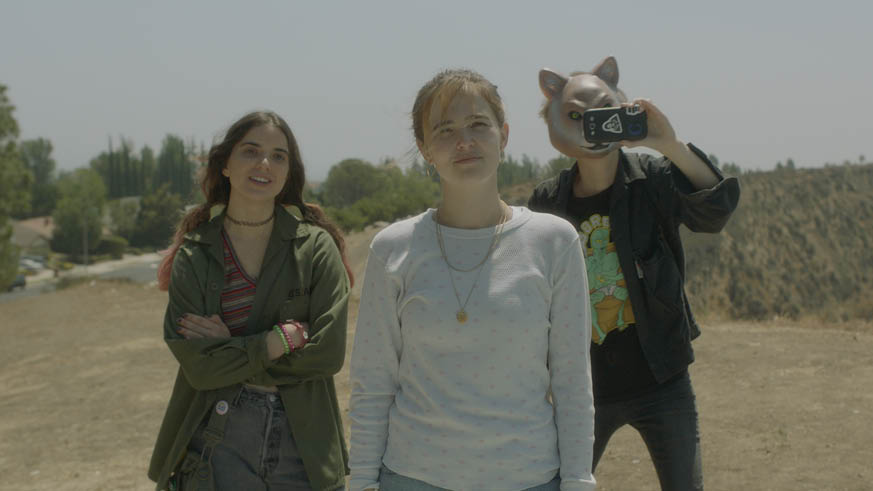 Erica and her vigilante besties, taking down the patriarchy one um, fellatio at a time. 
I really liked Erica's relationship with her mother Laurie. It's giving Lady Bird a run for its money. And it feels so real!
Their relationship is very boundary-less. They're constantly redefining their roles as mother/daughter, daughter/mother. Like many relationships between mothers and daughter that I know, it's not as black and white as a lot of movies portray it as. These are both smart as hell, funny as s—, really interesting people who can be combative and can challenge each other.
Many of these sorts of coming-of-age stories are about a loss of innocence. But for Erica, it's more about regaining a sense of vulnerability.
Totally! And we were careful about that and wanted to handle it as gently as possible. We researched quite a bit on borderline personality disorder, which I felt strongly that Erica suffered from. She makes these frantic efforts to avoid real or imagined abandonment. And she has a pattern of unstable relationships.
We also talked a lot about consent, and how everything Erica does is on her terms. She never allows anyone to have any semblance of control over her. Every choice she makes would always be hers, and that way she keeps intimacy as far away as possible.
It's that thing about female characters being relatable over being likeable.
I've felt that if a dude plays an antihero, it's generally labeled as morally ambiguous. And if a woman plays it, it's labelled as unlikeable. And I totally second that idea — it's not about making them likeable it's about making them relatable.
"Flower" is released in movie theaters on March 16.