What's as likely to be found on battlefields as under Christmas trees?
Drones have certainly earned their controversial reputation, with some seeing only the military's preferred method of targeting enemies overseas, while others just want to know how much faster their Amazon Prime shipments will arrive.
But there's so much more to this complicated and fascinating technology, which finally has its first major museum exhibit aboard Manhattan's decommissioned aircraft carrier Intrepid Sea, Air & Space Museum.
"I wanted to show people that drones are not new," says Eric Boehm, co-curator of Drones: Is the Sky the Limit? That said, with the technology evolving so rapidly, "if we'd opened this exhibit next year, it won't look anything like this."
Though history forms the beginning of Drones, the exhibit uncovers new and promising uses, with tons of antique models, a replica of a military drone operator's station, Lady Gaga's "flying dress" Volantis and prototypes for the Uber of the sky. We rounded up the exhibit's 10 most fascinating facts.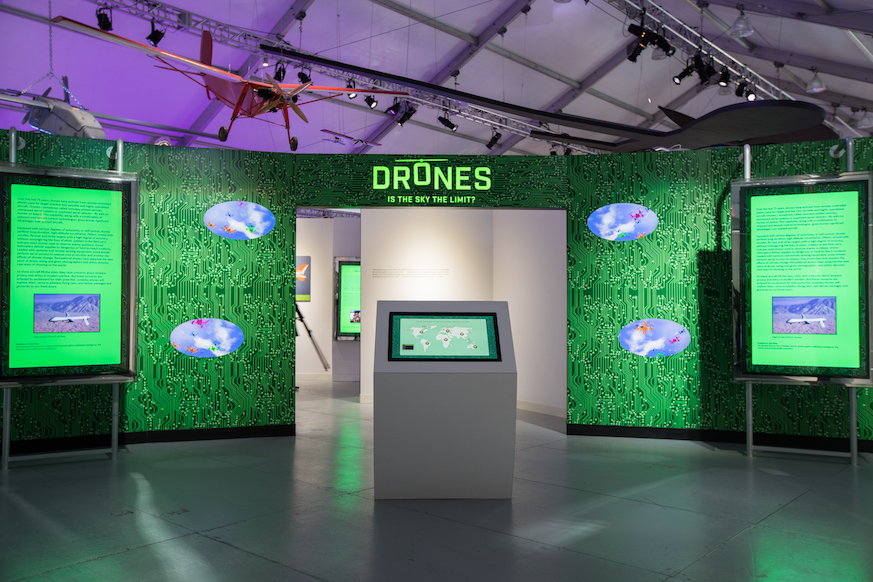 1. Drones date back to the Civil War
Drones — defined as an unmanned aircraft capable of independent flight — have actually been around for over 150 years. "That caught me by surprise as well," says Boehm. Back in 1862, Union soldiers used observation balloons to track Confederate troops, and tested using drones to drop bombs (unsuccessfully). The U.S. government also used camera kites to spy on Cuba during the Spanish American War in the 1898.
2. Pilotless flight has been a goal since airplanes were invented
"When World War I came around, the airplane was new, and already they're taking the pilot out," says Boehm. One of the first experimental pilotless flyers was actually dubbed the aerial torpedo. "It's kind of crude, the first version of cruise missiles."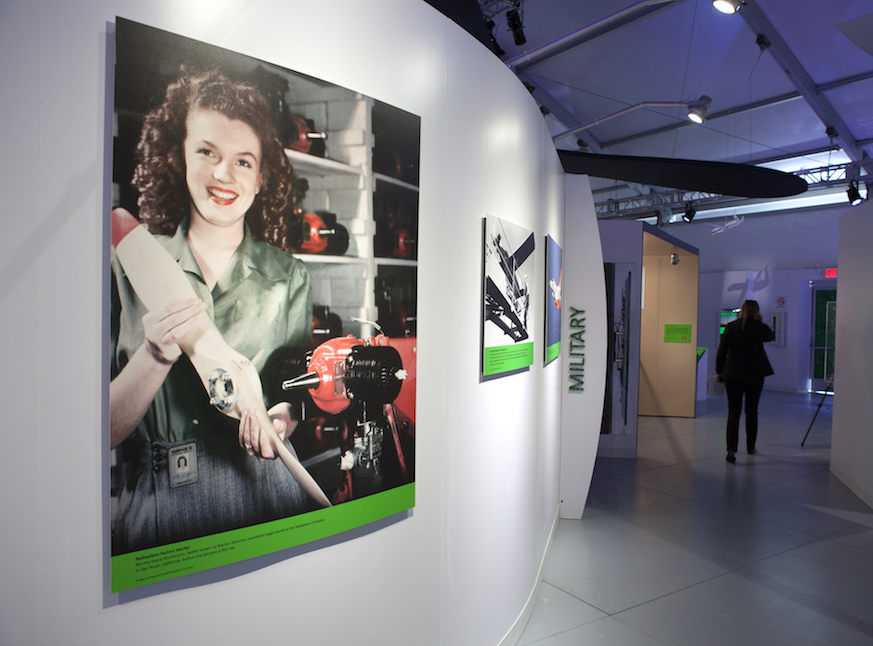 3. Marilyn Monroe made drones
Greeting visitors to "Drones" is a photo of 16-year-old Norma Jeane Mortenson, aka Marilyn Monroe, from 1942, assembling radio-controlled Denny planes that had been invented for hobbyists at California's Radioplane Company. "Then the war broke out, and we didn't have leisure endeavors anymore; everything was for the war effort," Boehm says.
4. Commercial fishing got ahead of the Navy in drone tech
The ScanEagle was originally developed to spot schools of fish. "But commercial fishing vessels don't have a runway," Boehm points out, "so it has a very novel way of recovery." A GPS locator guides the drone to clothesline itself using a hook on its wing, no water retrieval necessary. It wasn't long before the Navy began using this method, too.
5. A few lucky F-16s get to fly again
In the end, even the mightiest fighter jets are hauled off to the scrapyard like so much other recycling. But a lucky few are retrofitted into drones and used for target practice because they're capable of more nimble and sophisticated maneuvers mimicking the newer Patriot missiles.
6. Drones are saving lives in NYC right now
Eliminating unnecessary risk to people is one of drone technology's main goals, and not just on the battlefield. The Fire Department of New York is already using a drone to assess fires, with the hope that infrared technology will eventually let them see if there's someone trapped inside before sending a crew into a burning building.
7. Lady Gaga has her own drone company
Remember the herd of drones during Gaga's Super Bowl Halftime Show? That's just the latest in her tech ventures. In fact, Gaga is so gaga for technology that she has her own company TechHaus, which created the revolutionary flying dress Volantis. "Nobody ever really designed a drone for an occupant solely to be a passenger," Boehm notes. "She is in the hands of the controller, and in the future it will be the machine itself with artificial intelligence." Let's hope the robots like her music.
8. Farming goes high tech
Drones are helping farmers, whose profit margins tend to be razor-thin, manage their fields more efficiently in several ways, from helping to distribute pesticides to gauging the acidity of the soil in large fields — which can vary hugely from plot to plot — to help them plant a more productive crop.
9. Drones are the new hurricane hunters
"When you fly through a hurricane, it's a rough ride," Boehm says. That means aircraft must stay close to the top, but the data is at the bottom. Drones can handle the wind, which is vital work to improve predictions and know when an area has to be evacuated. Unfortunately, funding for more drone research is under threat. "Current leadership in this country think [the National Oceanic and Atmospheric Administration] is just about climate change. It's heartbreaking to see things happening on our planet and people ignoring them, and only in this country."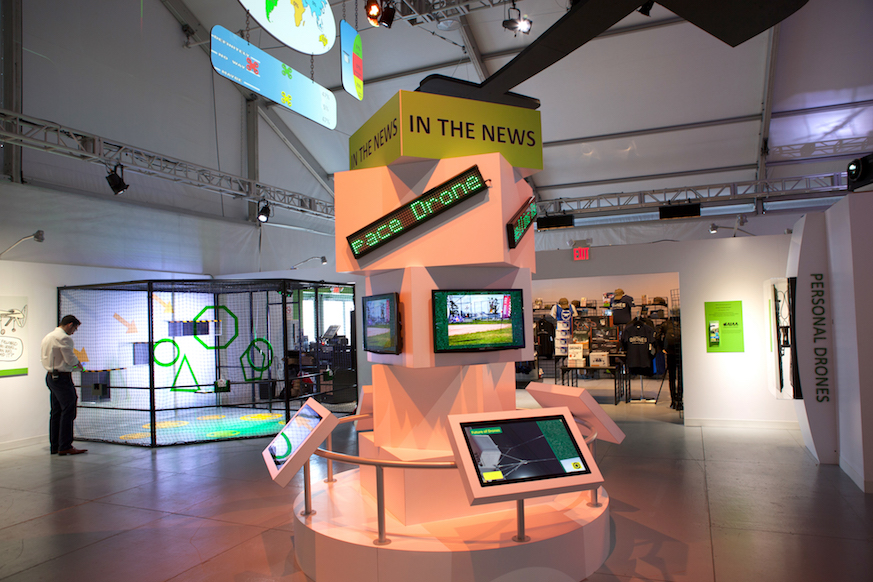 10. You can major in drones
Bard College just outside of New York has the nation's first-ever Center for the Study of the Drone, which has partnered with the Intrepid to keep the information kiosk at the end of the exhibit updated with the latest developments in the drone world.
"Drones: Is the Sky the Limit?" is open now through Dec. 3 at the Intrepid Sea, Air and Space Museum, located on Pier 86 at West 46th Street and 12th Avenue. The exhibit is free with admission ($33 adults, $19 NYC residents).