Let slab pies save you from the mental math of baking Thanksgiving pies this season.
We know how it goes: The extended family is coming over, so you need at least three pies. Oh, but wait, what if people want seconds? Better make it four just to be safe. Oh, but then there's Aunt Sally with the nut allergy. You've also got a couple of kids who just don't seem to like pumpkin pie, no matter how much whipped cream or vanilla ice cream you ladle on top. Their mom requested a chocolate chess pie to please their picky palates. Well, now you're up to five different types of pie, but they only get about 12 slices each.
Stop. Just stop.
Instead of doing the mental gymnastics, choose a couple of these slab pies and rest easy knowing they feed a crowd of hungry guests with leftovers to spare. After all, you should be thankful for the family around you, not stressed to the max.
You'll find apple slab pies and pumpkin slab pies, pecan slab pies and even a Twix slab pie thrown into this collection. Everything you need to please every palate — even if your extended family could fill a whole bus.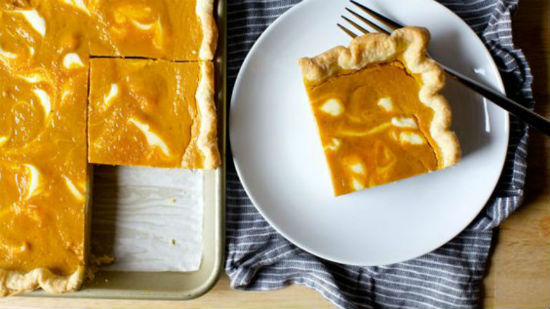 Best of all, they're delicious without you needing to churn out pie after pie. You'll make them in sheets instead of tins so the dessert part of your Thanksgiving feast to-do list will be checked off faster than you thought possible.
And because they're baked in sheets, it's easy to please people who don't like pie crust. You'll get some end slices, some corner pieces for buttery crust lovers and even some center slices that are all-filling in each and every bite.
So wipe the sweat off your brow! The biggest stress you'll go through with these slab pies is picking out just a couple crave-worthy recipes to present at the big feast. (Fair warning: They all look incredibly delicious.)
Click through the slides above to see all the slab pies in this delicious collection of Thanksgiving dessert inspiration.